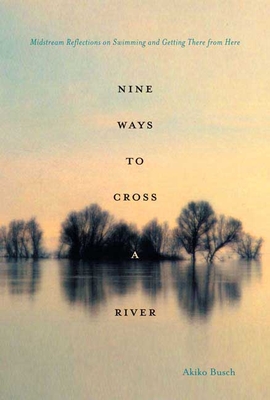 Nine Ways to Cross a River: Midstream Reflections on Swimming and Getting There from Here (Hardcover)
Midstream Reflections on Swimming and Getting There from Here
Bloomsbury USA, 9781596910454, 224pp.
Publication Date: July 10, 2007
* Individual store prices may vary.
or
Not Currently Available for Direct Purchase
Description
From Thoreau to Edward Abbey to Annie Dillard, American writers have looked at nature and described the sublime and transcendent. Now comes Akiko Busch, who finds multitudes of meaning in the practice of swimming across rivers. The notion that rivers divide us is old and venerated, but they also limn our identities and mark the passage of time; they anchor communities and connect one to another. And, in the hands of writer and swimmer Akiko Busch, they are living archives of human behavior and natural changes.
After a transformative swim across the Hudson just before September 11, Busch undertook to explore eight of America's great waterways: the Hudson (twice), the Delaware, the Connecticut, the Susquehanna, the Monongahela, the Mississippi, the Ohio, and the Current. She observes each river's goings-on and reflects on its history (human and natural) and possible futures. Some of the rivers have rebounded from past industrial misuse; others still struggle with pollution and waste. The swims are also opportunities to muse on the ordinary passages faced by most of us the death of a parent, raising children, becoming older and the ways in which the rhythms and patterns of the natural world can offer reassurance, ballast and inspiration. A deeply moving exploration of the themes of renewal and reclamation at midlife, "Nine Ways to Cross a River" is a book to be treasured and given to friends.
About the Author
Akiko Busch is the author of Geography of Home. She writes regularly about design and culture, and lives in the Hudson Valley with her husband and two sons.
Praise For Nine Ways to Cross a River: Midstream Reflections on Swimming and Getting There from Here…
"Akiko Busch, accompanied by friends, gamely swims across the Hudson River, the Delaware, the Connecticut, the Susquehanna, the Monongahela, the Cheat, the Mississippi and the Current. She revels in the ordinary pleasures of this extraordinary activity and, in Nine Ways to Cross a River, brings the reader into the textures of the waters and the conversations she has on the riverbanks….She is a beautiful writer, and she pulls off this difficult writing feat. Swimming is such a solitary, quiet and peaceful activity. It's hard to bring others into the perceptions of a swimmer's mind, even with dramas of fast currents, water snakes and industrial waste added. But Busch is a master at describing the pleasures of everyday life, and she involves the reader in the summer sensuality of swimming outdoors, the fun of escaping the city with friends, the desire to move and stretch fluidly and the accomplishment of traveling stroke by stroke from one bank to another. Her metaphors are neatly tucked into her inviting style, and we travel luxuriously with her."—Maud Lavin, Chicago Tribune
"What started out for the author as a carefree Hudson River swim in August 2001 turned into a passion. Over the next four years, Busch swam in nine rivers (including the Delaware, Mississippi, and Current), exploring the textures, tastes, and speeds of each while also meeting some of the mostly anonymous advocates involved with their recovery from decades of environmental abuse…The spiritual benefits of floating downstream come across with soothing simplicity: 'All of these rivers have conferred a kind of fluid axis that sets me right every time.' B."—Tim Purtell, Entertainment Weekly
"A beautiful, lyrical journey—full of history, meditative thoughts and nature around us and in us! Loved the trip!"—Kathleen, Islandtime Books & More, Washington Island, WI
"[Akiko Busch has] a gift for nature writing that brings to mind Annie Dillard and Edward Abbey."—Marc Weingarten, Los Angeles Times
"In a way, Busch swims for all of us, bringing another perspective, one drenched in the essence of these waterways...Whether we swim in them, fish in them, walk along them, float our boats on them, or just stare at them, what matters, she knows, is that we care about them."—Steve Grant, Hartford Courant
"Writer and avid swimmer Busch spent four years swimming across nine rivers around the country--and fell in love with their history and beauty."—People Magazine
"This inspiring little book shows how this world will be saved:  by tens of millions of little efforts, in the end succeeding where big expensive efforts of power-hungry men have failed."—Pete Seeger
"Nine Ways to Cross a River is beautifully written. It's compelling, transcendental, reflective, and just pure fun like being splashed with a handful of cool water on a hot sticky summer's day. There is so much more to say about the book—so many layers of understanding and clarity and philosophy and poetry. At times, it seems as if Akiko is immersed in the water and is singing along with the river's song through her melodic voice."—Lynne Cox, author of Swimming to Antarctica and Grayson
Advertisement