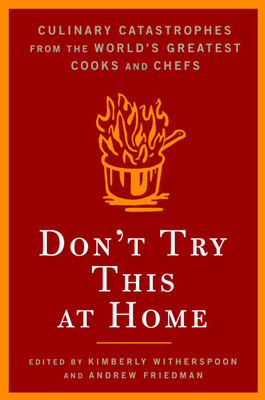 Don't Try This At Home
Culinary Catastrophes from the World's Greatest Chefs
Hardcover

* Individual store prices may vary.
Description
DON'T TRY THIS AT HOME
Culinary Catastrophes from the World's Greatest Chefs
A hilarious and heartening collection of kitchen disasters. In this raucous new collection, over forty of the world's greatest chefs relate outrageous true tales from their kitchens. From hiring a blind line cook to flooding the room with meringue to being terrorized by a French owl, these behind-the-scenes accounts are as wildly entertaining as they are revealing. A delicious reminder that even the chefs we most admire aren't always perfect,
Don't Try This at Home
is a must-have for anyone who loves food or is fascinated by those who masterfully prepare it. Ferr n Adri on when lobsters go bad
Jos Andr's on asking for help
Dan Barber on talking to your fish
Mario Batali on the perfect risotto
Michelle Bernstein on the many uses of chocolate
Heston Blumenthal on the angriest ma tre d' in England
Daniel Boulud on one thousand bowls of soup
Anthony Bourdain on beating up the customers
Jimmy Bradley on drinking games
Scott Bryan on too many salamanders
David Burke on hiding the laundry
Samuel Clark on cooking for royalty
Tom Colicchio on sneaking through customs
Scott Conant on the persistence of eels
Tamasin Day-Lewis on how not to store a pheasant
Tom Douglas on the strange destiny of snowstorms
Wylie Dufresne on birds of prey
Jonathan Eismann on the healing powers of electricity
Claudia Fleming on runaway meringue
Gabrielle Hamilton on second sight
Fergus Henderson on the far from ordinary
Paul Kahan on caller ID
Hubert Keller on tempting fate
Giorgio Locatelli on the art of the French ambush
Michael Lomonaco on feeding Pavarotti
Pino Luongo on summer school in the Hamptons
Mary Sue Milliken and Susan Feniger on getting away with it
Sara Moulton on how to destroy a food processor
Tamara Murphy on the misuses of foie gras
Cindy Pawlcyn on eating at home
Neil Perry on unexpected showers
Michel Richard on how to rescue a wayward cake
Eric Ripert on getting to the kitchen
Alain Sailhac on salty coffee and solitary confinement
Marcus Samuelsson on the languages of gelatin
Bill Telepan on the Fish Guys versus the Meat Guys
Laurent Tourondel on rib-eye rush hour
Tom Valenti on the grounds for revenge
Norman Van Aken on Key West hi-jinks
Geoffrey Zakarian on a license to eat dangerously
Praise For Don't Try This At Home: Culinary Catastrophes from the World's Greatest Chefs…
"As in every other profession, chefs love their war stories. Finally someone had the good sense to collect some of the best in "Don't Try This at Home"...If you liked "Kitchen Confidential" for its frank behind-the-scenes glimpses of kitchen life (rather than the profanity and the heroin), you'll love this book."


-Russ Parsons


"A fantastic collection of personal stories that depict these great chefs as real people. Readers are certain to learn valuable culinary lessons from chefs' mistakes and their various and creatively solved dilemmas. This book is sure to be enjoyed by culinary fans across the board."
Bloomsbury USA, 9781596910706, 256pp.
Publication Date: September 15, 2005
About the Author
Kimberly Witherspoon is a partner at Inkwell Management, a literary agency based in Manhattan. She is very proud to represent four of the chefs in this anthology: Anthony Bourdain, Tamasin Day-Lewis, Gabrielle Hamilton, and Fergus Henderson. She and her family live in North Salem, New York. Andrew Friedman is a writer who specializes in all things culinary, with a focus on chef and restaurant culture. In addition to his own work, he has coauthored more than a dozen cookbooks with some of the most successful chefs and restaurateurs in the country, including Michael Lomonaco, Pino Luongo, Alfred Portale, Bill Telepan, and Tom Valenti. He lives in New York City with his family.
or
Not Currently Available for Direct Purchase