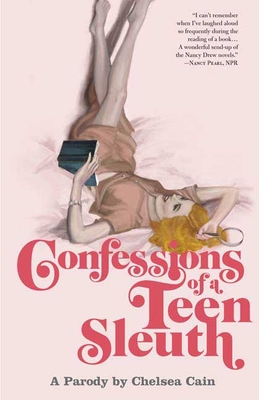 Confessions of a Teen Sleuth (Paperback)
A Parody
Bloomsbury USA, 9781596911215, 176pp.
Publication Date: October 16, 2007
* Individual store prices may vary.
Description
America's favorite girl detective is back to set the record straight. According to our titian-haired heroine, she was not in fact a fictional character, but an intrepid real-life sleuth who investigated some of the twentieth century's biggest mysteries. And the famous series she starred in was not cooked up by a team of writers, but plagiarized from her exploits by her nosy college roommate Carolyn who, not surprisingly, got a whole lot wrong.
Here are the daring escapes, brilliant hunches, and dependable stock characters, including interlopers from numerous other beloved series, that have delighted generations of fans. And here, also, are the details of teen-sleuth life that you never saw: the secret romances, reckless driving, minor drinking problems, political action, and domestic drama that have, up till now, remained hidden from these brave detectives' adoring public.
About the Author
Chelsea Cain is a longtime teen sleuth enthusiast and the author of The Hippie Handbook, the memoir Dharma Girl, and the forthcoming thriller Heartsick. She edited the anthology Wild Child, about daughters of the counterculture. She has written for a wide variety of publications and is currently a humor columnist for the Oregonian. She lives with her family in Portland, Oregon.
Praise For Confessions of a Teen Sleuth: A Parody…
"I can't remember when I've laughed aloud so frequently during the reading of a book…A wonderful send-up of the Nancy Drew novels."--Nancy Pearl, NPR "Chelsea Cain's gleeful parody Confessions of a Teen Sleuth affectionately hits all the formulaic high points of a Nancy Drew mystery, sending up and yet saluting America's favorite girl detective. All the unspoken truths about money, social status and teenage identity crises ordinarily crammed between the lines of her adventures are outrageously exposed, and the book is no less endearing for it."--New York Times Book Review
"A loving parody…breezy fun with a heart of gold."--Onion
"Irresistible, hilarious…Cain is a brilliant parodist."--Oregonian
"Wondrous fun…An immensely enjoyable re-visioning of the much-loved Nancy Drew, and the best kind of guilty pleasure."--Portland Mercury
or
Not Currently Available for Direct Purchase