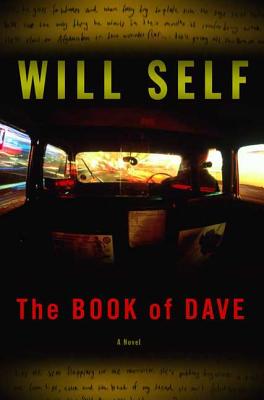 The Book of Dave
A Novel
Hardcover

* Individual store prices may vary.
Other Editions of This Title:
Digital Audiobook (8/9/2017)
Paperback (1/22/2019)
Paperback (10/30/2007)
Paperback (3/1/2007)
Description
When cabdriver Dave Rudman's wife of five years deserts him for another man, taking their only child with her, he is thrown into a tailspin of doubt and discontent. Fearing his son will never know his father, Dave pens a gripping text—part memoir, part deranged philosophical treatise, and part handbook of "the Knowledge" learned by all London cab drivers. Meant for the boy when he comes of age, the book captures the frustration and anxiety of modern life. Five hundred years later, the Book of Dave is discovered by the inhabitants on the island of Ham, where it becomes a sacred text of biblical proportion, and its author is revered as a mighty prophet.
Praise For The Book of Dave: A Novel…
"Self seamlessly toggles between the two time periods, giving equal depth to frustrated, sympathetic Dave and to the inhabitants of the post-apolcalyptic future. The bastardized Cockney language of 523 A.D. (anno Dave), while sometimes difficult to understand, is one of the book's most puzzling yet satisfying joys. B+." —Gilbert Cruz, Entertainment Weekly
"The first 90 pages of this book read like a cross between "Jabberwocky" and "A Clockwork Orange." It's a devilishly catchy argot and once readers sink into it, they will find themselves wondering if the characters are traveling norf or souf….Like Martin Amis, with whom he's often compared, Self marries his verbal acrobatics to social critique, gamely taking on corporate culture, family law, London urban sprawl, religion, racial division and the received wisdom of women's magazines and the pub. ...You're left with the intoxication of Self's wordplay and the clarity of his visions." —Regina Marler, Los Angeles Times
"A richer, more engaging enterprise…Whose plot is sturdy enough to support its voluptuous prose. Most significantly, the author has worked hard to increase his emotional repertoire from a three-chord punk chorus of rage, contempt and despair to a more expansive range of sensibility." —Donna Rifkind, Washington Post
"Fans of Self's previous edgy satires won't be disappointed with The Book of Dave, his latest riff on the strange complexities of the modern world. Balancing stories of pained intimacies between fathers and sons, it also brilliantly caricatures the fervor of literal-minded religious fundamentalism…Blisteringly astute." —Geoffrey Bateman, Rocky Mountain News
"Remarkable…Among his most ambitious and imaginative...The Book of Dave seems to be about the crippling nihilism of a world without transcendent meaning and the tensions and contradictions of the religious personality." —Daniel Sullivan, Weekly Standard
"The apocalypse that created the world in Self's new novel somehow incinerated all the Shakespeare and the Tolstoy and the Bible, leaving only the angry scrawlings of a divorced London cabdriver named Dave upon which to build a new culture. Dave's ruined life is worshipped and codified-bitterness as religion. Men and women live apart. Children's weeks are divided into mummytime and daddytime, and young women are known as Opares. The Book of Dave can be hard going. The language Self invents takes off from bangers-and-mash quaintness into near incomprehensibility, with jarring phonetic spellings and a whole goofball nomenclature. The Milky Way is the dashboard; the sun is the foglamp… It sounds as though it could devolve into inanity (in fact, the religion is known as Davinanity), but Self somehow breathes life into it. It's grim and compelling-a world to get lost in. That is, if we're not lost already. BUY IT." —New York Magazine
"In this tale of an embittered taxi-driver whose psychotic rantings become the creed of a blighted people hundreds of years after his death, Self unleashes his apparently boundless misanthropy on modern London, the origins of religion, and the postapocalyptic future. Dave Rudman, driven mad by divorce and ill-prescribed antidepressants, thinks he is God and writes a vitriolic screed, which he has printed on metal plates and buries in a garden. Discovered by the survivors of a catastrophic flood and adopted as a gospel, it demands the complete separation of mothers and fathers (children to spend exactly half the week with each). Switching between a narrative of Dave's unlucky life and the phonetically rendered "Mokni" speech of his wretched followers, Self achieves an elaborate vision of vicious superstition and hopeless struggle, but his insights never quite repay the effort of engaging with his stylistic pyrotechnics." —New Yorker
"In The Book of Dave, his satiric masterpiece thus far, Self proves again that with talent like his, it's never the what, but the how…Though his invention (often via inversion) of a future language owes an obvious debt to Russell Hoban's Riddley Walker, Anthony Burgess's A Clockwork Orange, and Orwell, Self spins his own brilliantly macaronic web between Now and Later…Self's inventiveness and control are dazzling…Self's novel achieves depth not by skewering organized religion, though it does so quite adroitly, but by exploring the many grids of modern despair, how we find ourselves cast adrift, and how, much like Dave, whose loneliness is unabated by the 'hateful company of his own kind,' we fester unseen…A gripping, funny, and pleasurably intricate novel." —Sam Lipsyte, Bookforum
"Self satires the strange complexities of the modern world by juxtaposing two stories: the first set in London roughly 500 years in the future and the second involving a modern-day cab driver. The cab driver's written rants about an ex-wife, uncovered in the future London, provide the moral, legal and cultural foundation of the new world order in this blisteringly astute novel." —Rocky Mountain News
Bloomsbury USA, 9781596911239, 416pp.
Publication Date: November 14, 2006
About the Author
Will Self is the acclaimed author of such books as The Quantity Theory of Insanity, Great Apes, and How the Dead Live. He won the Geoffrey Faber Memorial Prize and was shortlisted for the Whitbread Book of the Year. Will Self lives in London.
or
Not Currently Available for Direct Purchase