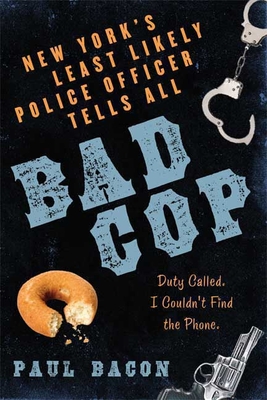 Bad Cop
New York's Least Likely Police Officer Tells All
Paperback

* Individual store prices may vary.
Description
A funny and revealing memoir of one man's journey into and out of the New York City police department.
In 2001, Paul Bacon was a typical young New Y orker: hip, liberal, overeducated, a little aimless. But then 9/11 happened. Hearing a call to duty--and lacking any better employment options--he joined the NYPD, with the earnest hope of making his hometown a safer place. Silly him. In
Bad Cop
, Paul recounts his ill-conceived experiment in public service, focusing on his own professional handicaps: his glass jaw, his overly trusting nature, and his fear of confrontation. The book begins with his police academy training, when he falls in love with the beautiful cadet Clarabel (and develops an unhealthy attraction to his sidearm). T he story follows him through an awkward apprenticeship and out onto the streets, where the touchy-feely Paul is transformed into the rough-and-tumble Officer Bacon. Through amazing accounts of his escapades on the Harlem beat, his memoir emerges as both a celebration and a send-up of the legendary force that protects New Y ork--most of the time.
Praise For Bad Cop: New York's Least Likely Police Officer Tells All…
"Paul Bacon joined the New York City Police Department after 9/ll because he wanted to help people. But as he discovers, the NYPD is no place for dreamers. Although a washout as a police officer, he sure can write. His memoir Bad Cop is a gambol through the innards of what many refer to as The Greatest Police Department in the World. In grotesque and hilarious detail, he depicts the gritty, frightening and thankless world of a New York City police officer."—New York Post
"Anyone who has ever considered becoming a New York City police officer would be well served by Paul Bacon's Bad Cop... Mr. Bacon's title is not to convey that he was a bad cop à la Harvey Keitel in "Bad Lieutenant," but rather to make it clear from the get-go that he was just kind of a crappy policeman. Of course, Mr. Bacon wasn't really all that terrible—his sympathy toward the minor offenders of Harlem, where he patrolled, is actually quite endearing—but he did make some pretty hilarious mistakes during his three-year tour." —New York Observer
Bloomsbury USA, 9781596911598, 272pp.
Publication Date: March 17, 2009
About the Author
Paul Bacon is a writer and cartoonist whose work has appeared in Cosmopolitan, The Dictionary of American History (Scribner), I nside .com, McSweeney's, Mother Jones, Salon, San Francisco Examiner, and Wired. He has appeared on This American Life and on The Moth Mainstage. He lives in Hawaii, where-- when he's not writing--he works as a scuba diving and CPR instructor.
or
Not Currently Available for Direct Purchase