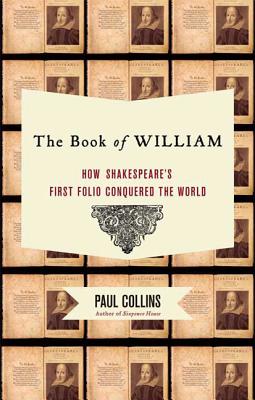 The Book of William: How Shakespeare's First Folio Conquered the World (Hardcover)
How Shakespeare's First Folio Conquered the World
Bloomsbury Publishing PLC, 9781596911956, 246pp.
Publication Date: July 7, 2009
* Individual store prices may vary.
or
Not Currently Available for Direct Purchase
Description
The first popular narrative history of Shakespeare's First Folio, the world's most obsessively pursued book.
One book above all others has transfixed connoisseurs for four centuries a book sold for shillings in the streets of London, whisked to Manhattan for millions, and stored deep within the vaults of Tokyo. The book: William Shakespeare's First Folio of 1623. Paul Collins, lover of odd books and author of the national bestseller "Sixpence House," takes up the strange quest for this white whale of precious books.
Broken down into five acts, each tied to a different location and century, "The Book of William"'s travelogue follows the trail of the Folio's curious rise: a dizzying S otheby's auction on a pristine copy preserved since the seventeenth century, the Fleet Street machinations of the eighteenth century, the nineteenth century quests for lost Folios, obsessive acquisitions by twentieth century oilmen, and the high-tech hoards of twenty-first century Japan. Finally, Collins speculates on Shakespeare's cross-cultural future as Asian buyers enter their Folios into the electronic ether, and recounts the book's remarkable journey as it is found in attics, gets lost in oceans and fires, is bought and sold, and ultimately becomes immortal.
About the Author
Paul Collins is an assistant professor of English at Portland State University and the author of Sixpence House, The Trouble with Tom, Not Even Wrong, and Banvard's Folly. His work has appeared in Smithsonian, the New York Times, and Slate. He edits the Collins Library imprint of McSweeney's Books and appears regularly on NPR's Weekend Edition as the show's resident literary detective.
Praise For The Book of William: How Shakespeare's First Folio Conquered the World…
"[A] lively and entertaining history of one of the most important books in English literature." —New York Times Book Review
"[The First Folio's] 386-year history is perfect for Collins' peripatetic narrative style... Collins is pleasant company on these journeys through musty and scholarly byways; fans of Bill Bryson... might find the style similar... This is great, informative fun." —Oregonian
"Collins' journey is that of a man stirred by ancient callings: Here is a tireless time traveler and researcher, focusing our attention on the beauty inherent in obscure and sacred objects."
—San Francisco Chronicle
 "Paul Collins gives bookishness a good name...
The Book of William...
follows his obsession to the root of all bibliomania - Shakespeare's exceedingly rare, ultra-collectible First Folio... The author proves himself to be an amusing, if unlikely guide... Collins' purpose here [is] not to sing Shakespeare's praises (as if they still need to be sung), but to show, through the quintessential example, how much we humans can invest in the printed word." -
Boston Globe
 "Gleefully astonishing... Collins provides one of the most enjoyable examples of a most enjoyable genre, the book biography, as he tells the stories of individual Shakespeare first folios, their owners, their uses, and their travels. It's a supremely enlightening journey that Collins' convivial manner makes thoroughly gratifying."
—Booklist
 "[A] delightful literary ramble... Full of humor, history and travel,
The Book of William
is an excellent summer read."
—Minneapolis Star Tribune
"Collins knows his way around a good literary mystery, and knows how to milk the bizarre and wonderful detail... The Book of William is filled with geeky delights...Collins pours all of the mountainous curiosity and good-hearted wit he showed in his last book, The Trouble with Tom, into The Book of William. Not only is he a first-rate storyteller, he has a keen eye for useful marginalia... It would be easy to say that this is a book for bibliophiles, or theater lovers, and it is. But as far as what some of us want out of our summer reading—to get lost, to learn something, to laugh—we'd make the case for this as the perfect beach read." —Time Out Chicago 
"Exemplary scholar-adventurer writing."   —Kirkus (starred)
"An entertaining consideration arranged in five acts of the serendipitous social life the [first folio] has experienced over the four centuries of its existence."
—Los Angeles Times
"Smashing…[Collins] is an enthusiastic and amusing writer — a good companion… an adept and committed bibliophile, and in the course of his journey into the history of the Folio's individual copies, he comes to a not-so-startling realization; books outlive even the greatest of us."  —Palm Beach Post
"Collins has done it again. This history—spanning the globe and 400 years in the life and fortunes of one of the most famous books in the English language—is not the dry province of historians, bibliophiles, and antiquarians...Witty, detailed, and highly entertaining, it will be appreciated by fans of Shakespeare, history, or human folly."
—Library Journal
Advertisement