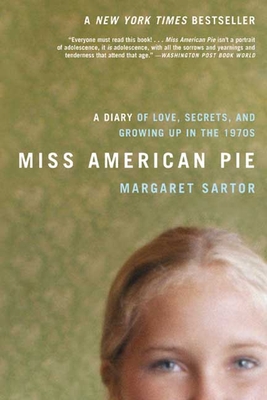 Miss American Pie: A Diary of Love, Secrets and Growing Up in the 1970s (Paperback)
A Diary of Love, Secrets and Growing Up in the 1970s
Bloomsbury USA, 9781596912014, 288pp.
Publication Date: May 29, 2007
* Individual store prices may vary.
or
Not Currently Available for Direct Purchase
Description
Margaret Sartor, a fiercely determined girl from rural Louisiana, who is equal parts "Holden Caulfield and Rebecca of Sunnybrook Farm" ("Atlanta Journal Constitution"), presents a poignant portrait of American life during the 1970s. Crafted from diaries, notebooks, and letters, this deeply personal yet universally appealing story moves with ease between the seemingly trivial concerns of hairstyles and boys to the more profound questions of faith and identity. By turns funny and poignant, heartbreaking and profound, "Miss American Pie" tackles all of the decade's issues desegregation, drugs, the sexual revolution, the rise of feminism, and the spread of charismatic evangelical Christianity with humor, frankness, and unexpected insight.
About the Author
Margaret Sartor is a writer and photographer who has been widely published and exhibited. She teaches at the Center for Documentary Studies at Duke University.
Praise For Miss American Pie: A Diary of Love, Secrets and Growing Up in the 1970s…
Praise for Miss American Pie:
"This is a gorgeous book, and its power is not to be underestimated" - Alyce Miller, Chicago Tribune

"A winning narrative voice that is equal parts Holden Caulfield and Rebecca of Sunnybrook Farm....Sartor's adolescent journals document every nuance of the life around her with the razor-sharp acuity of someone twice her age." - Andrea Hoag, Atlanta Journal-Constitution

"[Sartor] trusts that readers will be captivated by the details of her ordinary, goofy, bucktoothed life, and we are." - Claire Dederer, News & Observer

"The prose is laconic, guilelessly revealing and often unintentionally satiric…. Priceless…['Miss American Pie'] speaks for itself, in all its awkward, embarrassing and heartbreaking immediacy." - William Grimes, New York Times

"I've just finished reading the most amazing book. "Miss American Pie" isn't a portrait of adolescence, it is adolescence, with all the sorrows and yearnings and tenderness that attend that age. It's our youth served up to us once again on a golden plate." - Carolyn See, The Washington Post Book World

"a charmer. It all feels refreshingly authentic—like reality TV without the posturing." - O, The Oprah Magazine

"A picture of a time and place and a young woman that are as clear as and memorable as any reader's own adolescence, with all its triumphs and heartbreaks....charming, enlightening, honest..." - New Orleans Times-Picayune

"By turns funny and poignant, heartbreaking and profound…absolutely delightful. If you enjoy a laugh-out-loud walk down memory lane, this is one you should read." - Carolina Herald

"poignant, funny, conflicted -- and suffused throughout by a bracing directness….one of the best accounts of female adolescence in many a year…" - Mobile Register

"This life reads like a forgotten classic. Every word is beautiful and true." - Daniel Wallace, author of Big Fish "Authentic...immediate...Miss American Pie is a real knockout, throwing the reader right back into all the chaos, pain, and drama of adolescence. Getting Saved, finding out about sex, relating (or not) to family, making and breaking friendships-I was completely caught up. Miss American Pie has universal appeal."-Lee Smith, author of The Last Girls "One of the most captivating memoirs I have read in recent years. Sartor's diaries bring to mind both Mary McCarthy's Memories of a Catholic Girlhood and Daniel Clowes's Ghost World. Her achievement is an evocation of a very specific place and time that never feels dated or suspended in amber. Her narrative of family love and estrangement, of sexual awakening with those early years' strange mix of desire and repulsion is one of the most human and humane explorations of a young girl that I've come across. Miss America Pie is a distinctly American story by a gifted writer."-Virginia Holman, author of Rescuing Patty Hearst "Margaret Sartor's enchanting Miss American Pie could not be more time and place specific but its appeal will be universal. A complete delight. "-Geoff Dyer, author of Out of Sheer Rage and The Ongoing Moment "A splendid account of the early years of a woman whose mind and broad, deep sensibility would see her through a fairly normal-sounding adolescence in the Deep South of small-town Louisiana into an adulthood of genuine artistic distinction. The diary has a grave self-doubt, a brilliant eye for the perfect revealing detail, and the beginnings of a saving wit. Miss American Pie has brought me up short with its generous outpouring of all this fresh and moving reality."-Reynolds Price, author of The Good Priest's Son
Advertisement