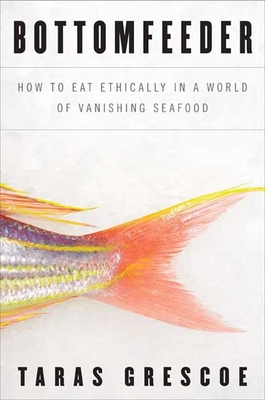 Bottomfeeder: How to Eat Ethically in a World of Vanishing Seafood (Hardcover)
How to Eat Ethically in a World of Vanishing Seafood
Bloomsbury USA, 9781596912250, 336pp.
Publication Date: April 29, 2008
* Individual store prices may vary.
or
Not Currently Available for Direct Purchase
Description
An eye-opening look at aquaculture that does for seafood what "Fast Food Nation "did for beef.
Dividing his sensibilities between Epicureanism and ethics, Taras Grescoe set out on a nine-month, worldwide search for a delicious and humane plate of seafood. What he discovered shocked him. From North American Red Lobsters to fish farms and research centers in China, "Bottomfeeder "takes readers on an illuminating tour through the $55-billion-dollar-a-year seafood industry. Grescoe examines how out-of-control pollution, unregulated fishing practices, and climate change affect what ends up on our plate. More than a screed against a multibillion-dollar industry, however, this is also a balanced and practical guide to eating, as Grescoe explains to readers which fish are best for our environment, our seas, and our bodies.
At once entertaining and illuminating, "Bottomfeeder "is a thoroughly enjoyable look at the world's cuisines and an examination of the fishing and farming practices we too easily take for granted.
About the Author
Taras Grescoe is the author of The Devil's Picnic and Sacre Blues: An Unsentimental Journey Through Quebec, which was shortlisted for the Writers' Trust Award and was a national bestseller in Canada. His work appears in major publications all over the U.S., the UK, and Canada, including the Times, National Geographic, Independent, Conde Nast Traveller (UK), National Geographic Traveler, and the New York Times. He lives in Montreal.
Praise For Bottomfeeder: How to Eat Ethically in a World of Vanishing Seafood…
"If you're a seafood lover, pick up this guide to which fish are the best for our bodies and which are best for the environment."—San Francisco Chronicle
"Research that brings muckraking books such as "Fast Food Nation" to mind." —Seattle Post-Intelligencer
"From pollutants to piracy, preservatives to Patagonian toothfish, Grescoe surveys the state of our collective waterways in Bottomfeeder: How to Eat Ethically in a World of Vanishing Seafood, which combines some literal seabed muckraking with a fascinating travelogue…[An] aquatic The Omnivore's Dilemma." —Gothamist
"Fascinating...will inform many about the dire state of the oceans, expose the dreadful environmental consequences of badly managed aquaculture, and prompt us to make better seafood choices...With clear, compelling writing, Grescoe covers a vast array of topics ranging from ecology (e.g. how overfishing affects ecosystems), cooking and eating (a trip to a Japanese restaurant that serves whale meat), economics (the business of black-market cod), and history." —Ethicurean
"Grescoe takes us on an international tour of controversial cuisines -- shark fin soup in China, whale sashimi in Japan, monkfish tail in New York City -- meanwhile offering an overview of the corrupt practices that have put the oceans (and our health) in danger. The portrait he paints is grim: oceanic dead zones that, because of pollution and overfishing, can no longer support organic life; salmon farms polluted by pesticides and disease; ruthless bottom trawlers with nets that can destroy entire ecosystems. A warning is not a death sentence, however. The book empowers consumers to ask the right questions -- if the halibut is from the Atlantic or Pacific, for instance, and whether the lobster pasta is actually made from monkfish, which is endangered. And asking these questions will make it possible to enjoy seafood for years to come." —Salon.com
"Grescoe's tale hits all the right notes. It's an entree you'll remember." —Fortune Small Business
"In this whirlwind, worldwide tour of fisheries, Grescoe (The Devil's Picnic) whiplashes readers from ecological devastation to edible ecstasy and back again." —Publishers Weekly
"Bottomfeeder highlights the diversity, complexity, and fragility of our oceans. It's an important reminder that we all have to take better care of our oceans if we want seafood in our future."—David Suzuki, co-founder, David Suzuki Foundation
Advertisement