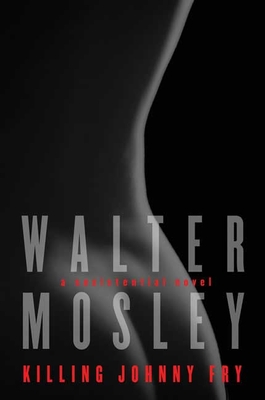 Killing Johnny Fry: A Sexistential Novel (Hardcover)
A Sexistential Novel
Bloomsbury USA, 9781596912267, 288pp.
Publication Date: December 26, 2006
* Individual store prices may vary.
or
Not Currently Available for Direct Purchase
Description
This bold new novel from Walter Mosley startles in both its rawness and its honest portrayal of a man on a quest for sexual redemption in midlife. When Cordell Carmel catches his longtime girlfriend with another man, the act that he witnesses seems to dissolve all the boundaries he knows. In that instant, the calm existence of this middle-aged New York City man becomes something unrecognizable: he wants revenge, but also something more. "Killing Johnny Fry "is the story of Cordell's dark, funny, soulful, and outrageously explicit sexual odyssey in search of a new way of life. His guide is a mysterious woman named Sisypha, who leads him deep into the erotic heart of the city.
"Killing Johnny Fry" marks new territory for Walter Mosley, bestselling author of "Devil in a Blue Dress" and many other books in different genres: sci-fi, politics, literary fiction. It will surprise, provoke, inspire, and make you blush. Above all, it is about a man questioning the rules we take for granted and the powerful and sometimes disturbing connections that occur between people when these rules are removed.
About the Author
Walter Mosley is one of the most versatile and admired writers in America today. He is the author of more than 25 critically acclaimed books, including the major bestselling mystery series featuring Easy Rawlins. His work has been translated into 21 languages and includes literary fiction, science fiction, political monographs, and a young adult novel. His short fiction has been widely published, and his nonfiction has appeared in the "New York Times "magazine and the "Nation, "among other publications. He is the winner of numerous awards, including an O'Henry Award, a Grammy award, and the PEN American Center's Lifetime Achievement Award. He lives in New York City.
Praise For Killing Johnny Fry: A Sexistential Novel…
"And now for something completely different from Easy Rawlins' prolific creator (Cinnamon Kiss, 2005, etc.), who's branching out into still another genre... An interesting look at a male in midlife crisis. As L says, "I had come alive. And life hurt."" - Kirkus "A harrowing, extremely well-written story that grabs you from the first page and doesn't let go….anybody who dismisses KILLING JOHNNY FRY as pornography or salacious misses not only the point of the book but deprives themselves of the pleasure of reading one of America's greatest writers….Walter Mosley has written a great novel here. As with all of his books, it is beautifully written. But rather than simply titillate us, Mosley makes us face the existential condition of human life and the dark side that lurks not far from our everyday world. KILLING JOHNNY FRY ultimately does what great fiction should do. It makes us think." - Bookreporter.com "When a national treasure like Mosley decides to publish a dirty novel, snippy reactions are inevitable. Does a journey of sexual discovery have to be quite this filthy? But if Cordell's misadventures were too palatable, if this were a novel one could read over lunch, it wouldn't be authentic porn. Fans of his Easy Rawlins series might be put off by the surreal absurdity, but perhaps Mosley is reaching out to new readers. Or, like Bill Clinton, a fan of Mosley's early work, perhaps he's doing something audacious because he can." - Tracy Quan, Washington Post "...a fantastically filthy tale of a cuckolded man in search of revenge and reinvention. Like his 1990 breakout detective mystery, Devil in a Blue Dress, Mosley's newest novel is a noir. But this one is a quantum leap in versatility and bears the unmistakable earmark of the red-headed stepchild of the literary arts: hard-core pornography." - Radar "More explicit than any other Mosley offering, this scintillating sexcapade soars above the chick-lit genre of pleasure and sincerely provides salvation." - Savoy
Advertisement