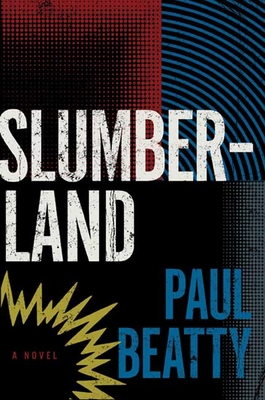 Slumberland (Hardcover)
Bloomsbury USA, 9781596912403, 256pp.
Publication Date: June 10, 2008
Other Editions of This Title:
Paperback (8/11/2009)
Compact Disc (11/2/2018)
MP3 CD (11/29/2016)
* Individual store prices may vary.
Description
The breakout novel from a literary virtuoso about a disaffected Los Angeles DJ who travels to post-Wall Berlin in search of his transatlantic doppelganger.
Hailed by the "New York Times" and the "Los Angeles Times" as one of the best writers of his generation, Paul Beatty turns his incisive eye to man's search for meaning and identity in an increasingly chaotic world.
After creating the perfect beat, DJ Darky goes in search of Charles Stone, a little-known avant-garde jazzman, to play over his sonic masterpiece. His quest brings him to a recently unified Berlin, where he stumbles through the city's dreamy streets ruminating about race, sex, love, Teutonic gods, the preventdefense, and Wynton Marsalis in search of his artistic and spiritual other.
Ferocious, bombastic, and laugh-out-loud funny, "Slumberland" is vintage Paul Beatty and belongs on the shelf next to Jonathan Lethem, Colson Whitehead, and Junot Diaz.
About the Author
Paul Beatty is author of four novels, Slumberland, Tuff, The White Boy Shuffle, and The Sellout, which won the 2016 Man Booker Prize. He has also written two books of poetry: Big Bank Take Little Bank and Joker, Joker, Deuce. He was the editor of Hokum: An Anthology of African-American Humor. He lives in New York City.
Praise For Slumberland…
"With laugh-out-loud parodies of everything from the SAT's cultural bias to neo-Nazi musical tastes, Slumberland shows that Beatty can still crank out the acerbic riffs...as inimitable as ever. Beatty's outrageous novel aims to provoke, and it succeeds." —Time Out New York
"With its dictionary delight mixed with cheerfully raunchy, tossed-off outrageousness, Slumberland is like a trip-hop Myra Breckinridge. (If Myra were plying her libidinous philosophy in contemporary America, it's easy to imagine her, like Sowell, dreaming of a "ménage a noir.") . What Gore Vidal did for sex and gender constructs, though, Beatty does for race and prominent black Americans, with sacred cow-tipping on nearly every page. Waterfalls of wordplay that pool and merge like acid jazz on the page...well worth checking out for any language lover with a wicked sense of humor. When Beatty is beating out his linguistic arpeggios, I could listen all day.—Washington Post
"A remarkably strange and funny meditation...revelatory and mind-blowing. From its opening pages, Beatty's powerhouse novel leaves no doubt about the topsy-turvy narrative road ahead, one that destroys conventional notions of black identity and white oppression while finding perverse humor in verbal salvos flung at and over the wall of race." —Seattle Times
"One of the hip hop generation's most lyrical writers spins a tale that traces an introspective DJ from his Los Angeles home to Berlin in search of a sublime sax player he hopes will bless his latest sonic sculpture." —Vibe
"Slumberland" is laugh-out-loud funny and its wit and satire can be burning, regardless of where they are pointed: blackness or whiteness. The book places Beatty somewhere among Ishmael Reed, Dany Laferrière and William S. Burroughs, and it is rife with sex (particularly interracial sex as weapon, as guilt and celebration, but never as love), music (it is, in fact, a love poem to music as identity, as savior, as self, as the perfect language) and religion, whatever mask it wears. There are incredible moments of tenderness... Beatty is kind of symphonic W.E.B. Du Bois." —Los Angeles Times
"The final message, romantic but deeply felt, is crystal clear -- music might not pave the way for reunification, but in many ways it's the best possible option." —Chicago Sun Times
"Ferociously witty and original...virtuosic and hilarious. Whether he's warning against the 'cutie-pie cabal' of The All-New Mickey Mouse Club; spinning a track for a philosopher skinhead; hypothesizing about Harriet Tubman or Nabokov or Big Daddy Kane; rhapsodizing about every sound he's ever heard (he has a "phonographic memory"); or brilliantly spinning an analogy between East Germans after reunification and African-Americans during Reconstruction, DJ Darky brings the full funk. Marvelous." —Kirkus
"The narrative touches on oppression and the inexplicable, transcendent power of music, both of which translate to the American race struggle. Beatty's rolling Faulknerian prose has been praised for its "dazzling linguistic flights" (Salon), and this newest novel is no different; the dense imagery and sound create a synesthesia carnival." —Library Journal
"With its acerbic running commentary on race, sex, and Cold War culture, the latest from Beatty contains flashes of absurdist brilliance in the tradition of William Burroughs and Ishmael Reed."—Publishers Weekly
"Nobody riffs like Paul Beatty. Uproarious, incisive and thrillingly original, Slumberland is a masterful journey into sound, a diatonic/Teutonic search for love, identity, the perfect beat and the perfect beatdown. Like any great soloist, Beatty reveals entire worlds with each note, some of them heartbreakingly familiar and others heretofore unknown. This is an epic mash-up of race, music, culture, history, and everything else worth throwing on a turntable."—Adam Mansbach, author of The End of the Jews
"In Paul Beatty's brilliant comic novel, an American deejay in Berlin declares the end of blackness even as he finds himself the object of a million racial projections. Every sentence is a moment of fierce and intelligent wit, and all of our preconceived notions – of racial-uplift narratives, of Germany, and of the nature of music – are turned squarely and rightly on their heads."—Danzy Senna, author of Caucasia and Symptomatic
"Furiously written…another bravura performance from the searingly talented Paul Beatty. A no-holds-barred comedic romp that crushes through the Fulda Gap of Black/White, East/West relationships like an M1 tank."—Junot Diaz
or
Not Currently Available for Direct Purchase