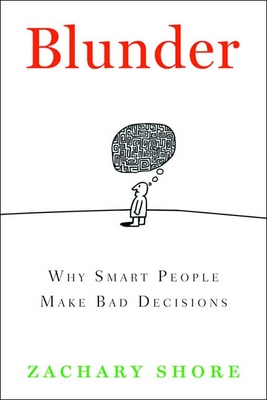 Blunder: Why Smart People Make Bad Decisions (Hardcover)
Why Smart People Make Bad Decisions
Bloomsbury USA, 9781596912427, 272pp.
Publication Date: October 28, 2008
* Individual store prices may vary.
or
Not Currently Available for Direct Purchase
Description
We all make bad decisions. It's part of being human. The resulting mistakes can be valuable, the story goes, because we learn from them. But do we? Historian Zachary Shore says no, not always, and he has a long list of examples to prove his point.
From colonialism to globalization, from gender wars to civil wars, or any circumstance for which our best solutions backfire, Shore demonstrates how rigid thinking can subtly lead us to undermine ourselves. In the process, he identifies seven "cognition traps" to avoid. These insidious yet unavoidable mind-sets include:
-Exposure Anxiety: fear of being seen as weak
-Causefusion: confusing the causes of complex events
-Flat View: seeing the world in one dimension
-Cure-Allism: thinking that one-size solutions can solve all problems
-Infomania: an obsessive relationship to information
-Mirror Imaging: thinking the other side thinks like you do
-Static Cling: the refusal to accept that circumstances have changed
Drawing on examples from history, politics, business and economics, health care, even folk tales and popular culture, Shore illustrates the profound impact blunders can have. But he also emphasizes how understanding these seven simple cognition traps can help us all make wiser judgments in our daily lives.
For anyone whose best-laid plans have been foiled by faulty thinking, "Blunder" shines the penetrating spotlight of history on decision making and the patterns of thought that can lead us all astray.
About the Author
Zachary Shore is a professor of national security affairs at the Naval Postgraduate School and a senior fellow at Berkeley's Institute of European Studies. He has served on the policy planning staff at the U.S. Department of State through support from the Council on Foreign Relations. He has also worked as a national security fellow at Harvard's Olin Institute for Strategic Studies. Shore earned his doctorate in history from Oxford and has won numerous academic honors. The author of What Hitler Knew and Breeding Bin Ladens he lives in Berkeley, California.
Praise For Blunder: Why Smart People Make Bad Decisions…
"Blunder is a shrewd, smart book, full of entertaining stories and wise insights. Drawing his examples from history, literature, and current events, Zachary Shore shows how smart, well-meaning people are often trapped into making the wrong decisions. Every policy-maker should have a copy of Blunder near at hand." —James Sheehan, Dickason Professor in the Humanities, Stanford University, author Where Have All the Soldiers Gone?
"Engaging…[Shore] teases out the cause and effect of seven [cognition] traps (from 'infomania' to 'exposure anxiety') with witty stories of famous blunders…Beyond shining a light on our propensity to apply an old solution to a new situation, Shore's goal is to teach the basis of good judgment. Like all good historians he's hoping we can avoid making the same mistake twice." —
O magazine
"Zachary Shore explains why smart people Blunder into bad decisions." --
Vanity Fair
"Well-chosen case studies, all of which lead to a resounding climax…Eye-opening."—Kirkus
"Shore explains why smart people do dumb things in [Blunder]… clever wordplay, neat categories and accessible examples." —Publishers Weekly
"Blunder is a book that will make you think about how you think. With the deft touch of a master storyteller, Zachary Shore ranges across the centuries and around the world in this eye-opening account of how our minds so often fall into cognition traps. Think Malcom Gladwell meets David McCullough. NOT reading this book would be a blunder of historic proportions." –Eric Weiner, author of New York Times-bestseller, The Geography of Bliss
"Though most of us often make irrational choices, Zachary Shore shows that history can teach us much about our judgment. Blunder is a clever, engaging, and thought-provoking book that can help us better understand irrationality and wisdom." —Dan Ariely, author of Predictably Irrational
Advertisement