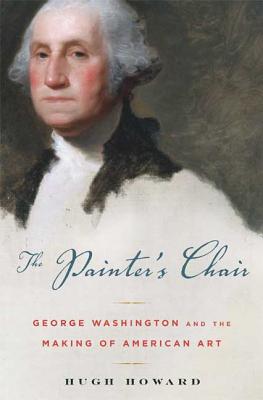 The Painter's Chair: George Washington and the Making of American Art (Hardcover)
George Washington and the Making of American Art
Bloomsbury Publishing PLC, 9781596912441, 297pp.
Publication Date: February 10, 2009
* Individual store prices may vary.
or
Not Currently Available for Direct Purchase
Description
"I am so hackneyed to the touches of the painters pencil, that I am now altogether at their beck ... no dray moves more readily to the Thill, than I do to the Painters Chair." - "George Washington, 16, 1785"
When George Washington was born, the New World had virtually no artists. Over the course of his life, a cultural transformation would occur. Virtually everyone regarded Washington as America's indispensable man, and the early painters and sculptors were no exception. Hugh Howard surveys the founding fathers of American painting through their portraits of Washington. Charles Willson Peale was the comrade-in-arms, John Trumbull the aristocrat, Benjamin West the mentor, and Gilbert Stuart the brilliant wastrel. Their images of Washington fed an immense popular appetite that has never faded, Stuart's image endures today on the $1 bill. "The Painter's Chair is "an eloquent narrative of how America's first painters toiled to create an art worthy of the new republic, and the hero whom they turned into an icon.
About the Author
Hugh Howard's numerous books include Dr. Kimball and Mr. Jefferson; the definitive Thomas Jefferson, Architect; his memoir House-Dreams; and most recently the very successful Houses of the Founding Fathers. He resides in upstate New York with his wife, writer Elizabeth Lawrence, and their two teenage daughters.
Praise For The Painter's Chair: George Washington and the Making of American Art…
"[A] lively narrative…A novel, ingeniously executed approach to the inspiring man whose dollar-bill likeness is arguably the most reproduced painted image in history."—Kirkus Reviews
"Intricate and engaging…Howard's story is…not only about the birth of American painting, but—through the creation of its first, most long-lasting, and most transcendent human icon—about the invention of America itself."—The American Scholar
"Patron of the arts is not the first association one makes with George Washington, but Howard elegantly makes the case that the founder of the nation also helped establish America's art. Though architecture, not painting, was Washington's preferred art, America's first prominent artists painted him: Charles Willson Peale, John Trumbull, Benjamin West and Gilbert Stuart, the most distinguished American painter of the period. Washington, who Howard argues was "easier to see and admire than to understand," is subtly revealed in a narrative that is precisely paced and elegantly composed."—Publishers Weekly
"In the delightful
The Painter's Chair: George Washington and the Making of American Art
, Hugh Howard develops the idea of Washington as a patron of the arts and examines how art and the painting of portraits developed in the United States."
—Book Page
"Hugh Howard's highly original work offers a completely new perspective on the Father of our Country, examining his life through the eyes of six of the 28 artists for whom he sat, showing how his increasing fame accelerated the development of American painting, and offering insight into how history and myth are made by images…History is a story, a myth that we are told and that we tell one another, that defines our existence as a people and a nation. What Hugh Howard so deftly tells in this important book is how the arts of painting and sculpture came to take an increasingly central part in our understanding of the first decades of the United States. He also alters our understanding of that amazing man, George Washington"—Dallas Morning News
Advertisement