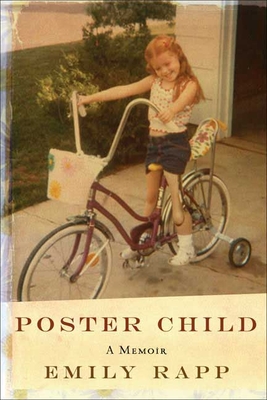 Poster Child
A Memoir
Hardcover

* Individual store prices may vary.
Other Editions of This Title:
Paperback (1/2/2008)
Description
Emily Rapp was born with a congenital defect that required, at the age of four, that her left foot be amputated. By the time she was eight she'd had dozens of operations and her entire leg below the knee had been amputated. She had also become the smiling, always perky, indefatigable poster child for the March of Dimes, and spent much of her childhood traveling around the Midwest making appearances and giving pep talks. All the while she was learning to live with what she called my grievous, irrevocable flaw, and the paradox that being extraordinary was the only way to be ordinary.
Poster Child
is Rapp's unflinching, brutally honest and often darkly humorous account of wrestling with the tyranny of self-image as a teenager and then ultimately coming to terms with her own body as a young woman. It's about what it's like to live inside a broken body in a society that values beauty above almost everything else.
Praise For Poster Child: A Memoir…
"Rapp's precise and forthright descriptions of her exhausting physical ordeals and complex psychic wounds are simultaneously harrowing and fascinating, and they foster a strong bond between writer and reader...Rapp approaches the memoir as a supple, revelatory, involving and generous genre....She offers a fresh perspective on our obsession with physical perfection, especially the crushing expectations for women, and she writes delicately about the fears that disability engenders regarding intimacy and sex. Rapp's insider's view of the history of prostheses deepens our empathy and admiration for those who depend on artificial limbs, a growing population, once again, in yet another time of war and horrific injuries. Memoir, the conduit from the personal to the universal, is the surest way into the kind of significant psychological, sociological and spiritual truth Rapp is engaged in articulating. And there isn't one false note here. Not one inauthentic moment. No cheap manipulation. No self-importance…Her cauterizing specificity is compelling, her candor incandescent and her intelligence, courage and spiritual diligence stupendous."—Donna Seaman, Los Angeles Times
"You can't put down this excellent memoir ...Poster Child beautifully illustrates every human being's sometimes overt, sometimes covert struggle against the intractability of our own physical condition."—Carolyn See, Washington Post
"Emily Rapp's autobiographical Poster Child contains actual insight and analysis. Focusing on the challenges she faced as a girl, and later as a young woman, with an artificial leg, the memoir is revelatory and emotional, truthful and empathetic...Honest and perceptive."—Christina Eng, San Francisco Chronicle
"Emily Rapp, who had her foot and eventually her entire leg amputated starting in 1978, at age 4, brilliantly succeeds at communicating the pain, shame and profound strangeness she experienced as a young amputee in her memoir Poster Child. Rapp, who was literally a poster child for the March of Dimes at age 6, writes breathtakingly, almost magically, of the world of wooden legs, silicone feet and metal knee hinges that are made in a filthy workshop by a man who has no soap in his bathroom and dying plants in his waiting room."—Donna Minkowitz, Newsday
"Rarely does one pause to think what's going on behind a poster child's smile, but in this bright, sharp, addictive memoir, Rapp, a real-life poster girl for the March of Dimes, is insistent that we know the real person behind the angelic expression. Born with one leg shorter than the other, Rapp faced her first amputation at age 4 -- her foot -- and recollections of her crying for the missing appendage, imprisoned in a body cast, are laid out in unflinching prose. This is no tale of despair, however; Rapp is most interested in presenting the contradictions presented by the lost limb, and how by holding her back, it drove her forward -- to high school parties, ski slopes, a study-abroad program in Dublin, a Fulbright sojourn in Korea, and to her place at the Harvard Divinity School."—Ladies Home Journal.com
"A finely drawn memoir that reads, most definitely, better than fiction."—Pages magazine
"Everything about Emily is uniquely wonderful: Her memory; her story; her voice; her human insights; her endless strength, honesty and grace; her pitch-perfect prose. My only criticism with this book is that it ended." –Amy Krouse Rosenthal, author of Encyclopedia of an Ordinary Life
"Rapp, a writing professor at Antioch University, has crafted a meditative, nuanced account of her life, which began with a grim prognosis after she was born in 1974 with a shortened leg. At first, her handicap is filtered through the prismatic fantasy of girlhood. "I felt singled out and special," she reflects, spinning stories of dragon attacks to enthralled schoolmates in Nebraska and Wyoming. In a childhood marked by surgeries and prosthetic fittings, she becomes a bubbly poster child for the local March of Dimes. As the daughter of a pastor and fiercely optimistic parents, Rapp prays earnestly for a normal leg even as she feverishly overcompensates for the artificial limb through witty verve and rambunctious horseplay. But in adolescence, she struggles with her image in the eyes of others. Her leg "may have been couture," she jokes, "but it certainly wasn't fashionable." Rapp's unrelenting push toward normalcy even takes her to Korea as a Fulbright scholar, where she must fend for herself even with a few hydraulic malfunctions. But she's too sharp and self-aware to either laugh her travails away or admit total defeat. Though she demonstrates daunting reserves of pluck, she isn't afraid to hold the sugarcoating and confront the irresolvable dilemmas. Her piercing metaphors and sudden, unexpected jabs of humor enhance the candid appeal of this "underdog" tale."—Publishers Weekly
"Mature and graceful debut memoir about a childhood struggle to be perfect. Born with a congenital bone and tissue disorder, the author had her left foot amputated when she was four and was fitted with an expensive, ugly prosthesis; at eight, after several operations, her entire left leg was removed. Rapp devoted her childhood to excelling, to being brave and smart: If I do everything just right, she reasoned, maybe I can make up for that missing leg. Despite her handicap, she biked and swam. She reveled in the compliments of the ladies at church, always clucking about her courage. She loved being told that she was an "inspiration." But as she entered adolescence, Rapp became more self-conscious. In particular, she worried that she would never catch a man. (She writes with elegance of losing her virginity.) Granted, she had good material to work with. Most people just have to grapple with getting the condom packet open; she had to decide whether or not to remove her leg. During college, her stoicism began to fray, and she wavered under the burden of her own attempts at perfection. In search of a new framework for thinking about disability, she discovered bold theologians who argue that a broken body—Jesus' broken body—sits at the center of Christianity. This should not be viewed only as a disability memoir. It is also a story of the 1970s and '80s (the author's recreation of a popular culture that included stonewashed jeans and too much eyeliner is spot-on), a spiritual memoir of the movement from childhood pieties to adult faith and a confession that will resonate with anyone who spent their youth overcompensating, for whatever reason. Rapp has excelled again: This book is a blessing."—Kirkus Reviews (starred review)
"At the age of six, Rapp (creative writing, Antioch Univ., Los Angeles) was a poster child for the March of Dimes. Born with one leg shorter than the other, she not only endured hip and knee surgery and the amputation of her left foot but was also plagued by chronic pain to her postoperative limb. Then, another type of pain followed-rejection because of her wooden leg. Rapp's emotional journey parallels that of Lucy Grealy (Autobiography of a Face), whose face was disfigured from cancer operations. Rapp's skillful detailing of her life from birth to adulthood is sandwiched between a prolog and a surprise ending. One discovers in the prolog that Emily became an overachiever and was a Fulbright scholar. Knowing this keeps the reader trudging through pages detailing her physical and emotional pain. At the book's end, readers will be shocked to learn that Rapp quit her Fulbright scholarship amid panic attacks. A quitter for the very first time, she finally accepted her physical self, which is her triumph. Recommended for public and academic libraries."—Library Journal
"With a voice as refreshing as spiked lemon ice, authentic, feisty and tender, Poster Child connects us to an unflinching American family and to a guileless young woman who tells her emerging story with luminous self-command. At every quarter turn we follow the narrator's transformations from her first tentative steps and into glittering prisms of personal challenge and explosive discovery. A triumph of warmth, wit, and a fiercely lyric psyche."—Maria Flook, bestselling author of Invisible Eden and My Sister Life
"Emily Rapp tells a revealing and believable story of physical endurance, a fierce will, and the devotion of a remarkable family. Some difficult things in life can never be solved however hard we try, and Emily Rapp's memoir details her congenital defect and the ensuing medical ordeals. Graced with many gifts—intelligence, beauty, and spirit—Emily Rapp's greatest achievement is to help us understand what it really means to be a whole person."—Laura Furman, author of Drinking with the Cook and series editor of The O.Henry Prize Stories
"The pain of endless surgeries, the fear of never being loved, the longing to be whole in a culture ruled by a heartless obsession with physical perfection. These emotions underlie Emily Rapp's wonderful book, but they don't define it. Poster Child is too much fun to read, too rich with hard-headed detail about everything from the terrors of miniskirts to the mechanics of artificial limbs, to be mistaken for a woeful tale of disability. Here is what it is like to have a daring mind, a full heart—and one leg."—Stephen Harrigan, author of Challenger Park
Bloomsbury USA, 9781596912564, 240pp.
Publication Date: December 26, 2006
About the Author
Emily Rapp was born in Nebraska and grew up in Wyoming and Colorado. She was a Fulbright Scholar and a James A. Michener Fellow at the University of Texas at Austin. She has received awards and recognition for her work from The Atlantic Monthly, StoryQuarterly, The Mary Roberts Rinehart foundation, the Jentel Arts Foundation, The Corporation of Yaddo, and the Fine Arts Work Center in Provincetown. She was recently the Philip Roth Writer-in-Residence at Bucknell University. She is a professor in the MFA Program at Antioch University in Los Angeles.
or
Not Currently Available for Direct Purchase