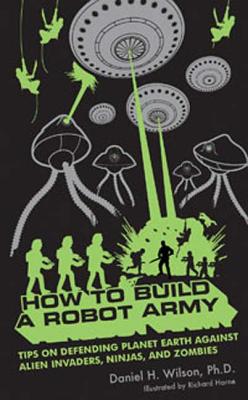 How to Build a Robot Army
Tips on Defending Planet Earth Against Alien Invaders, Ninjas, and Zombies
Paperback

* Individual store prices may vary.
Description
It goes without saying that robots kill. They hunt, swarm, and fire lasers from their eyes. They even beat humans at chess. So who better to stand with us when the real villains arrive?
Movies instruct us that, whether we like it or not, we will one day be under siege by pirates, ninjas, zombies, aliens, and Godzilla. Also great white sharks. And-let's face it-we're not prepared. But with the advice contained in this brilliantly illustrated, ingenious book, you can build your own robot army to fend off hordes of bloodthirsty foes. From common-sense injunctions ("never approach an unfamiliar robot in a militarized zone") to tactical pointers ("low-power radar beats cameras for detecting mummies in a fog-shrouded crypt") to engineering advice ("passive-dynamic exoskeleton suits will increase sprint speeds but not leg strength"), this book contains all the wisdom you'll need to fend off the coming apocalypse.
Witty, informative, and utterly original, How to Build a Robot Army is the ideal book for readers of any age.
Praise For How to Build a Robot Army: Tips on Defending Planet Earth Against Alien Invaders, Ninjas, and Zombies…
"Hilariously deadpan." —The New York Times on How to Survive a Robot Uprising

"[A] spectacular debut…Wilson's often laugh-out-loud mix of irony, sarcasm and dry humor is perfectly complemented by almost two dozen illustrations by Richard Horne." —Boston Herald on How to Survive a Robot Uprising

"Splits the difference between reality and farce…juxtaposing [advancements in robotics] with droll… lifesaving remedies." —BookPage on How to Survive a Robot Uprising
Bloomsbury USA, 9781596912816, 176pp.
Publication Date: January 5, 2008
About the Author
Daniel H. Wilson earned a Ph.D. from the Robotics Institute of Carnegie Mellon University in 2005 and Masters degrees in Artificial Intelligence and Robotics. Wilson is a contributing editor to Popular Mechanics magazine and author of How to Survive a Robot Uprising (Bloomsbury 2005), voted best book of 2006 by WIRED Magazine, as well as Where's My Jetpack? (Bloomsbury 2007) and How to Build a Robot Army (Bloomsbury 2008). His forthcoming books include Bro-Jitsu: The Martial Art of Sibling Rivalry and The Robonomicon. Three of his books (Robot Uprising, Robot Army, and Bro-Jitsu) were optioned by Paramount Pictures, and he penned the screenplay based on Bro-Jitsu. Wilson hosted The Works on the History Channel, which aired Fall 2008.