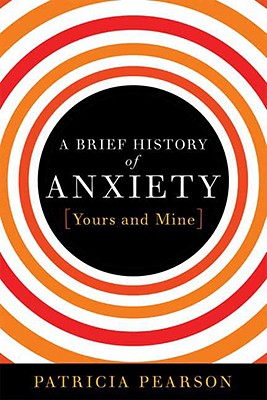 A Brief History of Anxiety...Yours and Mine (Hardcover)
Bloomsbury USA, 9781596912984, 192pp.
Publication Date: March 4, 2008
* Individual store prices may vary.
or
Not Currently Available for Direct Purchase
Description
A bold new view of anxiety from an unerringly smart and funny writer who has suffered from it her whole life.
The millions of Americans who silently cope with anxiety at last have a witty, articulate champion in Patricia Pearson, who shows that the anxious are hardly "nervous nellies" with "weak characters" who just need medicine and a pat on the head. Instead, Pearson questions what it is about twenty-first century American culture that is making people anxious, and offers some surprising answers as well as some inspiring solutions based on her own fierce battle to drive the beast away.
Drawing on personal episodes of incapacitating dread as a vivid, often hilarious guide to her quest to understand this most ancient of human emotions, Pearson delves into the history and geography of anxiety. Why are North Americans so much more likely to suffer than Latin Americans? Why did Darwin treat hypochondria with sprays from a hose? Why have we forgotten the insights of some of our greatest philosophers, theologians, and psychologists in favor of prescribing addictive drugs? In this blend of fascinating reportage and poignant memoir, Pearson ends with her struggle to withdraw from antidepressants and to find more self-aware and philosophically grounded ways to strengthen the soul.
About the Author
Patricia Pearson is a contributing editorial writer for USA Today. She is the author of the novels Playing House and Believe Me, the essay collecton Area Woman Blows Gasket, and the groundbreaking investigation of female aggression, When She Was Bad, for which she won the Arthur Ellis Award for Best True Crime in 1997. Her commentary has also appeared in the New York Times, the New York Observer, and the Guardian, among many other publications. She lives in Toronto with her husband, her two children, and her dread.
Praise For A Brief History of Anxiety...Yours and Mine…
"In this captivating book, Pearson weaves in vivid descriptions of her own emotional upheavals with insights and explanations from philosophers and psychologists, historic and contemporary. The combination makes the book stimulating, accessible, and relevant. Pearson has given us an insightful and entertaining book."—Body & Soul
"Highly amusing…[Pearson] examine[s] modern civilization and its discontents, as well as her own miseries, which she does, thoughtfully and incisively. Major points for wit and flair." —New York Times
"Exhilarating. Finely crafted. Pearson makes plenty of intriguing and arguable observations. If you're anxious all the time and you think about that anxiety a lot, this collection will provide you some companionable relief."—Slate
"Pearson is a daredevil on the page; her prose somersaults and vaults, does splits and juggles, keeping the reader entertained by her wit and amazed by her dexterity as an investigative journalist."—Newsday
"[Pearson] offers readers a learned hand through the fraught world of anxiety politics...this book offers the anxious reader a recipe, one that is sure to quiet."—Newsday
"Pearson's quirky memoir should strike a chord with some of the 40 million American adults suffering from clinical anxiety."—Publishers Weekly
"Insightfully probes one of the oldest and least-understood psychological conditions...[a] well-constructed book...lively. [Pearson] employs a pleasing blend of personal anecdote and historical context. Despite her often playful tone and poetic, evocative language, Pearson provides countless intriguing historical examples, backed by an extensive notes section, including discussions of ancient philosophy, medicine and theology. A wholly satisfying mix of memoir, cultural history and investigative journalism." —Kirkus Reviews
"In this meditation on anxiety, shot through with bright insights and shafts of illumination, Patricia Pearson has subtly interwoven her personal story with the history of anxiety in a manner that left me revisiting both the book and my memories of it long after I had finished. "A Brief History" deftly conveys a sense of where we have come to, offers succor to anyone afflicted with nerves, and may yet take a place beside some of the cultural landmarks in the field."—David Healy, author of Let Them Eat Prozac
"If only more psychology were written with the literate intelligence of this book. It is a weaving of stories that accomplishes a great deal: cultural analysis, psychological insight, and personal reflection. You will enjoy it and learn from it. If you are ever afraid of the dark, crowds of people, heights, and the insanity of your fellow humans, as I am, you may find comfort here."—Thomas Moore, author of Care of the Soul and A Life's Work
"What makes A Brief History of Anxiety sing is the wryly funny, winning voice of its author. Pearson has a gift for weaving personal experience into cultural analysis, resulting in something both entertaining and true. She's created a book that will offer comfort, insight and wisdom about a condition that touches nearly all of us in some way."—Peggy Orenstein, author of Waiting for Daisy and Schoolgirls
Advertisement