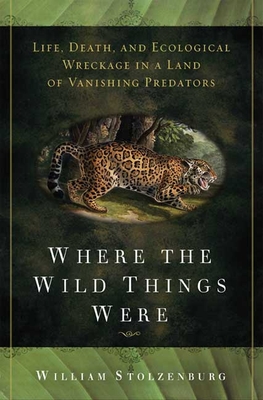 Where the Wild Things Were: Life, Death, and Ecological Wreckage in a Land of Vanishing Predators (Hardcover)
Life, Death, and Ecological Wreckage in a Land of Vanishing Predators
Bloomsbury Publishing PLC, 9781596912991, 291pp.
Publication Date: July 8, 2008
* Individual store prices may vary.
or
Not Currently Available for Direct Purchase
Description
A provocative look at how the disappearance of the world's great predators has upset the delicate balance of the environment, and what their disappearance portends for the future, by an acclaimed science journalist.
It wasn't so long ago that wolves and great cats, monstrous fish and flying raptors ruled the peak of nature's food pyramid. Not so anymore. All but exterminated, these predators of the not-too-distant past have been reduced to minor players of the modern era. And what of it? Wildlife journalist William Stolzenburg follows in the wake of nature's topmost carnivores, and finds chaos in their absence. From the brazen mobs of deer and marauding raccoons of backyard America to streamsides of Yellowstone National Park crushed by massive herds of elk; from urchin-scoured reefs in the North Pacific to ant-devoured islands in Venezuela, Stolzenburg leads a startling tour through bizarre, impoverished landscapes of pest and plague. For anyone who has seldom given thought to the meat-eating beasts so recently missing from the web of life, here is a world of reason to think again.
About the Author
William Stolzenburg has studied predator control techniques, monitored endangered species, and written hundreds of magazine features and columns on the science of rarity and extinction for "Nature Conservancy" and "Science News," among others. He lives in Shepherdstown, West Virginia.
Praise For Where the Wild Things Were: Life, Death, and Ecological Wreckage in a Land of Vanishing Predators…
"Stolzenburg narrates these cautionary tales with a conservationist's attention to ecological detail and a childlike reverence for flesh-tearing beasts. His infection enthusiasm should spark even in bug-wary urbanites a renewed appreciation for nature's complexity."  —TIME magazine
"This is a masterpiece, and its subject is extremely important and timely. I hope that Where the Wild Things Were receives the attention (and the accolades) it deserves."  —Mark Garland, BirdCapeMay.org
"In dazzling descriptions, Stolzenburg demonstrates how the delicate balance between predator and prey is so essential, and his book, rich in dramatic accounts of life and death in the wild, is powerful and compelling."  —Publishers Weekly, Starred review
"A passionately rendered update on our faltering environmental stability." —Kirkus Reviews
"With a lucid and sparkling voice, William Stolzenburg offers a revealing and well-documented account that explains clearly why we need the wolf, tiger, and other predators, large and small, to maintain a healthy environment." —George B. Schaller, Vice President of Science and Exploration, Wildlife Conservation Society; author of the National Book Award–winning The Serengeti Lion; and winner of the National Geographic Lifetime Achievement Award and the World Wildlife Fund Gold Medal
"Where the Wild Things Were is science writing at its best. The subject is important for biology and sustainable development, the prose is excellent, turning lyrical at just the right times, and the story of the research is woven with clarity into natural history. Big, fierce animals have a noble champion in William Stolzenburg."  —Edward O. Wilson, University Research Professor Emeritus, Harvard University
Advertisement