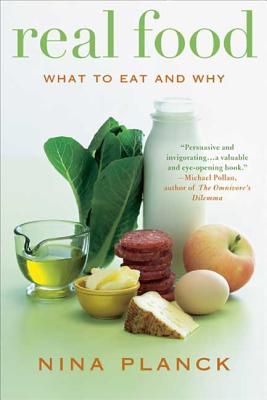 Real Food (Paperback)
What to Eat and Why
Bloomsbury Publishing PLC, 9781596913424, 343pp.
Publication Date: June 12, 2007
Other Editions of This Title:
Paperback (5/10/2016)
Hardcover (6/13/2006)
* Individual store prices may vary.
Description
Hailed as the "patron saint of farmers' markets" by the "Guardian "and called one of the "great food activists" by "Vanity Fair"'s David Kamp, Nina Planck is single-handedly changing the way we view "real food." A vital and original contribution to the hot debate about what to eat and why, "Real" "Food" is a thoroughly researched rebuttal to dietary fads and a clarion call for the return to old-fashioned foods.
In lively, personal chapters on produce, dairy, meat, fish, chocolate, and other real foods, Nina explains how ancient foods like beef and butter have been falsely accused, while industrial foods like corn syrup and soybean oil have created a triple epidemic of obesity, diabetes, and heart disease. The "New York Times" said that "Real Food" "poses a convincing alternative to the prevailing dietary guidelines, even those treated as gospel," and that "radical" as Nina's ideas may be, the case she makes for them is "eminently sensible.
About the Author
Nina Planck grew up in Virginia selling vegetables at farmers' markets and later created the first farmers' markets in London, England. In New York City, she ran the legendary Greenmarkets. Nina also wrote The Farmers' Market Cookbook and hosted a British television series on local food. Her latest company, Real Food, runs markets for traditional foods in American cities.
Praise For Real Food: What to Eat and Why…
Praise for Real Food: 
"Nina Planck's powerful concept, 'real food,' has changed how we think about what we eat. Now Nina turns to the nutritional needs of the developing human being. Today, one can say that 'womb ecology' is the most vital aspect of human ecology. In terms of public health, nothing is more important than the health and well-being of pregnant women. That's why no task is more important than to study the factors—particularly nutritional factors—that influence a baby's growth and development."—Dr. Michel Odent, author of The Farmer and the Obstetrician
"Nina Planck's personal story of life with baby Julian, from preconception to tending the first tomatoes at their own Small Farm, makes compelling reading. Her no-nonsense, tell-it-like-it-is voice cuts through cant and euphemism like a whiff of sharp cheddar for anyone who wants the real dope. Her basic distinction between real and fake foods makes essential reading not just for mothers with babies, but for all of us who want to live and eat well."—Betty Fussell, author of The Story of Corn, Raising Steaks, and My Kitchen Wars
"Nina's real food concept is critical for new parents and her advice on introducing solids is the best no-nonsense, eliminate-the-power-struggle option I've read in years."—Erica Lyon, author of The Big Book of Birth and founder of Realbirth
"How can you not be interested in Nina Planck's book?" 
—Jesse Kornbluth
,
HeadButler.com
"[Planck] is a cross between Alice Waters and Martha Stewart."—
Washington Post
 "Science is finally catching up to what our grandmothers knew long ago: that traditional foods, and even fats, are actually good for you—and a whole lot healthier than the creations of food technology. Drawing on the latest research and oldest folk wisdom,
Real Food
offers a persuasive and invigorating defense of eggs, butter, meat, and even lard (!), as well as a powerful critique of a food industry that aims to replace these standbys with its highly processed, and sometimes deadly, simulacra. Nina Planck has written a valuable and eye-opening book."
—Michael Pollan, author of The Omnivore's Dilemma
 "Planck has written an important book, and her timing may be perfect. With any luck
, Real Food
will resonate with Americans (starved for so long on low-fat diets) and bring Weston Price to a much larger audience than he could ever have imagined."
—Los Angeles Times Book Review
or
Not Currently Available for Direct Purchase