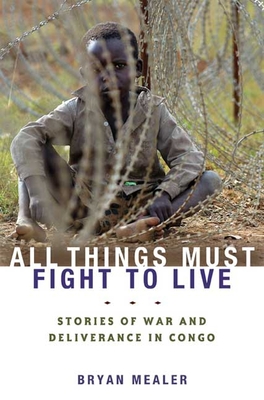 All Things Must Fight to Live: Stories of War and Deliverance in Congo (Hardcover)
Stories of War and Deliverance in Congo
Bloomsbury USA, 9781596913455, 320pp.
Publication Date: April 29, 2008
* Individual store prices may vary.
or
Not Currently Available for Direct Purchase
Description
A foreign correspondent's gripping account of his experiences in Congo, told through the long scope of the country's dark and brutal history.
After covering a brutal war that claimed four million lives, journalist Bryan Mealer takes readers on a harrowing two-thousand-mile journey through Congo, where gun-toting militia still rape and kill with impunity. Amid burned-out battlefields, the dark corners of the forests, and the high savanna, where thousands have been massacred and quickly forgotten, Mealer searches for signs that Africa's most troubled nation will soon rise from ruin.
At once illuminating and startling, "All Things Must Fight to Live" is a searing portrait of an emerging country devastated by a decade of war and horror and now facing almost impossible odds at recovery, as well as an unflinching look at the darkness and greed that exists in the hearts of men. It is nonfiction at its finest powerful, moving, necessary.
About the Author
Bryan Mealer was born in Odessa, Texas, and spent his childhood in West Texas and San Antonio. He graduated with a degree in journalism from the University of Texas at Austin, and spent time as a city reporter for the Austin Chronicle. He worked as an assistant editor at Esquire magazine in New York City before moving to Nairobi, Kenya, to become a freelance reporter. He later was the Associated Press staff correspondent in Kinshasa, Congo. He now lives in Providence, Rhode Island, and contributes to several magazines.
Praise For All Things Must Fight to Live: Stories of War and Deliverance in Congo…
"Mealer is a gifted writer who reports his harrowing experiences with humility and humanity" —Greg Houle, African Update
"Goes a long way toward making the phrase "dark continent" the anachronism that it should be. " —Minneapolis CityPages
"With vivid prose and compelling emotion…. [Mealer] reports his own "creeping emotional atrophy" as he is repulsed and then spellbound by the violence and by the courageous people who struggled to make sense of the fighting." —Booklist
"Mealer spent three years in this shattered land, and his book is a perceptive, empathetic, stomach-twisting presentation of the human condition during chaos….Mealer's book is a quiet paean to the courage he has witnessed, and its final salute to 'the many proud people of Congo' is as much eulogy as affirmation." —Publishers Weekly
"Bryan Mealer has put his life on the line to bring us a story of terror and courage from the heart of Congo. It's already an accomplishment just to go to such a place; to return with such a powerful and important story is rare indeed. Both as a journalist and as a reader, my hat's off to Mealer."—Sebastian Junger, author of The Perfect Storm
"Gorgeous, heartbreaking, and redemptive. Bryan Mealer has given us a story of a people and a land nearer to our hearts than we know. An immensely honest job of reporting, wonderfully told by a writer who feels as much as he sees."—Robert Kurson, author of Shadow Divers
"One has to be young and perhaps a touch mad to voluntarily travel, as Bryan Mealer has, by foot, boat, barge, bicycle, rickety airplane, and a train that goes off the rails, through one of the most violent places on earth. But a sane and cautious person would not have been able to bring back the vivid and tragic stories he has, from what is by far the world's bloodiest—and most underreported—zone of conflict."—Adam Hochschild, author of King Leopold's Ghost
"Five years ago, Bryan Mealer left a comfortable desk job in New York for one of journalism's worst bets: reporting from the harrowing—and virtually forgotten—war zone of the Congo. We are all very fortunate he chose to take that bet. In All Things Must Fight to Live, Mealer endeavors to make sense of the bewildering maze of conflicts that, until recently, tore apart the former Zaire while the outside world did shockingly little to prevent it. Even more important, he has succeeded in putting a human face to the struggles in this troubled corner of Africa, and leaves us with a portrait that is both deeply haunting and surprisingly hopeful. A profound achievement."—Scott Anderson, author of Moonlight Hotel

"Five years ago, Bryan Mealer left a comfortable desk job in New York for one of journalism's worst bets: reporting from the harrowing—and virtually forgotten—war zone of the Congo. We are all very fortunate he chose to take that bet. In All Things Must Fight to Live, Mealer endeavors to make sense of the bewildering maze of conflicts that, until recently, tore apart the former Zaire while the outside world did shockingly little to prevent it. Even more important, he has succeeded in putting a human face to the struggles in this troubled corner of Africa, and leaves us with a portrait that is both deeply haunting and surprisingly hopeful. A profound achievement."—Scott Anderson, author of Moonlight Hotel
"Gutsy, richly descriptive recollections effectively conjure grisly events in a troubled nation."—Kirkus Reviews
Advertisement