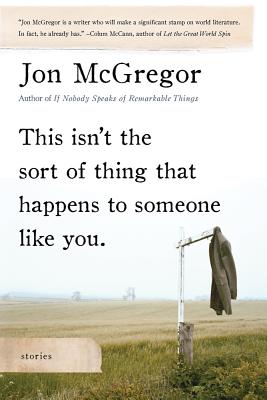 This Isn't the Sort of Thing That Happens to Someone Like You
Stories
Paperback

* Individual store prices may vary.
Other Editions of This Title:
Hardcover (2/1/2012)
Description
The powerful first collection of short stories by Jon McGregor.

From the publication of his first Booker-nominated novel at the age of twenty-six, Jon McGregor's fiction has consistently been defined by lean poetic language, a keen sense of detail, and insightful characterization. Now, after publishing three novels, he's turning his considerable talent toward short fiction. The stories in this beautifully wrought collection explore a specific physical world and the people who inhabit it.

Set among the lowlands and levees, the fens and ditches that mark the spare landscape of eastern England, the stories expose lives where much is buried, much is at risk, and tender moments are hard-won. The narrators of these delicate, dangerous, and sometimes deeply funny stories tell us what they believe to be important-in language inflected with the landscape's own understatement-while the real stories lie in what they unwittingly let slip.

A man builds a tree house by a river in preparation for a coming flood. A boy sets fire to a barn. A pair of itinerant laborers sit by a lake and talk,while fighter-planes fly low overhead and prepare for war. This Isn't the Sort of Thing That Happens to Someone Like You is an intricate exploration of isolation, self-discovery, and the impact of place on the human psyche.

Praise for Even the Dogs:

"A rare combination of profound empathy and wonderful writing." -Mark Haddon, author of The Curious Incident of the Dog in the Night-Time
Praise For This Isn't the Sort of Thing That Happens to Someone Like You: Stories…
"30 electric tales... This is a book of ominous preludes and chilling aftermaths... McGregor stealthily commands our active engagement, scattering crumbs of data for us to pick through, gumshoe-style." —New York Times Book Review

"Each tale in this slim, elegant book does something most of us wish would happen to us in real life: It stops us in a humdrum moment and reveals how that small, unnoticed sliver of time can illuminate an entire life... Magic." —Oprah.com, Book of the Week

"John McGregor is one of the UK's most fascinating and versatile writers. The fact that most American readers have never heard of him does not speak well of us. Let's all buy his book NOW." —Gary Shteyngart, author of Super Sad True Love Story

"These stories by Jon McGregor feel as if they are made half of words and half of the earth. They are elegant, understated, sometimes wry, and yet full of the drama and passion of life." —Matthew Sharpe, author of You Were Wrong

"Jon McGregor's uncanny stories linger long after you have finished them. He quietly inserts distinct, convincing voices into vivid and compelling landscapes. This original, beautiful, and haunting book totally captivated me." —Dana Spiotta, author of Stone Arabia and National Book Award Finalist Eat the Document

"With the depth, range, and quiet restraint of these masterly, truth-bearing stories of blighted hinterland souls, Jon McGregor holds his own among the wisest writers alive." —Gary Lutz, author of Divorcer

"Jon McGregor's stories are strange and lovely masterpieces: painfully authentic, inquisitive rather than confrontational, he has a tremendous ability to disturb the surface of everyday things...Underneath that which is radically quotidian, he captures our unique and unusual selves." —Sarah Hall, author of The Electric Michelangelo

"Jon McGregor's stories are full of unremarkable landscape, destabilizing drama, and people pinned in place by themselves. But they gleam with endearing detail. Depictions of a plain afternoon, an impatient conversation or a menacing gesture swing the reader though hairpin curves, from precarious, to terrifying and finally to okay. His writing is unnerving, unconventional and lovely." —Leanne Shapton, author of Important Artifacts and Personal Property from the Collection of Lenore Doolan and Harold Morris, Including Books, Street Fashion, and Jewelry
Bloomsbury USA, 9781596913493, 272pp.
Publication Date: April 3, 2012
About the Author
Jon McGregor is the author of the critically acclaimed If Nobody Speaks of Remarkable Things, So Many Ways to Begin and Even the Dogs. He is the winner of the International IMPAC Dublin Literary Award, the Betty Trask Prize and the Somerset Maugham Award, and has been twice longlisted for the Man Booker Prize. He was runner-up for the BBC National Short Story Award in both 2010 and 2011, with 'If It Keeps on Raining' and 'Wires' respectively. He was born in Bermuda in 1976. He grew up in Norfolk and now lives in Nottingham.

www.jonmcgregor.com

@jon_mcgregor
or
Not Currently Available for Direct Purchase