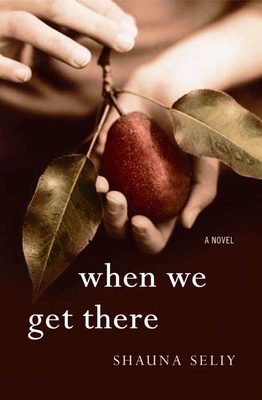 When We Get There
Hardcover

* Individual store prices may vary.
Description
Over the course of one winter in 1974, in the coal-mining town of Banning, Pennsylvania, the youngest member of a large and boisterous Eastern European family gives himself a tall order: to find his mother, who recently disappeared without explanation. Lucas, an only child whose father died several years earlier in a coa-mine blast, lives with the legacy of loss. Despite his heavy inheritance, Lucas is still just a thirteen-year-old boy puzzling out the world around him. He shuttles between the homes of his family elders whose old-world ways he can't quite understand. When Zoli, his mother's embittered admirer, takes it upon himself to find his lost love, violence and retribution escalate until no one, especially Lucas, is safe. As he struggles to find his place in this unsettling landscape, Lucas's extended family and close-knit ethnic community circle around him. Set against the collapse of the industry that has sustained the family and the town for generations, "When We Get There" is a startling tale of one family's long winter and the spring that eventually comes hard on winter's heels.
Praise For When We Get There…
"A coming-of-age story with mythic undertones...."—New York Times Book Review "Many of Seliy's images and symbols are simply and powerfully enough rendered to be indelible…[Seliy] might sound familiar themes, but she imbues them with considerable lyricism."—Pittsburgh City Paper

"strong debut novel"—Chicago Tribune
"The word lovely might well have been coined for the express purpose of describing the sensibility that informs this splendid first novel."—Booklist, Starred review
"delicate and deft"--Pittsburgh Post-Gazette
"accomplished debut"—Publishers Weekly
"I searched this book for a wasted word and could not find a single one. It's perfect—as if the veins of coal that run through it had turned themselves into diamonds. Lucas Lessar is a wonderful creation, comic and true; and Shauna Seliy has the best ear for American dialogue since Raymond Carver. She is your new favorite writer."—J. Robert Lennon, author of Mailman and The Funnies "In Shauna Seliy's magical first novel, animals speak, pears grow in bottles, and human hearts are broken and put back together. Seliy is an enormously talented writer, and it is impossible not to fall in love with this book." - Curtis Sittenfeld, author of the New York Times bestselling Prep "Quick, masterful, precise--Shauna Seliy is like a pick-pocket who leaves you with a story you can't forget. When We Get There is an exhilarating first novel about what is love and what is not love, and with it, Seliy shows herself to be one of our country's best new writers." - Alexander Chee, author of Edinburgh "A population of characters...heart-wrenching in their sense of loss and capacity for love. Deeply felt and written with immaculate care to create a fictional world that feels truly lived in."--Kirkus Reviews, starred review "When We Get There pins you down with its first sentence and doesn't let you up until you finish this irresistible novel. Seductively written and perfectly paced, this story about a boy's quest for his troubled mother is as insightful and big-hearted as the child at its center."—Jim Lynch, author of The Highest Tide
Bloomsbury USA, 9781596913509, 272pp.
Publication Date: May 1, 2007
About the Author
Shauna Seliy work has appeared in the New Orleans Review, Meridian, and Other Voices. When We Get There is her first novel. She grew up in Pittsburgh, Pennsylvania, and lives in New York City.
or
Not Currently Available for Direct Purchase