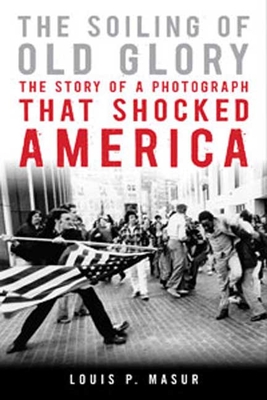 The Soiling of Old Glory: The Story of a Photograph That Shocked America (Hardcover)
The Story of a Photograph That Shocked America
Bloomsbury Press, 9781596913646, 240pp.
Publication Date: April 1, 2008
* Individual store prices may vary.
or
Not Currently Available for Direct Purchase
Description
Sometimes a moment can change history. This one took 1/250th of a second.
The photograph strikes us with visceral force, even years after the instant it captured. A white man, rage written on his face, lunges to spear a black man who is being held by another white. The assailant's weapon is the American flag. Boston, April 5, 1976: As the city simmered with racial tension over forced school busing, newsman Stanley Forman hurried to City Hall to photograph that day's protest, arriving just in time to snap the image that his editor would title "The Soiling of Old Glory." The photo made headlines across the U.S. and won Forman his second Pulitzer Prize. It shocked Boston, and America: Racial strife had not only not ended with the 1960s, it was alive and well in the cradle of liberty.
Louis P. Masur's evocative "biography of a photograph" unpacks this arresting image in a tour de force of historical writing. He examines the power of photography and the meaning of the flag, asking why this one picture had so much impact. Most poignantly, Masur recreates the moment and its aftermath, drawing on extensive interviews with Forman and the figures in the photo to reveal not just how the incident happened, but how it changed the lives of the men in it. "The Soiling of Old Glory," like the photograph it is named for, offers a dramatic window onto the turbulence of the 1970s and race relations in America.
About the Author
Louis P. Masur is William R. Kenan Jr. Professor of American Institutions and Values at Trinity College in Hartford. He is the editor of "Reviews in American History," one of the most widely read journals in its field. His books include "1831: Year of Eclipse "and "Autumn Glory: Baseball's First World Series."
Praise For The Soiling of Old Glory: The Story of a Photograph That Shocked America…
"An elegantly reasoned, wonderfully researched and deeply moving new book...Masur's skill at teasing the symbolic resonance from the photo's structure and composition is impressive, as is his treatment of the flag as national icon. He displays his real skill as a historian, however, in his remarkably clear and fair-minded synopses of tangled racial histories. Boston's certainly is one of those, and you won't find a better or more crystalline account of it than in The Soiling of Old Glory. His sketch of precisely how the Boston school crisis develops is a small model of detailed economy and essential context….Masur's elegantly clear-eyed analysis of this famous photo and the people and conditions that actually produced it proffers, if not a counter maximum, a parallel one: All politics are local until they become symbolic -- and then they belong to us all."—Tim Rutten, Los Angeles Times
"Masur examines the photograph's visual power and provides an informed deconstruction of the image in terms of composition, texture and light. With his precise skills as a cultural historian, Masur probes deeper, analyzing the photograph's role in the emotional collision of civil-rights activism with continued racism and the resulting changes in the community...a fascinating look at both the sacred and profane ways the flag has been portrayed in the name of artistic expression and the legislative attempts to limit them...Sharp and vivid."—Ann E. Yow, Seattle Times
"An engaging book for anyone interested in journalism, photography, history or social themes, as—like a photograph—it reflects the actions and attitudes of America at a distinctive place and time."—John T. Slania, BookPage
"This disparity between actual event and photographic appearance is what makes The Soiling of Old Glory read at times like a mystery story, as we wait to hear that over time the truth of the image has silted out into our cultural consciousness."—Andy Grundberg, American Scholar
"It's a story not just of a photograph but of a deeply troubled period in American history, and it is a compelling book. "
—Booklist (starred review)
"Masur is superb when deconstructing the photo, pointing out the elements of its composition that infused it with meaning, while at the same time asking provocative questions that illuminate how the interpretation of a photograph can affect our perception of an event. Equally compelling is Masur's discussion of the shifting and potent historical symbolism of the American flag, which stands at the metaphorical center of the photo."—Publishers Weekly (starred review)
"A moving reminder of a painful episode in American history."—Kirkus Reviews
"Most historians begin with a large argument or theory, then attempt to demonstrate its relevance within a specific context. Louis Masur reverses this interpretive process, beginning with a very specific incident - in this case a racially charged moment in Boston in 1976 - then spreading outward to trace its origins, resonances and implications for the larger story. In order to do this well you need to know how to tell a story and write uncommonly well, both qualities that Masur possesses in abundance. In my judgment, he is the best there is at what he does." Joseph Ellis, author of Founding Brothers: The Revolutionary Generation and American Creation: Triumphs and Tragedies at the Founding of the Republic
"In The Soiling of Old Glory, Louis Masur is at his best, dissecting a single photographic frame to reveal its essential gravitas, humanity and inhumanity, and explaining how we see, interpret -- and misinterpret — imagery in the modern age." -- David Friend, editor at Vanity Fair and author of Watching the World Change: The Stories Behind the Images of 9/11
"Louis Masur's vivid and compelling book provides depth and breadth to this haunting, horrific, photograph. He carefully situates this image into significant contexts: Boston's racial tensions, the symbolic power of the flag, and the photograph's connection with other visual icons in our history. The Soiling of Old Glory helps readers appreciate not only the public life of this picture, but its impact on those forever associated with it." - Edward T. Linenthal, author of The Unfinished Bombing: Oklahoma City in American Memory
"Louis Masur has written an indispensable history about an unforgettable image. With admirable empathy and grace, he reveals why racial conflict in modern America is both so compelling and so difficult to resolve." -Michael Kazin, author of A Godly Hero: The Life of William Jennings Bryan
"Louis P. Masur's fine-grained study of the Boston school bussing violence and the Pulitzer Prize-winning photograph that memorialized it is grassroots visual culture at its finest. The anatomy of an icon!" - Karal Ann Marling, author Old Glory: Unfurling History and As Seen on TV: The Visual Culture of Everyday Life in the 1950s
"Louis P. Masur's deep contextual reading of a single photograph that defined a painful historic moment for our nation is a surprising page-turner." - Margaret Sartor, author of Miss American Pie
"Lou Masur continues to write some of the freshest and most original work in American history. Each of his books has expanded the discipline, and The Soiling of Old Glory has taken "history" all the way into the present. With artistry, verve and impeccable research, he has written another jewel of a book, and opened up an entire world through a single image." – Ted Widmer, author of Ark of the Liberties: America and the World
Advertisement