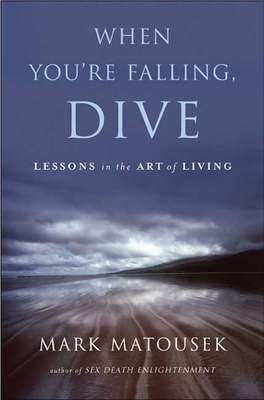 When You're Falling, Dive (Hardcover)
Lessons in the Art of Living
Bloomsbury USA, 9781596913691, 320pp.
Publication Date: June 24, 2008
Other Editions of This Title:
Paperback (4/28/2009)
* Individual store prices may vary.
Description
How people who have suffered trauma find an upside when they've gone to the brink—and back again.
Do survivors of life's greatest trials possess a secret knowledge? Is there an art to survival—a map for crossing the wilderness—or daily life? Why do some people blossom through adversity while others stop growing? Drawing on twenty years' experience in this field, using stories, parable, and scientific data, acclaimed memoirist Mark Matousek gives the first-ever comprehensive look at this mysterious phenomenon of viriditas, the power of drawing passion, beauty, and wisdom from the unlikeliest places. Matousek interviews hundreds of well-known survivors—including Joan Didion, Elie Wiesel, and Isabel Allende—and experts such as Jon Kabat-Zinn, Jonathan Kozol, and Sogyal Rimpoche. He includes extraordinary testimonials, from a Tibetan nun imprisoned by the Chinese at age eleven and the women of Calama, Chile, digging for their "disappeared," among countless others. Drawing insight and advice from these many heroic individuals, Matousek presents a chorus of wisdom for how to survive our own lives—the vicissitudes of being human—and prevail.
About the Author
Mark Matousek is the author of two memoirs, The Boy He Left Behind and Sex Death Enlightenment. He is a contributing editor for O and Tricycle and writes
the "Big Idea" column for AARP. He has served as senior editor of Interview magazine and has written for the New Yorker, the New York Times magazine,
Details, Harper's Bazaar, the Utne Reader, Out, Yoga Journal, and others. He lives in New York City.
Praise For When You're Falling, Dive: Lessons in the Art of Living…
"Journalist and memoirist Matousek follows his 1996 memoir, Sex Death Enlightenment, with an exploration of viriditas, the phenomenon of drawing passion, beauty, and wisdom from unlikely sources. AIDS sets the stage for the author's inquiry into the resiliency some people display when faces with tragedy and trauma. Each chapter is an anecdote, or parable, about a person's survivoring." —Library Journal
"After receiving a diagnosis of HIV and, several years later, the equally upending news that after all, he would probably not die of it, Mark Matousek discovered something about riding a spiritual crisis. In this new guidebook to keeping the psyche intact while being spun on life's roulette wheel, he talks to survivors…as well as experts in brain neuroplasticity and psychological resilience. Through their stories, strategies emerge about how to not only regain equilibrium after a serious hardship but also manage the free floating 'intuition of hidden yet imminent danger' that afflicts many of us even in the absence of major trauma." —O Magazine
"[An] absorbing compendium of anecdotes…Matousek shows an uncanny skill for merging spirituality, science and common sense into practical answers for surviving our own lives." —Publishers Weekly
"Filled with remarkable stories, illuminating insights and enduring lessons this gorgeously written book makes the impossible, transformational. Matousek has found a way to live by listening, by going to the darkest and most beautiful places, and gratefully he takes us with him." —Eve Ensler, author of The Vagina Monologues and Insecure at Last
"Reading Mark Matousek's When You're Falling, Dive is like discovering a great artist's lost sketchbook. It is full of little wonders that change the way you see things. Bringing his journalist's eye to some of today's most provocative thinkers, Matousek takes us inside their minds, offering fresh counsel for perennial, but newly urgent, questions." —Mark Epstein, M.D., author of Thoughts without a Thinker and Going to Pieces without Falling Apart
"When You're Falling, Dive reveals a secret known only to the few who have pushed through greatest adversity to find life's light on the other side. Matousek makes this wisdom available to us all. This will be his defining work both as a man and as a writer. A masterpiece…" —Maria Housden, author of Hannah's Gift and Unraveled
"Like Dante's Inferno, Matousek's book shows us the tortures of hell--physical, psychological, political--and a host of real people who have inhabited that fiery pit and risen triumphantly from it. Matousek is a trustworthy guide, one who himself has struggled with angel-demons, one who offers a life-affirming gift to his readers. Voices and visions flutter from these pages to become part of the air we breathe, and part of us." —Sena Jeter Naslund, author of Ahab's Wife, Four Spirits, and Abundance
"Beautiful and true." —Rebecca Walker, author of Babylove
"Thank god (Jesus? Krisna? the Oversoul?) that someone has finally written a spiritual book with an edge. In this boisterous collection of true stories, Mark Matousek takes us from Himalayan peaks to a sit-down with Andy Warhol, from a homeless shelter to Joan Didion's Upper East Side apartment. Matousek knows everyone, tells all, and writes sentences that reverb like zen koans. This book is a blessed departure from other 'survivor memoirs.' Matousek comes off as the most fascinating--and wise--cocktail-party raconteur you've ever met." —Pagan Kennedy, author of The First Man-Made Man and Black Livingstone
"Mark Matousek is an excellent guide to the wisdom we seek in times of crisis." —Dan Wakefield, author of Returning
or
Not Currently Available for Direct Purchase