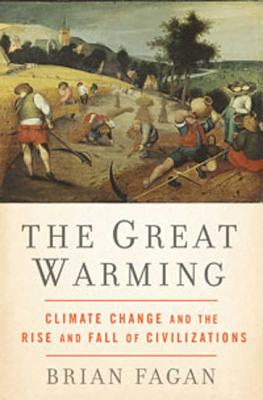 The Great Warming: Climate Change and the Rise and Fall of Civilizations (Hardcover)
Climate Change and the Rise and Fall of Civilizations
Bloomsbury Publishing PLC, 9781596913929, 282pp.
Publication Date: March 4, 2008
* Individual store prices may vary.
or
Not Currently Available for Direct Purchase
Description
How the earth's previous global warming phase, from the tenth to the fifteenth centuries, reshaped human societies from the Arctic to the Sahara a wide-ranging history with sobering lessons for our own time.
From the tenth to the fifteenth centuries the earth experienced a rise in surface temperature that changed climate worldwide a preview of today's global warming. In some areas, including Western Europe, longer summers brought bountiful harvests and population growth that led to cultural flowering. In the Arctic, Inuit and Norse sailors made cultural connections across thousands of miles as they traded precious iron goods. Polynesian sailors, riding new wind patterns, were able to settle the remotest islands on earth. But in many parts of the world, the warm centuries brought drought and famine. Elaborate societies in western and central America collapsed, and the vast building complexes of Chaco Canyon and the Mayan Yucatan were left empty.
As he did in his bestselling "The Little Ice Age," anthropologist and historian Brian Fagan reveals how subtle changes in the environment had far-reaching effects on human life, in a narrative that sweeps from the Arctic ice cap to the Sahara to the Indian Ocean. The history of the Great Warming of a half millennium ago suggests that we may yet be underestimating the power of climate change to disrupt our lives today and our vulnerability to drought, writes Fagan, is the "silent elephant in the room.
About the Author
Brian Fagan is emeritus professor of anthropology at the University of California, Santa Barbara. His books on the interaction of climate and human society have established him as a leading authority on the subject; he lectures frequently around the world. He is the editor of "The Oxford Companion to Archaeology "and the author of "Fish on Friday: Feasting, Fasting, and the Discovery of the New World"; "The Little Ice Age"; and "The Long Summer," among many other titles.
Praise For The Great Warming: Climate Change and the Rise and Fall of Civilizations…
"Fagan is a great guide. His canvas may be smaller than Jared Diamond's Collapse , but Fagan's eye for detail and narrative skills are better."—New Scientist
"[A] fascinating account of shifting climatic conditions and their consequences."—New York Times
"The Great Warming is a thought-provoking read, which marshals a remarkable range of learning." —Financial Times
"'The Great Warming' is a riveting work that will take your breath away and leave you scrambling for a cool drink of water. The latter is a luxury to enjoy in the present, Fagan notes, because it may be in very short supply in the future."   —Christian Science Monitor
"Brian Fagan offers a unique contribution to this discussion [of climate change]...Readers should not underestimate this book, writing it off as another addition to a burgeoning genre: the travel guide to a torrid world. Fagan's project is much bigger. He re-creates past societies in a lively and engaging manner, aided by his expert synthesis of obscure climatological data...In his ability to bring nature into our global, historical narratives, Fagan rivals Alfred Crosby, William H. McNeill, and Jared Diamond, scholars who revealed to large audiences the explanatory power of microscopic biota or gross geography. Fagan promises to do the same for longterm climate dynamics...We would be fools to ignore his warnings."—American Scholar
"An alarm bell ringing out from a distant time."—Kirkus
"Superbly integrating the human and climatological past, Fagan's expertise wears easily in a fine popular treatment relevant to contemporary debate about climate."—Booklist
"This is not only World History at its best, sweeping across all of humankind with a coherent vision, but also a feat of imagination and massive research. If Fagan has given the medieval period throughout the globe a new dimension, he has at the same time issued an irrefutable warning about climate change that is deeply troubling."--Theodore Rabb, author of The Last Days of the Renaissance
"Climate has been making history for a very long time, though historians have rarely paid much attention to it. But as it turns out, a few less inches of rain, a change in temperature of just a degree or two can make all the difference in how human events unfold.
The Great Warming
demonstrates that although human beings make history, they very definitely do not make it under circumstances of their own choosing."--
Ted Steinberg, author of Down to Earth: Nature's Role in American History and American Green: The Obsessive Quest for the Perfect Lawn
 "Looking backward, Fagan presents a well-documented warning to those who choose to look forward."--
Publisher's Weekly
Advertisement