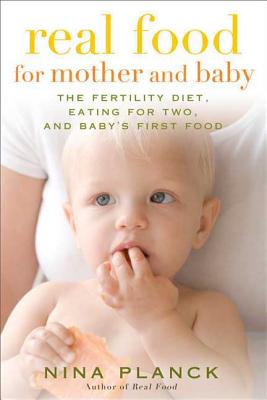 Real Food for Mother and Baby: The Fertility Diet, Eating for Two, and Baby's First Foods (Paperback)
The Fertility Diet, Eating for Two, and Baby's First Foods
Bloomsbury Publishing PLC, 9781596913943, 272pp.
Publication Date: March 31, 2009
* Individual store prices may vary.
or
Not Currently Available for Direct Purchase
Description
Following the success of "Real Food," Nina Planck's "Real Food for Mother and Baby "explains why real food is better for woman and child.
Nina Planck, one of the great food activists, changed the way we view old-fashioned foods like butter with her groundbreaking "Real Food." T hen she got pregnant. Never one to accept conventional wisdom blindly, Nina found the usual advice about pregnancy and baby food riddled with myths and misunderstandings. In "Real Food for Mother and Baby," Nina explains why many modern ideas about pregnancy and infant nutrition are wrongheaded and why traditional foods are best. While Nina can be controversial her op-ed in the "New York Times "on vegan diets for infants was one of the paper's most e-mailed articles she's no contrarian. Readers applaud her candor; they also trust her research and welcome her advice.
Nina's basic premise hasn't changed whole foods are best but some of the details are surprising. Pregnant women need meat and salt, not iron supplements. Nursing will be easier if you act like the mammal you are. Delaying the introduction of certain solid foods doesn't prevent allergies. Cereals are not the best foods for tiny eaters; meat and egg yolks are better. From conception to two years, the body's overwhelming needs are for quality fat and protein, not for carrots and low-fat dairy. Even as she casts a skeptical eye on the conventional wisdom, Nina is reassuring. She shows you how to keep your baby healthy on good, simple food. "Real Food for Mother and Baby "will be the new classic on eating for two.
About the Author
Nina Planck, author of Real Food: What to Eat and Why and The Farmer's Market Cookbook, is an expert on local and traditional food. I n London, England, she created the first farmers' market, and in New York City she ran the legendary Greenmarkets. She lives in New York City with Rob Kaufelt and their son, Julian. They all eat real food.
Praise For Real Food for Mother and Baby: The Fertility Diet, Eating for Two, and Baby's First Foods…
"Far from deprivation, the nutritional plans here for fertility, pregnancy, nursing and young kids propose a wide variety of whole grains, seasonal vegetables and fruits, and raw milk and organic animal fats necessary for healthy pregnancies and fetal and childhood development instead of skim milk, "carbage"(junk carbohydrates) and trans-fats... It tastes better and it's good for you. Plank gives more comprehensive pre-pregnancy and pregnancy diets than those in What to Expect, and her lively, genuine and personal approach makes it easy to absorb a lot essential information." - Publishers Weekly
Advertisement