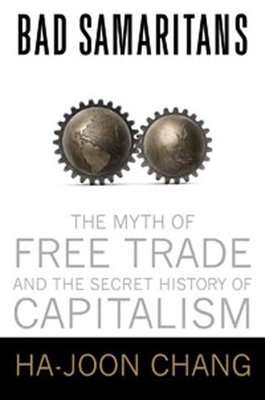 Bad Samaritans
The Myth of Free Trade and the Secret History of Capitalism
Hardcover

* Individual store prices may vary.
Other Editions of This Title:
Digital Audiobook (12/25/2007)
Paperback (1/2/2009)
MP3 CD (4/28/2015)
MP3 CD (12/1/2007)
MP3 CD (12/1/2007)
Compact Disc (12/1/2007)
Compact Disc (12/1/2007)
Description
A rising young star in the field of economics attacks the free-trade orthodoxy of The World Is Flat head-on--a crisp, contrarian history of global capitalism.
One economist has called Ha-Joon Chang the most exciting thinker our profession has turned out in the past fifteen years. With Bad Samaritans, this provocative scholar bursts into the debate on globalization and economic justice. Using irreverent wit, an engagingly personal style, and a battery of examples, Chang blasts holes in the World Is Flat orthodoxy of Thomas Friedman and other liberal economists who argue that only unfettered capitalism and wide-open international trade can lift struggling nations out of poverty. On the contrary, Chang shows, today's economic superpowers--from the U.S. to Britain to his native Korea--all attained prosperity by shameless protectionism and government intervention in industry. We have conveniently forgotten this fact, telling ourselves a fairy tale about the magic of free trade and--via our proxies such as the World Bank, International Monetary Fund, and World Trade Organization--ramming policies that suit ourselves down the throat of the developing world. Unlike typical economists who construct models of how the marketplace
should
work, Chang examines the past: what has actually happened. His pungently contrarian history demolishes one pillar after another of free-market mythology. We treat patents and copyrights as sacrosanct--but developed our own industries by studiously copying others' technologies. We insist that centrally planned economies stifle growth--but many developing countries had higher GDP growth before they were pressured into deregulating their economies. Both justice and common sense, Chang argues, demand that we reevaluate the policies we force on nations that are struggling to follow in our footsteps.
Praise For Bad Samaritans: The Myth of Free Trade and the Secret History of Capitalism…
"A well-researched and readable case against free-trade orthodoxy." —Business Week
"A lively addition to the protectionist side of the debate…well written and far more serious than most anti-globalization gibberish." — New York Sun
"Bookstore shelves are loaded with offerings by economists and commentators seeking to explain, in accessible prose, why free-trade-style globalization is desirable and even indispensable for countries the world over. Now comes the best riposte from the critics that I have seen. Readers who are leery of open-market orthodoxy will rejoice at the cogency of Bad Samaritans. Ha-Joon Chang has the credentials -- he's on the economics faculty at Cambridge University -- and the storytelling skill to make a well-informed, engaging case against the dogma propagated by globalization's cheerleaders. Believers in free trade will find that the book forces them to recalibrate and maybe even backpedal a bit….Chang's book deserves a wide readership for illuminating the need for humility about the virtues of private markets and free trade, especially in the developing world." —Paul Blustein, Washington Post
"Lucid, deeply informed, and enlivened with striking illustrations, this penetrating study could be entitled "economics in the real world." Chang reveals the yawning gap between standard doctrines concerning economic development and what really has taken place from the origins of the industrial revolution until today. His incisive analysis shows how, and why, prescriptions based on reigning doctrines have caused severe harm, particularly to the most vulnerable and defenseless, and are likely to continue to do so. He goes on to provide sensible and constructive proposals, solidly based on economic theory and historical evidence, as to how the global economy could be redesigned to proceed on a far more humane and civilized course. And his warnings of what might happen if corrective action is not taken are grim and apt." – Noam Chomsky
"A smart, lively, and provocative book that offers us compelling new ways of looking at globalization." —Joseph Stiglitz, 2001 Nobel Laureate in Economics
"I recommend this book to people who have any interest in these issues—i.e. everyone." —Bob Geldof

"Every orthodoxy needs effective critics. Ha-Joon Chang is probably the world's most effective critic of globalization. He does not deny the benefits to developing countries of integration into the world economy. But he draws on the lessons of history to argue that they must be allowed to integrate on their own terms." —Martin Wolf, Financial Times, author of Why Globalization Works

"This is a marvelous book. Well researched, panoramic in its scope and beautifully written, Bad Samaritans is the perfect riposte to devotees of a one-size-fits-all model of growth and globalisation. I strongly urge you to read it."—Larry Elliott, economics editor, the Guardian
Bloomsbury Press, 9781596913998, 288pp.
Publication Date: December 26, 2007
About the Author
Ha-Joon Chang has taught at the Faculty of Economics, University of Cambridge, since 1990. He has consulted for numerous international organizations, including the United Nations, the World Bank, and the Asian Development Bank. He has published eleven books, including Kicking Away the Ladder, winner of the 2003 Myrdal Prize. In 2005, Chang was awarded the Leontief Prize for Advancing the Frontiers of Economic Thought.
or
Not Currently Available for Direct Purchase