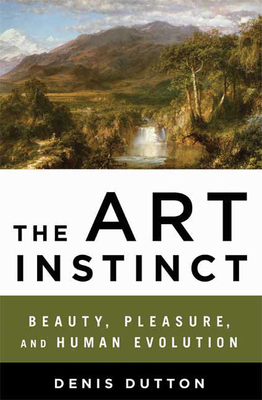 The Art Instinct
Beauty, Pleasure, and Human Evolution
Hardcover

* Individual store prices may vary.
Other Editions of This Title:
Paperback (2/9/2010)
Description
In a groundbreaking new book that does for art what Stephen Pinker's The Language Instinct did for linguistics, Denis Dutton overturns a century of art theory and criticism and revolutionizes our understanding of the arts.

The Art Instinct combines two fascinating and contentious disciplines--art and evolutionary science--in a provocative new work that will change forever the way we think about the arts, from painting to literature to movies to pottery. Human tastes in the arts, Dutton argues, are evolutionary traits, shaped by Darwinian selection. They are not, as the past century of art criticism and academic theory would have it, just socially constructed.
Our love of beauty is inborn, and many aesthetic tastes are shared across remote cultures--just one example is the widespread preference for landscapes with water and distant trees, like the savannas where we evolved. Using forceful logic and hard evidence, Dutton shows that we must premise art criticism on an understanding of evolution, not on abstract theory. He restores the place of beauty, pleasure, and skill as artistic values.
Sure to provoke discussion in scientific circles and uproar in the art world,
The Art Instinct
offers radical new insights into both the nature of art and the workings of the human mind.
Praise For The Art Instinct: Beauty, Pleasure, and Human Evolution…
"If you care about art writ large as a miraculous bounty for the world, or only for your own selfish sake, The Art Instinct should impress you as the most shrewd, precisely written and provocative study you'll find on its topic's place in human nature."—Philadelphia Inquirer
"An important book that raises questions often avoided in contemporary aesthetics and art criticism. [Dutton] has woven a powerful plea for the notion that art expresses a longing to see through the performance or object to another human personality."—Los Angeles Times
"Denis Dutton argues that humankind's universal interest in art is the result of human evolution. We enjoy sex, grasp facial expressions, understand logic and spontaneously acquire language—all of which make it easier for us to survive and produce children. In The Art Instinct, Dutton contends that an interest in art belongs on this list of evolutionary adaptations… read Dutton's book: his masterful knowledge of art and his compelling prose make it a thing of beauty." –James Q. Wilson, Newsweek
"Pugnacious, witty and entertaining first book by prolific essayist and critic Dutton... Picking up where evolutionary psychologists like Steven Pinker leave off in their investigations into the origins of human language and other mental phenomena... even those who disagree with these opinions will find his manifesto scintillatingly written and not to be missed—even the end notes are indispensable... Promises to instigate a lively conversation about the origins and meaning of art, not only among the author's peers in academia, but also in the culture at large."—Kirkus (starred review)
"The Art Instinct gives a comprehensive survey of the field, written with fluency, wit, and wide erudition."—John Derbyshire, New Criterion
"The Art Instinct offers fresh and liberating ideas while demonstrating Dutton's profound sense of curiosity and his willingness to take risks while dealing with puzzling and largely fragmentary pre-history."—Robert Fulford, National Post (Canada)
"As he observes in his provocative new book, The Art Instinct, people the world over are weirdly driven to create beautiful things…Dutton is an elegant writer, and his book should be admired for its attempt to close the gap between art and science."—Jonah Lerner, Washington Post BookWorld
"Mr. Dutton's book is anything but strident. He argues his thesis—that art-making evolved among humans as a means of demonstrating physical and cognitive fitness to potential mates, and that this fundamental reality provides the best answer we can give to the question "What is art?"—with almost old-fashioned politeness toward his adversaries. And that, perhaps, is the best way to read The Art Instinct: as a guided tour of the great landmarks of the philosophy of art—aesthetic theory explained, modified and refuted with patience and fluency by a writer whose mind was apparently formed well in advance of the meme-ocracy it helped to create."—New York Observer
"Why do we human beings make art?...That is the question raised and answered, more or less, in this intriguing book. Author Denis Dutton teaches philosophy, has done archaeological work in New Guinea and is founder of the popular Arts & Letters Daily Web site. Art's appeal, he argues, is lodged in our genes and in the genes of our Ice-Age ancestors, those shaggy forebears who first painted cave walls and told stories around the campfire."—Dallas Morning News
"[Dutton's] discussion of the arts and of our responses to them is uniformly insightful and penetrating……he touches on all the major issues of aesthetics in this fairly short book and invariably illuminates them…Dutton's eloquent account sheds light on the role art plays in our lives, whatever its ultimate origins"—Anthony Gottlieb, New York Times Book Review
"Full of observations that again demonstrate [Dutton's] uncanny ability to collect complex arguments and present them as thought-provoking statements"—James Panero, City Journal
"Vigorous and wonderfully provocative"—Raleigh News & Observer
"A substantial contribution to the debate we ought to be having."—Martin Kemp, The New Scientist
Bloomsbury Press, 9781596914018, 288pp.
Publication Date: December 23, 2008
About the Author
Denis Dutton is the founder and editor of the hugely popular Web site Arts & Letters Daily, named by the Guardian as the best Web site in the world. He also founded and edits the journal Philosophy and Literature, and is a professor of the philosophy of art at the University of Canterbury, New Zealand.
or
Not Currently Available for Direct Purchase