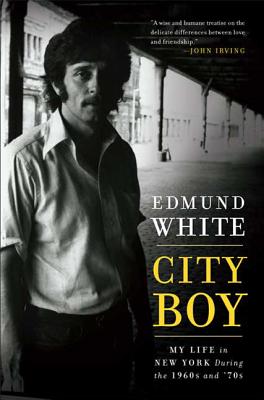 City Boy: My Life in New York During the 1960s and '70s (Hardcover)
My Life in New York During the 1960s and '70s
Bloomsbury Publishing PLC, 9781596914025, 297pp.
Publication Date: October 7, 2009
* Individual store prices may vary.
or
Not Currently Available for Direct Purchase
Description
In the New Y ork of the 1970s, in the wake of Stonewall and in the midst of economic collapse, you might find the likes of Jasper Johns and William Burroughs at the next cocktail party, and you were as likely to be caught arguing Marx at the New York City Ballet as cruising for sex in the warehouses and parked trucks along the Hudson. This is the New York that Edmund White portrays in City Boy a place of enormous intrigue and artistic tumult. Combining the no-holds-barred confession and yearning of A Boy's Own Story with the easy erudition and sense of place of The Flaneur, this is the story of White's years in 1970s New York, bouncing from intellectual encounters with Susan Sontag and Harold Brodkey to erotic entanglements downtown to the burgeoning gay scene of artists and writers. I t's a moving, candid, brilliant portrait of a time and place, full of encounters with famous names and cultural icons.
About the Author
An esteemed novelist and cultural critic, Edmund White is the author of many books, including the autobiographical novel A Boy's Own Story; a previous memoir, My Lives; and most recently a biography of poet Arthur Rimbaud. White lives in New York City and teaches writing at Princeton University.
Praise For City Boy: My Life in New York During the 1960s and '70s…
"[A] moving chronicle…that peacock's tail, those stag's antlers—they're here, to be sure, but so are vulnerability, doubt, failure and long years toiling at the sort of cruddy day jobs that most literary writers know all too well…In City Boy, White is amusing and raucous as ever but he also lets the mask slip…his losses and struggles, as consequence, seems less sculpted, but more real….Some stories don't need to be embellished to glow."  - New York Times Book Review "An open-throttled tour of New York City during the bad old days of the 1960s and early '70s… it's all here in exacting and eye-popping detail… There is a great deal of sex and gossip in City Boy, but it is also a minor-key account of Mr. White's coming of age as a writer… City Boy is Mr. White's second memoir in three years, and a great deal of his fiction has been autobiographical. You get the sense of a writer slowly peeling his life like an artichoke, letting only a few stray leaves go at a time… This one is salty and buttery, for sure. Mr. White's ''Oh, come on, guys'' meekness has vanished into thin air." - New York Times "City Boy is an amazing memoir of White's hunger for literary fame — for publication even — and intellectual esteem in the superheated creative world of '60s and '70s New York. His sketches of writers and artists, including everyone from poets James Merrill and John Ashbery to artist Robert Wilson and editor Robert Gottlieb, are full of bon mots, sharply observed details, and great honesty about his own desires for love and esteem. City Boy vividly brings to life the sheer squalor of life in 1970s New York… A wonderful raconteur with a well-stocked fund of anecdotes and observations, White's writings reveal much about alliances, alignments, and personalities from a vanished world that still echo strongly in our own." - This Week in New York
"Edmund White is no one-trick pony. The prolific novelist, critic, memoirist, gay activist, professor and social aspirant has waded into countless literary and intellectual pools and sent visible ripples through each. White's latest book, a ruminative and rambling memoir of his time in New York City in the 1970s, takes readers on a dime tour through the writer's initiation into circles that spun with such blinding talents as Susan Sontag, Richard Howard, John Ashbery, Michel Foucault, even Vladimir Nabokov and Anthony Burgess… City Boy presents an exhilarating sketch of the grizzled, untamed and dangerous way of life that was New York in the 1960s and '70s… His New York was …a place where high and low collided in an irreproducible frisson of ecstatic creativity… White's reflections on what it meant to be an out 'gay' writer at a time when there was no such thing are valuable and illuminating… We're lucky for [his] pioneering work… White's latest reflection offers a valuable glimpse into the mind of an indispensable writer and critic." —Buffalo News
"The 1960s and 70s were a pivotal time for gay men, a time when homosexuals made history by redefining their role in society at large by standing up for the basic human rights we enjoy today – and then there's all that rampant, unbridled sex on the Chelsea piers. Popular gay historian, novelist, memoirist and survivor Edmund White takes us there in style in
City Boy
…. In his own classy, restrained, inimitable style, Edmund White presents graceful ruminations on an ungraceful time as one forgotten decade casts a long shadow on the one that followed. Simply put, this book is a gem, and if time travel were indeed a possibility, White would make the ultimate tour guide." —
Bay Area Reporter
 "Chronicl[es] Gotham's cultural highs and lows during those two heady and iconic decades... fleshing out our notion of how vital a period the '60s and '70s were... Since White is a born raconteur, his gimlet-eyed anecdotes about celebrities of the era are as tangy as blood orange sorbet served after lobster Thermidor... [he] matches his talent for journalism with brilliant imagistic prose." —
Gay City News
"A colorfully detailed remembrance…with his novelist's brilliance in turns of phrase in evoking these places, [White] also recalls the many celebrated writers he encountered over the years in his slow climb to writerly success. A special invitation to a world gone by." —Booklist
"Novelist and critic White weaves erotic encounters and long-ago literati into a vast tapestry of Manhattan memories… How he overcame setbacks and confronted his insecurities to eventually write 23 books makes for fascinating reading…White writes with a simple, fluid style, and beneath his patina of pain, a refreshing honesty emerges. This is a brilliant recreation of an era, rich in revels, revolutions and 'leather boys leading the human tidal wave.'" —Publishers Weekly
"A graceful memoir of a decidedly ungraceful time in the life of New York City... A welcome portrait of a time and place long past, and much yearned for." —
Kirkus Reviews
 "[An] exuberant, thoughtful memoir. ...Ambition, amphetamines, neurosis and an era when New York vibrated with desire combined for heady times in his young life... Sparkling cameo appearances by the likes of Truman Capote, Robert Mapplethorpe and Fran Lebowitz expand the feeling that artistic Manhattan then was a very different place than it is today... White's vivid analysis of his artistic struggles and literary progress during these years is like a master class for other writers... [His] memoir ... has charm to burn." —
Shelf Awareness
Advertisement