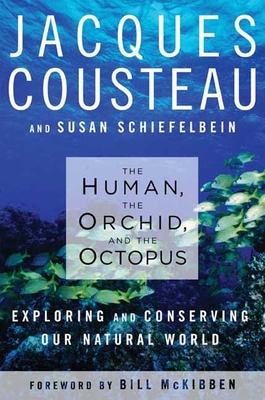 The Human, the Orchid, and the Octopus: Exploring and Conserving Our Natural World (Hardcover)
Exploring and Conserving Our Natural World
Bloomsbury USA, 9781596914179, 320pp.
Publication Date: October 30, 2007
* Individual store prices may vary.
or
Not Currently Available for Direct Purchase
Description
Part adventure story, part manifesto, the legendary ocean explorer's passionate plea for sustaining life on earth.
Explorer, diving pioneer, filmmaker, inventor, and activist, Jacques Cousteau was blessed from his childhood with boundless curiosity about the natural world. As the leader of fascinating, often dangerous expeditions all over the planet, he discovered firsthand the complexity and beauty of life on earth and undersea and watched the toll taken by human activity in the twentieth century.
In this magnificent last book, finally available for the first time in the United States, Cousteau describes his deeply informed philosophy about protecting our world for future generations. Weaving gripping stories of his adventures throughout, he and coauthor Susan Schiefelbein address the risks we take with human health, the overfishing and sacking of the world's oceans, the hazards of nuclear proliferation, and the environmental responsibility of scientists, politicians, and people of faith. Cousteau's lyrical, passionate call for action to protect our earth and seas and their myriad life forms is even more relevant today than when this book was completed in 1996. Written over the last ten years of his life with frequent collaborator Schiefelbein, who also introduces the text and provides an update on environmental developments in the decade since Cousteau's death, this prescient, clear-sighted book is a remarkable testament to the life and work of one of our greatest modern adventurers.
About the Author
Jacques Cousteau (1910 1997) was world renowned as an ocean explorer, filmmaker, educator, and environmental activist. He won three Oscars and the Palme d'Or for his films," " was nominated for forty Emmys during the run of his TV series "The Undersea World of Jacques Cousteau," and wrote or coauthored more than seventy five books, including "The Silent World," which has sold five million copies in twenty two languages. As director of the Oceanographic Institute of Monaco and a member of the advisory committee of the IAEA, he was active in the conservation and anti-nuclear-proliferation movements. Susan Schiefelbein has won the National Magazine Award and the Front Page Award for her cover stories on social issues. A former editor at the "Saturday Review," where she first worked with Cousteau, she went on to write the narration for many of his documentary films, including winners of the Peabody and the Ace. She lives in Paris."
Praise For The Human, the Orchid, and the Octopus: Exploring and Conserving Our Natural World…
"Cousteau consecrated his life to teaching the world about marvels that are at once exotic to us and yet ordinary in the abyss of the ocean. Through his lyrical writings and his films that took your breath away, he placed the underwater world at the door of an audience as extensive as the oceans themselves. I always learned with him."—Al Gore
"As this rich new book reminds us, Cousteau was utterly trustworthy, a figure, like Rachel Carson, moved by no desire deeper than to appreciate the world around, to share that love, and thus to protect it. He was the quintessential explorer…Cousteau divided his career between two tasks, equally necessary: getting people to marvel at the beauty of the oceans, and then pointing out how we were destroying them. It was as if the earliest explorer of the North American continent was simultaneously cataloguing its vast buffalo herds and watching them die…No explorer has ever been faced with quite such a dilemma, and Cousteau handled it superbly."—Bill McKibben, author of Deep Economy and The End of Nature, from the foreword "….eloquent and at times almost poetical, especially in the eponymous final chapter. This worthwhile look back at the French scientist who taught us to love scuba diving and the ocean raises questions still highly relevant ten years later."—Library Journal "Cousteau's reverence for life's miracles-embodied by the evolutionary wonders of the human, the orchid and the octopus-shines through in this eloquent testimony on the importance of pursuing higher ideals, particularly the preservation of the oceans and the natural world for future generations."—Publishers Weekly
Advertisement