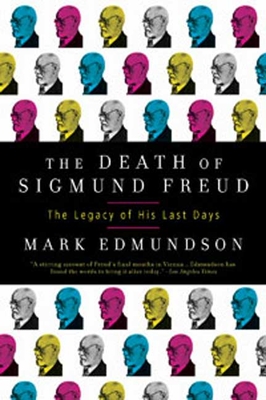 The Death of Sigmund Freud: The Legacy of His Last Days (Paperback)
The Legacy of His Last Days
Bloomsbury USA, 9781596914308, 288pp.
Publication Date: September 16, 2008
* Individual store prices may vary.
or
Not Currently Available for Direct Purchase
Description
""The Death of Sigmund Freud" offers a compelling redescription of why the founder of psychoanalysis retains his relevance today a stirring account of Freud's final months in Vienna This is the disruptive legacy of Freud's last year, and Edmundson has found the words to bring it alive today."" Los Angeles Times"
When Hitler invaded Austria in March of 1938, Sigmund Freud was among the 175,000 Viennese Jews dreading Nazi occupation. Though Freud was near the end of his life eighty-one years old, battling cancer of the jaw and Hitler's rise on the world stage was just beginning, the fates of these two historical giants were nonetheless intertwined. In this gripping and revelatory historical narrative, Mark Edmundson traces Hitler and Freud's oddly converging lives, then zeroes in on Freud's escape to London, where he published his last and most provocative book, "Moses and Monotheism."
By taking a close look at Freud's last years years that coincided with the onset of the Second World War Edmundson probes Freud's prescient ideas about the human proclivity to embrace fascism in politics and fundamentalism in religion. At a time when these forces are once again shaping world events, "The Death of Sigmund Freud "suggests new and vital ways to view Freud's legacy.
About the Author
Mark Edmundson teaches at the University of Virginia, where he is University Professor. A prizewinning scholar, he has published a number of works of literary and cultural criticism, including Why Read?, Literature Against Philosophy, Plato to Derrida; and Teacher: The One Who Made the Difference. He has also written for such publications as the New Republic, the New York Times Magazine, the Nation, and Harper's, where he is a contributing editor.
Praise For The Death of Sigmund Freud: The Legacy of His Last Days…
"In so rivetingly tying Freud's investigation of the subconscious with the Nazis' unleashing of the destructive powers of the id, Edmundson gives us the tools for looking at our own cultural icons…In this and his other books, Edmundson provides a great teaching guide to seeing the world afresh."—Boston Globe
"Superb…Without elevating [Freud] to the status of a secular godhead—indeed, by underlining his limitations—Mr. Edmundson presents us with a figure who still has the power to rouse us from our complacency, whose stern, exacting eyes continue to remind us what we are apt to forget: that we must work to change our lives."—New York Sun
"Brilliantly buttressed plea for reconsideration of Freud as philosopher and shrink."—Kirkus Reviews
Advertisement