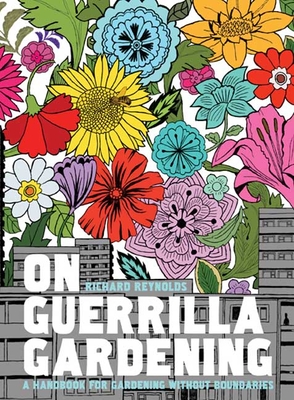 On Guerrilla Gardening: A Handbook for Gardening Without Boundaries (Hardcover)
A Handbook for Gardening Without Boundaries
Bloomsbury Publishing PLC, 9781596914490, 255pp.
Publication Date: May 27, 2008
* Individual store prices may vary.
or
Not Currently Available for Direct Purchase
Description
When Richard Reynolds began planting flowers secretly at night outside his tower block in South London he had no idea he was part of a growing global movement committed to combating the forces of neglect, land shortage and apathy towards public spaces. But his blog GuerrillaGardening.org attracted other guerrillas from around the world to share their experiences of the horticultural front line with him and become a focal point for guerrilla gardeners everywhere. "On Guerrilla Gardening "is a lively colourful treatise about why people illicitly cultivate land and how to do it. From discretely beautifying corners of Montreal to striving for green communal space in Berlin and sustainable food production in San Francisco, from small gestures of fun in Zurich to bold political statements in Brazil, cultivating land beyond your boundary is a battle many different people are fighting. Unearthed along the way are the movement's notable historic advances by seventeenth century English radicals, a nineteenth century American entrepreneur and artists in 1970s New York. Reynolds has researched the subject with guerrilla gardeners from thirty different countries and compiles their advice on what to grow, how to cope with adverse environmental conditions, how to seed bomb effectively and to use propaganda to win support.
"On Guerrilla Gardening "gives entertaining inspiration, practical reference and no excuses for not getting out there and gardening.
About the Author
Richard Reynolds was born in 1977 and grew up gardening with his family. His first illegal cultivation was at college, where he planted windowsills with boxes of Busy Lizzies. He has been a guerrilla gardener in earnest since 2004; his Guerrilla Gardening organization now has thousands of active members worldwide and has been featured on ABC, NPR, the BBC, Richard and Judy, the Washington Post, and many other places. Aside from his guerrilla activity, he works as an advertising planner. He lives in London.
Praise For On Guerrilla Gardening: A Handbook for Gardening Without Boundaries…
"Whatever guerilla gardeners bring to life will be eaten and shared by someone or some animal. And that will further light the green fuse, as will getting a copy of this book. Better yet, read it and become one of the growing guerilla army."—Alan Bisport, Hartford Advocate
"In tracing the history of the guerrilla gardening movement, be it for beautification or to grow food, Reynolds' voice is ardent as he writes about Johnny Appleseed and the Digger colonies that provided sustenance in fifteenthcentury England. Reynolds is most assured when advising readers on choosing specimens for planting their own guerrilla gardens and when expressing love for gardening."— Booklist
Advertisement