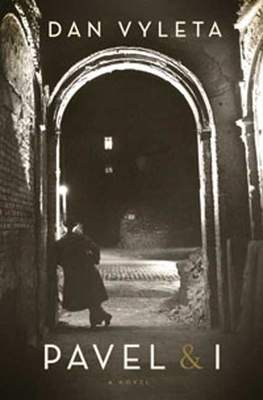 Pavel & I
Hardcover

* Individual store prices may vary.
Other Editions of This Title:
Paperback (6/1/2009)
Paperback (2/28/2012)
Description
Joseph Kanon's The Good German meets Graham Greene's The Third Man as the Cold War heats up amid the ruins of occupied Berlin.
Set during the winter of 1946-47, one of the coldest on record,
Pavel & I
unfolds against the tattered social fabric of postwar Berlin. Pavel Richter, a decommissioned GI, finds himself at odds with a rogue colonel in the British Armed Forces and a Soviet general when an American friend deposits a dead Russian spy in his frozen apartment. The race to take possession of the dead spy's quarry soon begins threatening Pavel's friendship with a street orphan named Anders and his budding love for his upstairs neighbor, Sonia. As the action hurtles toward catastrophe, the hunt merges with one for the truth about the novel's protagonist: Who exactly is Pavel Richter? Peopled with pimps, prostitutes, spies, and a gang of child thieves,
Pavel & I
explores the power of storytelling to wrest meaning from the wreckage of civilization. An electrifyingly suspenseful novel played out among the first salvos of the Cold War,
Pavel & I
is a literary debut that introduces a writer of brilliant imagination and virtuosity.
Praise For Pavel & I…
"DAN VYLETA'S PAVEL & I (Bloomsbury, $24.95) has plenty of plot (including a dead midget in a suitcase), a crowd of desperate characters (including a whore with a heart of tarnished gold) and an unusual narrative scheme—but most of all, it has atmosphere, a vividly rendered time and place: Berlin in the frigid winter of 1946-47, rubble, starvation and no brakes on anyone's instinct for self-preservation." —Adam Begley, New York Observer
"Pavel and I, (Bloomsbury, 344 pp., $24.95), a debut by Dan Vyleta, spools out moodily in post-World War II Berlin. Pavel Richter, who worked for the Americans during the war, now suffers from poverty and a painful kidney infection. He nurses a hopeless love for Sonia, the prostitute downstairs. He carries on an odd friendship with a young urchin who knows too many secrets. When an American friend, Boyd White, mysteriously appears in Pavel's coldwater flat to deliver a dead Russian dwarf's body for safekeeping, things get a lot worse. White ends up tortured and killed, and Pavel is cornered by a government interrogator. Their relationship evolves into a kind of Stockholm Syndrome, where the two men - on bitter, opposite sides - develop a mutual affection that fails to soften the menace of their sessions together. The novel is grotesque, sometimes funny, and completely chilling, a wonderful re-creation of the Europe of 1946. Dan Vyleta is a name to watch." —Les Roberts, Cleveland Plain Dealer
"Impressive...There is a lot to admire about Pavel & I. As a thriller, it is highly admirable. Like most mysteries, literary and cinematic, this one grows complex nearly to the point of irritation; but unlike most, this one is entirely logical, and every dead body is accounted for…Readers in search of a good story will find one here." —Roger K. Miller, Denver Post
"A tremendous first novel that will gather accolades like shards of broken glass littering the once-fashionable Kurfurstendamm. PAVEL AND I is not to be missed." —Bill Webb, I Love a Mystery
Bloomsbury USA, 9781596914513, 352pp.
Publication Date: January 22, 2008
About the Author
Dan Vyleta is the son of Czech refugees who emigrated to Germany in the late 1960s. He holds a PhD in History from the University of Cambridge, and lives and works in Berlin. This is his first novel.
or
Not Currently Available for Direct Purchase