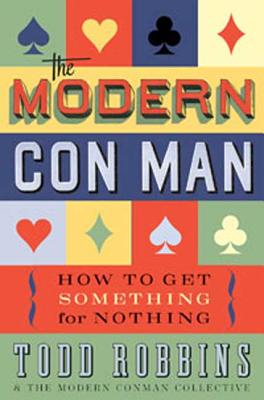 The Modern Con Man: How to Get Something for Nothing (Hardcover)
How to Get Something for Nothing
Bloomsbury Publishing PLC, 9781596914537, 227pp.
Publication Date: April 8, 2008
* Individual store prices may vary.
or
Not Currently Available for Direct Purchase
Description
Whether it's winning $50 on a bar bet, scoring seats closer to the fifty-yard line, or finagling a free meal, The Modern Con Man ensures that aspiring low-risk grifters will always come out on top. Filled with humorous facts and tables, a glossary of con terms, illustrations, the history of the con, and easy-to-follow swindles, this is the perfect gift for the hidden flim-flam artist in your life.
About the Author
Todd Robbins is a New York-based entertainer who has appeared on The Tonight Show with Jay Leno, The Late Show with David Letterman, Late Night with Conan O'Brien, and Good Morning America, and stars in the DVD series The Modern Con Man Collection. The Modern Con Man Collective consists of Gadi Harel and Marcel Sarmiento, proprietors of the Los Angeles-based production company Hollywoodmade and creators of the Modern Con Man Collection DVD series, and Jack Silbert, a writer for the New York Times.
Praise For The Modern Con Man: How to Get Something for Nothing…
"This book may not make you smarter or more handsome, but it sure as hell will make you a lot more interesting -- and dangerous -- to hang out with." —Eric Garcia, author of Matchstick Men
"Get your con on. Working is for saps. Todd Robbins, author of "The Modern Con Man: How to Get Something for Nothing," teaches would-be swindlers how to get on the grift."   —The Guide / Los Angeles Times
"A handy, illustrated manual for would-be artists of deception!  Todd Robbins is a con man and a good one at that… He parts fools from money with the precision of a surgeon. Even more enjoyable, though, than the nostalgic whisky-and-shadow-soaked hinterland the book evokes is the sinister pleasure Mr. Robbins takes in swindling. At heart, all con men are Manichaean, and Mr. Robbins is no exception."   —New York Observer
"Most of these short cons are delightful for both the prankster and the mark, unless they involve large wagers. Perform at your own risk."   —BoingBoing.com
"The Modern Con Man: How To Get Something for Nothing ... aims to effect a renaissance in these peculiarly American dark arts. These gentlemen are experts in the pool-hall hustle, the train-station grift, the boozy bar bet and every other sort of elegantly fixed wager from days of yore—with a modern twist. "  —Metromix Los Angeles
Praise for Todd Robbins:
"Todd is a god." —Penn & Teller
"A Legend!" —New York Post
"The Flim-Flam Maestro!" —New York magazine
"The master of old-world deception." —New York Newsday
Advertisement