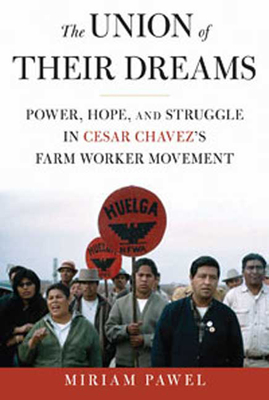 The Union of Their Dreams (Hardcover)
Power, Hope, and Struggle in Cesar Chavez's Farm Worker Movement
Bloomsbury Press, 9781596914605, 384pp.
Publication Date: October 13, 2009
Other Editions of This Title:
Paperback (10/6/2010)
* Individual store prices may vary.
Description
The rise, fall, and legacy of the inspirational United Farm Workers movement, and the untold story of iconic community organizer Cesar Chavez.
A generation of Americans came of age boycotting grapes, swept up in a movement that vanquished California's most powerful industry and accomplished the unthinkable: dignity and contracts for farm workers. Four decades later, Cesar Chavez's likeness graces postage stamps, and dozens of schools and streets have been renamed in his honor. But the real story of Chavez's farm workers' movement both its historic triumphs and its tragic disintegration has remained buried beneath the hagiography.
Drawing on a rich trove of original documents, tapes, and interviews, Miriam Pawel chronicles the rise of the UFW during the heady days of civil rights struggles, the antiwar movement, and student activism in the 1960s and '70s. From the fields, the churches, and the classrooms, hundreds were drawn to "la causa "by the charismatic Chavez, a brilliant risk-taker who mobilized popular support for a noble cause. But as Miriam Pawel shows, the UFW was ripped apart by the same man who built it, as Chavez proved unable to make the transition from movement icon to union leader. Pawel traces the lives of several key members of the crusade, using their stories to weave together a powerful portrait of a movement and the people who made it.
A tour de force of reporting and a spellbinding narrative, "The Union of Their Dreams "explores an important and untold chapter in the history of labor, civil rights, and immigration in modern America.
About the Author
Miriam Pawel is an award-winning reporter and editor who spent twenty-five years working for "Newsday "and the "Los Angeles Times." She was recently an Alicia Patterson Foundation Fellow and a John Jacobs Fellow at the Berkeley Institute of Governmental Studies.
Praise For The Union of Their Dreams: Power, Hope, and Struggle in Cesar Chavez's Farm Worker Movement…
"One of the most important recent books on California history, Miriam Pawel has undertaken a thankless task: telling a complicated and in many ways shattering truth … exhaustively researched, by turns sympathetic and deeply shocking … Pawel describes the reality of the movement, not just during the well-studied and victorious period that made it famous, but during its long, painful transformation to what it is today. Her story of one man and his movement is a story of how the '60s became the '70s."—Caitlin Flanagan, Atlantic "Thoroughly researched and thoroughly unsentimental … Pawel is writing outside the hagiography"—Wilson Quarterly "Groundbreaking and moving"—Dissent "A long shelf of books, many bordering on hagiography, has told the union's story just as Chavez wanted it told. The Union of Their Dreams is an astringent corrective to the party line…. this remarkable book…. is an engrossing narrative that is both tragic and inspiring."—San Francisco Chronicle  "A provocative glimpse into recent history, Pawel's exposé offers deep insight into the nature of mass movements."—Los Angeles Times "In many ways, by illuminating the lives of those who worked so hard for decades, Pawel's book provides a kind of blueprint for today's activists. It is a chronicle of great struggle, but also of hope…. The Union of Their Dreams takes an important step toward reminding Americans that, three decades on, La Causa very much remains." —San Francisco Panorama "Pawel, drawing on and greatly expanding the research she did for the L.A. Times series, has come back for a second dipping with her engrossing and just as exquisitely assembled book… Her tack this time is quite different. Instead of a dry, almost legalistic indictment of the failings of the UFW, her approach now feels like the script of the great Costa-Gavras film The Confession, or like Arthur Koestler's classic anti-Stalinist memoir Darkness at Noon."—TruthDig.com "A revealing celebration of activists in the glory days of a movement for change."
—Kirkus Reviews "Pawel combines document research with recent interviews with several former directors, legal staff, and rank and file, allowing her to present a thorough and convincing treatment of an important chapter in American history."—School Library Journal "Steeped in the recordings and primary source materials from these years, Pawel recreates the era—but with an awareness of the ironies and contradictions made plainer by hindsight…. The book's unexpected scar tissue and its arc of decline present some contrast to the continuing if dispersed legacy trumpeted in Randy Shaw's recent Beyond the Fields, but these accounts are ultimately complementary and necessary historical revaluations of this important labor and social history."—PublishersWeekly.com

"In this sympathetic yet courageously honest narrative, a seasoned reporter presents the history behind the legend of Cesar Chavez and the Farm Workers Movement.  At the same time, Miriam Pawel pays tribute to the dreams of a generation of young Americans dedicated to social justice and the dignity of labor."—Kevin Starr, University of Southern California, author of Golden Dreams and California: A History
"This incisive and sensitive study makes a major contribution to our understanding of Cesar Chavez and the poor people's movement he led. Moving beyond hagiography and mythology, Miriam Pawel gives new insight into the heroic struggles of some of the ordinary people who committed themselves, against unimaginable odds, to an extraordinary cause."—David G. Gutiérrez, University of California, San Diego
"The Union of Their Dreams captures in fascinating detail the human stories of diverse people and how they committed themselves to the movement. It also reveals the tensions and dissensions that were a part of the union and its leadership after the early years of its formation. This is an interesting and provocative book that expands our understanding of the union from inside out."—Albert M. Camarillo, Stanford University
"Avoiding polemic or sensationalism, The Union of Their Dreams recounts for the first time how a cult of personality around Cesar Chavez (influenced by the practices of the sinister Synanon organization) ultimately betrayed the courage of the workers in the fields and the trust of a veteran organizing staff. The stories of lost campaigns and internal purges are painful, but they also transmit hugely important lessons about the necessary dialectic of militancy and democracy in labor struggles."—Mike Davis, author of City of Quartz
"Miriam Pawel combines the skills of an historian and an investigative reporter to tell the story of the remarkable people upon whose dreams the farm worker movement was established, moved forward, and forever changed the nation."—William Deverell, Director, Huntington-USC Institute on California and the West
"Anyone interested in political idealism, trade unions, leadership, mass movements, and even the Barack Obama phenomenon will have much to think about after reading this enthralling account of great accomplishment gained and lost."—Nicholas von Hoffman, author of Hoax and Citizen Cohn
or
Not Currently Available for Direct Purchase