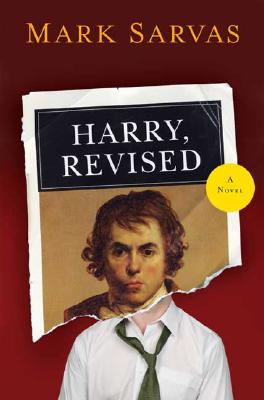 Harry, Revised (Hardcover)
Bloomsbury USA, 9781596914629, 272pp.
Publication Date: April 15, 2008
Other Editions of This Title:
Paperback (4/28/2009)
MP3 CD (11/3/2015)
* Individual store prices may vary.
Description
A sophisticated, sterling debut by a wonderful emerging talent the founder of the popular literary blog "The Elegant Variation."
"Harry, Revised" is the hilarious and tender story of Harry Rent, a down-on-his-luck widower, who tries to reinvent himself following his wife's untimely death. Harry's emotional journey takes him from his own solipsistic and outrageously misdirected fantasies about an obsidian-haired, twenty-two-year-old waitress at his local greasy spoon to the tenuous beginnings of an actual personal transformation. At once deeply moving and darkly comedic, "Harry, Revised" is an extraordinary novel about the measure of a man's worth.
About the Author
Mark Sarvas is the founder of the popular litblog The Elegant Variation, which Forbes and Entertainment Weekly have named as one of the best blogs on the Web. His fiction has appeared in Troika Magazine, the Wisconsin Review, Apostrophe, Thought Magazine, and Pindeldyboz and as part of the Spoken Interludes and Vermin on the Mount reading series in Los Angeles. His criticism has appeared in the New York Times Book Review, the Three Penny Review, and the Philadelphia Inquirer. This is his first novel. He lives with his wife in Los Angeles.
Praise For Harry, Revised…
"Despite [his] shortcomings, Harry's ability to lose himself in his own outrageous thoughts and his slow turn toward confidence come across with heart. Yes, Harry's a major league dolt, but, to Sarvas' credit, we end up pulling for him." —Los Angeles Times "[Sarvas] makes a winning debut with this smart and funny novel…[he] weaves a moving story of redemption, a wryly funny take on self-improvement, and a reassuringly optimistic view of human nature." —Booklist "[A] noteworthy debut... [Sarvas] promise[s] much for the future." —Denver Post
"SoCal literati know Sarvas through his popular litblog, The Elegant Variation. Now, they'll know him for his impressive debut, a funny, poignant novel about middle-aged widower Harry Rent, whose wife's untimely death sends the flawed protagonist on a journey of personal transformation." —Westways magazine
"Self loathing was never so funny, and Sarvas's depiction of his downward-spiraling anti-hero is spot-on." —Los Angeles Magazine
"Sarvas' compact, elegantly paced and pleasingly understated novel recalls a more literate and patient era, when first-time novelists were not expected to swing for the fences." —Chicago Tribune
"If there was ever a person who could use some revision, it's Harry. A black-and-white sketch of this antihero looks pretty unsympathetic - he's a paunchy, self-absorbed neurotic who cheats on his wife weekly with prostitutes. A creep, you could say. Luckily, as he gets filled in with the colors of author Sarvas' full palette, Harry begins to look much more human. Sarvas, a first-time novelist, who keeps the literary blog the Elegant Variation, has built an entertaining book around this character sketch. He also has a neat knack for revealing information slowly, allowing the story to unfold like a mystery of sorts - which, actually, is more or less what it is. It's a marriage mystery, a whodunit of what-went-wrong." —Philadelphia Inquirer
"An excellent, starred review for Harry in Library Journal: "Brilliantly funny and heart-wrenching...Harry Rent is of the same ilk as Walter Mitty and Rabbit Angstrom: deeply flawed, likable, and hilariously, touchingly memorable. Highly recommended." —Library Journal
"Fast-paced; nice comic touches; and Harry is, finally, rather compelling, selfish and damaged but recognizably human." —Kirkus Reviews
"A self-assured, comic and satisfying story." —Publishers Weekly
"Mark Sarvas's first novel is funny and sad, rueful, wised-up and curiously moving. A remarkable debut."—Booker Prize winner John Banville, bestselling author of The Sea
"Mark Sarvas has created an enormously compelling character in Harry Rent, a man less at odds with himself than with certain personas the modern world forces us to inhabit. His ethical and emotional dilemmas drive the story and make Harry, Revised a scathingly funny but also wise and tender debut." —Sam Lipsyte, author of Home Land
"Mark Sarvas's debut novel is fun, fast and heartfelt, an exemplar of the Coming-of-Middle-Age novel in which an overgrown boy finally learns to grow up and deal with the world with greater compassion and maturity—even if that's no guarantee he won't stop running into things." —National Book Award Finalist Joshua Ferris, author of Then We Came to the End
"Harry, Revised is immensely readable, very funny, and rich with earned emotion—the sort of novel (rare in this age) that you read in one or two sittings, and that moves you as much as it makes you laugh." —David Leavitt, author of The Indian Clerk
"As witty, erudite and outrageous as Waugh, with a flawed hero worthy of Roth. A marvelous, enviable debut." —Andrew Sean Greer, author of The Confessions of Max Tivoli
or
Not Currently Available for Direct Purchase