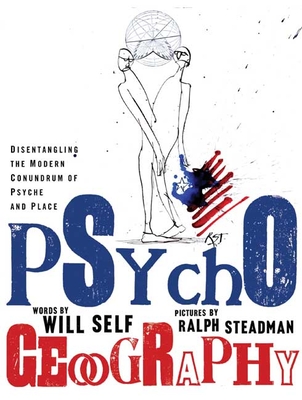 Psychogeography: Disentangling the Modern Conundrum of Psyche and Place (Hardcover)
Disentangling the Modern Conundrum of Psyche and Place
Bloomsbury USA, 9781596914667, 256pp.
Publication Date: October 30, 2007
* Individual store prices may vary.
or
Not Currently Available for Direct Purchase
Description
For those interested in the connection between people and place, the best of the decade long collaboration between literary brat packer Will Self and gonzo illustrator Ralph Steadman.
Opening with a dazzling new 20,000-word essay on walking from London to New York, "Psychogeography" is a collection of 50 short pieces written over the last four years, together with 50 four-color illustrations by Ralph Steadman. In "Psychogeography" Self and Steadman explore the relationship between psyche and place in the contemporary world. Self thinks most people have a "wind-screen-based virtuality" on long- and short-distance travel. We drive, take buses and trains, fly. To combat this compromised reality, Will Self walks, relating intimately to place, as pedestrians do. Ranging in subject from swimming the Ganges to motorcycling across the Australian outback, shopping in an Iowa mall to surfing a tsunami, "Psychogeography" is at once a map of our world and the psychoanalysis of the way we inhabit it. The pieces are serious, humorous, facetious, and rambunctious. Psychogeography, the study of the effects of geographical environment on the emotions and behavior of individuals, has captivated other writers including W. G. Sebald and Peter Ackroyd, but Self and Steadman have their own unique spin on how place shapes people and vice versa.
About the Author
Will Self is the acclaimed author of such books as The Quantity Theory of Insanity, Great Apes, How the Dead Live, and The Book of Dave. He won the Geoffrey Faber Memorial Prize and was short listed for the Whitbread. He lives in London. Ralph Steadman is an award-winning cartoonist and illustrator. Renowned as a political and social satirist, he has collaborated with Hunter S. Thompson, illustrated classics such as Alice in Wonderland, Treasure Island, and Animal Farm, and published his own books, including Doodaaa and the memoir, The Joke's Over. They both live in London.
Praise For Psychogeography: Disentangling the Modern Conundrum of Psyche and Place…
"Self reveals a profound truth about place and our contemporary psyche . . . Steadman's illustrations dazzle in their imagination, wit and fancy."—Los Angeles Times
Advertisement