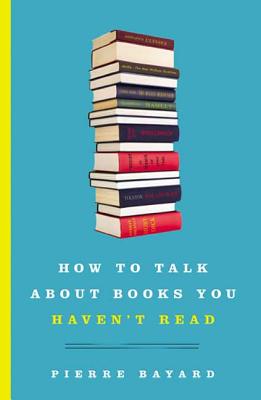 How to Talk About Books You Haven't Read
Hardcover

* Individual store prices may vary.
Other Editions of This Title:
Compact Disc (10/30/2007)
Audio Cassette (10/1/2007)
Audio Cassette (10/1/2007)
Compact Disc (10/30/2007)
MP3 CD (10/30/2007)
Paperback (10/6/2009)
Description
If civilized people are expected to have read all important works of literature, and thousands more books are published every year, what are we supposed to do in those awkward social situations in which we're forced to talk about books we haven't read? In this delightfully witty, provocative book, a huge hit in France that has drawn huge attention from critics around the world, literature professor and psychoanalyst Bayard argues that it's actually more important to know a book's role in our collective library than its details. Using examples from such writers as Graham Greene, Oscar Wilde, Montaigne, and Umberto Eco, and even the movie Groundhog Day, he describes the many varieties of "non-reading" and the horribly sticky social situations that might confront us, and then offers his advice on what to do. Practical, funny, and thought-provoking, How to Talk About Books You Haven't Read is in the end a love letter to books, offering a whole new perspective on how we read and absorb them. It's the book that readers everywhere will be talking about-and despite themselves, reading-this holiday season.

Check out these articles about the French edition of How to Talk about Books you Haven't Read:

New York Times - 'Read It? No, but You Can Skim a Few Pages and Fake It' by Alan Riding
(also published in the International Herald Tribune)

Chronicle of Higher Education - 'Huckleberry Who? by Lennard J. Davis

Times Online (UK edition) - 'Viewpoint' by Sarah Vine

The Harvard Crimson - 'You've Read 'Gravity's Rainbow'? Bullshit'm by Madeline K. B. Ross

Broad Street Review - 'The only book you'll ever need' by Leonard Boasberg
Praise For How to Talk About Books You Haven't Read…
"I probably shouldn't bring any of this up, but Mr. Bayard holds that one of the best reasons for reading a book is that it allows you to talk about yourself. How to Talk About Books You Haven't Read is an amusing disquisition on what is required to establish cultural literacy in a comfortable way. Lightly laced with irony, the book nonetheless raises such serious questions as: What are our true motives for reading? Is there an objective way to read a book? What do we retain from the books we've read?" —Joseph Epstein, Wall Street Journal

"Witty and charming and often fun." —Sam Anderson, New York Magazine

"I read and adored Pierre Bayard's book. It's funny, smart, and so true--a wonderful combination of slick French philosophizing and tongue-in-cheek wit, and an honest appraisal of what it means, or doesn't mean, to read." —Clare Messud, author of The Emperor's Children

"It may well be that too many books are published, but by good fortune, not all must be read…A survivor's guide to life in the chattering classes…evidently much in need." —New York Times

"In this work of inspired nonsense -- which nevertheless evokes our very real sense of insecurity about the gaps in our cultural knowledge -- reading is not only superfluous, it is meaningless. Our need to appear well-read is all." —Sarah Gold, Chicago Tribune

"In this hilarious and elaborate spoof, Bayard proves once again that being almost ridiculously erudite and screamingly funny are by no means mutually exclusive." —Booklist

"Brilliant…A witty and useful piece of literary sociology, designed to bring lasting peace of mind to the scrupulous souls who grow anxious whenever the book-talk around them becomes too specific." —London Review of Books

"With rare humor, Bayard liberally rethinks the social use [of literature] and the position of the reader…Read or skim How to Talk About Books You Haven't Read. Or simply listen to what people say about it so that you can talk about it with ease. In either case, you may not be able to forget it." —Les Inrockuptibles
Bloomsbury USA, 9781596914698, 208pp.
Publication Date: November 4, 2007
About the Author
Pierre Bayard is a professor of French literature at the University of Paris VIII and a psychoanalyst. He is the author of Who Killed Roger Ackroyd?, and many other books.
or
Not Currently Available for Direct Purchase