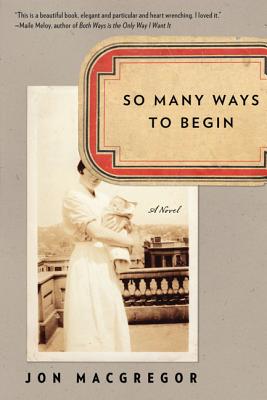 So Many Ways to Begin (Paperback)
A Novel
Bloomsbury USA, 9781596914858, 384pp.
Publication Date: December 21, 2010
Other Editions of This Title:
Hardcover (3/20/2007)
* Individual store prices may vary.
Description
Now in paperback for the first time, So Many Ways to Begin is a potent examination of family and memory, a look at what happens when life forces you to let go of the person you might have been. David Carter is an obsessive collector, and the curator of the local history museum. In addition to overseeing the community's archives, he has, since boyhood, diligently archived the items that tell his own life story: birth certificate, school report cards, movie and train tickets. But when a senile relative lets slip a long-buried family secret, David is forced to consider that his whole carefully cataloged life may be constructed around a lie. In fits and starts, his world begins to unravel.
Praise for So Many Ways to Begin:
"Jon McGregor might be the best chronicler I know of the way small accidents can set a life in motion, and the way what's said between people-or left unsaid-can change everything. This is a beautiful book, elegant and particular and heart wrenching. I loved it."-Maile Meloy, author of Both Ways Is the Only Way I Want It
"McGregor is a brilliant prose stylist, and here he excels at making … the ordinary seem extraordinary."-Sunday Times (UK )
About the Author
Jon McGregor is the author of the critically acclaimed If Nobody Speaks of Remarkable Things, So Many Ways to Begin and Even the Dogs. He is the winner of the International IMPAC Dublin Literary Award, the Betty Trask Prize and the Somerset Maugham Award, and has been twice longlisted for the Man Booker Prize. He was runner-up for the BBC National Short Story Award in both 2010 and 2011, with 'If It Keeps on Raining' and 'Wires' respectively. He was born in Bermuda in 1976. He grew up in Norfolk and now lives in Nottingham.
www.jonmcgregor.com
@jon_mcgregor
Praise For So Many Ways to Begin: A Novel…
"Jon McGregor is a writer who will make a significant stamp on world literature. In fact, he already has." —Colum McCann, author of Let the Great World Spin
"[A] solemly lyrical novel…With grace and almost painful sensitivity, McGregor constructs a detailed character study that is also a meditation on the elusive nature of identity." —Boston Globe
"In this elegantly written novel, McGregor focuses on the interpersonal and the emotional, successfully dramatizing the impact of events on people's lives." —Library Journal
"The search for home and for connection lies at the center of this slow, cadenced novel, which invests one man's day-to-day life with remarkable dignity." —Booklist (starred)
"David Carter grows up happy in post-WWII Coventry, England, where he combs bomb sites for things to collect and dreams of one day running his own museum. He lands a job at a local museum and, at age 22, learns from a mentally ill family friend that he was adopted as an infant. Irate and bewildered, David struggles to comprehend "how such a lie had been incorporated into official history" as he begins his adult life. His marriage to Eleanor provides some direction, but the couple is often rudderless, and McGregor (If Nobody Speaks of Remarkable Things) charts with a calculated dreariness David's frustrated attempts to locate his birth mother, Eleanor's terrible depressions, their professional letdowns, a few moments of happiness and the way "it wasn't what they'd imagined, this life." Once retired, David is introduced to the Internet, which yields a promising lead in his quest to find his birth mother. Melancholy permeates every page; readers looking for an earnest downer can't go wrong." —Publishers Weekly
So Many Ways to Begin opens with a prologue about Mary Friel's ill-fated journey from Ireland to Hampstead. How does this prologue set the scene for the novel to come? What does Mary Friel's story reveal about David Carter's story, and what does it conceal?
The novel's chapters are organized by artifacts within David's collection. How do these artifacts shape the story of David's life? Which of these relics gives the fullest picture of a stage of David's life? To whom does David imagine telling his story through these objects?
Consider the relationship between David and Dorothy. Why does Dorothy insist to Julia that when David was a baby, "I couldn't take my eyes off him; I couldn't put him down for more than a minute" (31)? When Dorothy explains in her letter to David, "I chose to keep you" (343), how does that clarify her feelings for him? What pieces of their shared history has David neglected in his search for family?
Discuss David's lifelong fascination with collecting and curating objects. Why is he drawn to objects that say, "This is some small piece of where I began" (34)? How does David's urge to collect relate to the uncertainty of his origins?
Consider the setting of the novel: Coventry, England, from 1943 to 2000. How does Coventry look and feel in the novel? How does the town grow and change in David's lifetime?
As Aunt Julia teaches young David to dance, she reminisces about her brief marriage to Major William Pearson during World War II. Why does Julia describe her courtship and marriage as taking place over a single dance? What does Julia's story imply about the workings of memory and mourning?
"I'm going to be a geologist," Eleanor tells David when they meet (68). How do Eleanor's career aspirations compare to David's? Where do their areas of study overlap and diverge?
Julia, Dorothy, and David all cope with romances fraught with separations, whether due to war, death, or distant borders. How does each character handle a long-distance romance? Which love stories turn out well, and which are doomed to sadness?
Discuss the scene in which Aunt Julia tells David the story of his birth. How does the secret come to light? How does David handle this moment of revelation, and how does Dorothy? What regrets do David and Dorothy express when the truth comes out, and how do they eventually reconcile?
Consider Eleanor's relationship with her parents, Ivy and Stewart. What are the roots of the conflict between Ivy and Eleanor? What is Stewart's role within this tense household? How does Eleanor's family history influence her relationship with her daughter, Kate, which David calls "uneventful" (316)?
When David starts searching for his birth mother, "He discovered that history's secrets are not always easily found, that all the archives in the world weren't enough when he didn't even know who or what he was looking for, or where he should be looking" (128). Discuss the phases of David's search for Mary Friel. Which clues help David in his search, and which lead him down the wrong path? How does the Internet change the direction of his quest?
As David reels from learning the secret of his birth, he believes that Eleanor "doesn't keep any secrets from" him (153). Does Eleanor seem to divulge everything to David? Or might she keep some secrets of her own? Explain.
Consider David's career path at Coventry Museum, from his beginnings as a junior curatorial assistant in 1964 to his layoff in 1986. What career goals does David have as a young man? How does he handle career setbacks, including Anna's promotion and his layoff?
David never tells Eleanor the secret of his dangerous entanglement with Anna and Chris. What is the impact of the secret upon David and Eleanor's marriage? Does keeping a secret of his own help David understand Dorothy's secrets? Why or why not?
Consider David and Eleanor's trip to Donegal to meet Mary Friel. What changes when Mary tells David, "Most girls would have given false names to the nurses, you know" (359)? Why does this false name end David's search? How does his lovemaking with Eleanor in the novel's final scene suggest another kind of beginning?
Discuss the meaning of the title So Many Ways to Begin. What various possibilities of beginnings does the novel put forth? When does the author propose multiple beginnings, and why? What ending does the novel also explore?
or
Not Currently Available for Direct Purchase