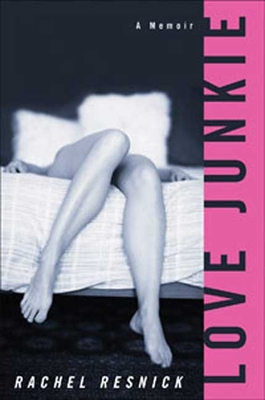 Love Junkie (Hardcover)
A Memoir
Bloomsbury USA, 9781596914940, 256pp.
Publication Date: November 11, 2008
Other Editions of This Title:
Paperback (10/5/2009)
MP3 CD (5/17/2016)
* Individual store prices may vary.
Description
Rachel Resnick hits her forties single, broke, depressed, childless a train wreck. After an ex-boyfriend breaks into her home and vandalizes it, Resnick takes the time to look back over her romantic and sexual history to ask the question: What is wrong with me? Her addiction to sex and love has cost her in damaging ways throughout the course of her life. At the root of her issues: a Dickensian childhood and a haunting experience she must finally confront.
Written with raw humor and unflinching honesty, " Love Junkie" charts Rachel Resnick's harrowing emotional journey from destructive love to intimacy, from despair to hope. By peeling back one painful layer after another, she discovers a glaring pattern: She is addicted to the fantasy of romantic bliss, marriage, and children.
Although her story is an extreme one, what we realize over the course of Resnick's journey is how many people experience aspects of this addiction and the self-destruction that comes with it all fed by a culture where romantic obsession is stoked by the stories we read, the movies we see, and the dreams we're fed. This unique memoir cracks open one of the more elusive and pervasive modern-day compulsions and holds a mirror up to each of us.
About the Author
Rachel Resnick is the author of the "Los Angeles"" Times" bestseller "Go West Young F*cked-Up Chick." She has published articles, essays, and celebrity profile cover stories nationally in the "Los Angeles Times," "Women's Health," and "BlackBook." She is a contributing editor at "Tin House" magazine. Her essays and stories have appeared in "The Time of My Life," "Damage Control," "The Dictionary of Failed Relationships," " The Best American Erotica 2004," " Women on the Edge," " L.A. Shorts," and "Absolute Disaster." She is also the founder and CEO of Writers On Fire, provider of luxury writing retreats both here and abroad.
Praise For Love Junkie: A Memoir…
"In Love Junkie, Resnick recalls her tumultuous relationships... She confesses to decades of bad boyfriends and even worse breakups, and berates herself for trying so hard, for holding on when she should ultimately let go, for caring... And, unfortunately... she mistakes sex for love... Her stories are both horrifying and compelling... The voyeurs in us emerge." -- San Francisco Chronicle
"[A] raw account of love gone wrong…Most important in terms of survival in this painfully honest memoir, Resnick found the wherewithal through a support group to heal and reground herself." —Publishers Weekly
"Resnick's prose is memorable, the situations she describes unforgettable…An important memoir about romantic/sexual addiction and the potential cures." —Kirkus Reviews
"Reading
Love Junkie
is like watching a sleepwalker taking a stroll on a freeway. All you can do is pray. Gorgeously written, piercingly honest." —
Janet Fitch, author of White Oleander and
Paint It Black
"Heartbreaking and brave, Rachel Resnick masterfully pulls the past to the present, exploring how the seeds of addiction planted during a sad girlhood can blossom into a grown-up woman's frantic search for love. Love Junkie is a memoir unlike any other; it will blow your mind." –Lee Montgomery, author of The Things Between Us
"Insightful and heartbreaking, but also wonderfully comedic in its gutsy honesty, this is a powerful and beautiful memoir." —Jonathan Ames, author of Wake Up, Sir!
"Provocative. Striking. Rachel Resnick is a virtuoso on the page. Her fearless examination of the desperate thirst to find love is guaranteed to break your heart. Yet her cool-eyed analysis of the roots of this addiction inspires hope that through committed self-understanding, maybe each of us can change toxic patterns, whatever they may be."—Samantha Dunn, author of Faith in Carlos Gomez, Failing Paris, and Not by Accident
"Love Junkie is so alive, it reads as though Rachel Resnick sliced open her heart, dipped in her pen, and chronicled her life of carnal and romantic madness in an ambulance with a bed in it. The result is a memoir of flesh and redemption, told with scorching intensity and clear-eyed, universal truth. As addictions go, sex and love possess their own brand of degradation and euphoria, and Resnick, like all great self-destructive artist/survivors, has clawed her way out of the abyss and crafted a savage, ass-wild language all her own to capture the need that drives her—and us—to dive back in. Love Junkie is a fearless, nasty, affectionate, weirdly spiritual, sex-soaked, smart and un-putdown-able Valentine from hell." —Jerry Stahl, author of Permanent Midnight
"A deeply true, wholly aching account of the dangerous way we live now--Love Junkie is great fun to read, and finally fully redemptive. Rachel Resnick brings a light, delightful touch to a hard subject, and creates a great, relatable, readable memoir." —Elizabeth Wurtzel, author of Prozac Nation, Bitch, and More, Now, Again
"Rachel Resnick's story of love lost and love sought cracks open the timeworn addiction narrative to release something raw, probing, brave, and redemptive. The courage it took to write this story is challenged only by the courage it must have taken to live it. I sit in awe of such unflinching honesty. Love Junkie is memoir at its very best." —
Hope Edelman, author of Motherless Daughters
"Love Junkie travels tenderly and boldly into the despair, isolation, and tenacity of sex and love addiction. Rachel Resnick's gift for language and storytelling craft a vivid picture of her journey and her heart shines pure."--Kelly McDaniel, author of Ready to Heal: Women Facing Love, Sex and Relationship Addiction
or
Not Currently Available for Direct Purchase