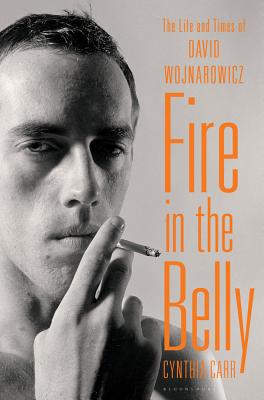 Fire in the Belly
The Life and Times of David Wojnarowicz
Hardcover

* Individual store prices may vary.
Other Editions of This Title:
Paperback (10/29/2013)
Description
David Wojnarowicz was an abused child, a teen runaway who barely finished high school, but he emerged as one of the most important voices of his generation. He found his tribe in New York's East Village, a neighborhood noted in the 1970s and '80s for drugs, blight, and a burgeoning art scene. His creativity spilled out in paintings, photographs, films, texts, installations, and in his life and its recounting-creating a sort of mythos around himself. His circle of East Village artists moved into the national spotlight just as the AIDS plague began its devastating advance, and as right-wing culture warriors reared their heads. As Wojnarowicz's reputation as an artist grew, so did his reputation as an agitator-because he dealt so openly with his homosexuality, so angrily with his circumstances as a Person With AIDS, and so fiercely with his would-be censors.

Fire in the Belly is the untold story of a polarizing figure at a pivotal moment in American culture-and one of the most highly acclaimed biographies of the year.
Praise For Fire in the Belly: The Life and Times of David Wojnarowicz…
"[Fire in the Belly is] unimprovable as a biography–thorough, measured, beautifully written, loving but not uncritical -- as a concentrated history of his times, and as a memorial, presenting him in his entirety, twenty years dead but his ardor uncooled." —Luc Sante, Bookforum

"It is no small achievement that Carr, who first met the artist when he was part of the East Village art scene of the early '80s, shortly before she began writing for the Village Voice, has managed to portray [Wojnarowicz] in remarkably rich dimensions…. Carr's detailed research into Wojnarowicz's days and nights, friends and fall-outs, hook-ups, loves, losses, travels, homeless stretches, intimate connections…and eventual sickness and death is both heartbreaking and unflinchingly honest. Carr has managed to create not only an essential biography but required reading for anyone interested in the '80s art world." —Christopher Bollen, Interview

"A compelling picture of a time in New York that has now completely vanished, when an existence devoted to art, on the margins, was still possible, and not necessarily something to be romanticized…. The picture of East Village culture that Carr offers--she covered it for years as a reporter for the Village Voice--?is alone worth the price of the book. Despite her friendship with Wojnarowicz in the last months of his life, Carr is willing to paint the artist in clear-eyed prose, balancing unflattering stories of drug use and success-induced paranoia with those of his trenchant and harrowing AIDS activism and defense of freedom of expression. (The intricate details of his battle with right-wing critics will, one hopes, provide fodder for today's protestors.)" —Andrew Russeth, Modern Painters

"Thanks to Carr's meticulous portrait, [Wojnarowicz's] work again feels primal, magicked away from the bluster of whatever controversies it provoked. We come away from a book like this with a keen sense of life's strangeness and haste, its abuses and beauty, its ultimately terrible vanishing." —Jeremy Lybarger, The Brooklyn Rail

"Biographers often have an uncommon knack for describing even the most fascinating individuals and incidents with the dullest possible prose, boring the reader with the most uninteresting childhood details and rushing the parts that matter. Carr doesn't make such mistakes. At almost 600 pages, her book is monumental, yet somehow it feels concise. She uses short, clear sentences throughout, successfully invoking complicated events and their implications with a staccato grace. While she doesn't depart from the conventional linear structure of the biography, she inhabits it with a vitality so often lacking…. thankfully Carr reveals the contradictions and complications of [Wojnarowicz's] life, an important task of any successful biographer…. Fire in the Belly is an impressive work that clearly took years to make…. Carr breaks free of one of the most deadening strictures of the conventional biography: she enters herself not just into the narrative, but into the life of the person she is investigating. While this first meeting happens by chance, and only results in a casual acquaintanceship, Carr's simple act of disclosure allows for the most intimate parts of the book. Fire in the Belly centers around the life of Wojnarowicz, but it also serves as an unofficial history of 1970s and 1980s West Village gay life (and the West Side piers in particular), the emergence of AIDS, the East Village art scene of the 1980s (most extensively), and the censorship wars of the late-'80s and early-'90s…. In some ways this book serves as an elegy for a culture of artists in downtown New York ravaged by AIDS…. This is not just a story about an explosive artist who led a tumultuous life, or even an explosive artist and his equally dynamic and equally complicated friends. It's a story about 'us'…. not just a tender biography of one brazen individual but an intimate text displaying the possibilities of connection in the face of adversity." —Mattilda Bernstein Sycamore, Bookslut

"A prodigious chronicle…. Wojnarowicz emerges from these pages as a forceful, enigmatic character…. probing, masterful storytelling…. A sprawling, elegiac biography that mourns the loss of David Wojnarowicz and the art scene in which he flourished." —Hannah Calkins, Shelf Awareness

"[A] lucidly composed, skillfully contextualized first complete biography of David Wojnarowicz…. The most powerful sections of this engrossing book give insight into the intersection between the culture wars of the early 1990s and Wojnarowicz's 1991 work, Tongues of Flame." —Publishers Weekly

"Former Village Voice columnist Carr weaves an intense…portrait of a complex artist in a complex time. Carr knew David Wojnarowicz (1954–92), the controversial creator of the art film A Fire in My Belly, and she bears him witness in this politically charged look at his life. Using her skills as a reporter, Carr has pieced together this moving though unsentimental tribute from interviews with friends, candid conversations with Wojnarowicz before his death, and his own deep and provocative writings. She also discusses the politics then and now that dominate the so-called culture wars. An up-close look at the devastation of AIDS, this first full-length biography explains Wojnarowicz's powerful iconography in the context of a (literally) dying art scene." —Marianne Laino Sade, Library Journal

"[Carr] tells [Wojnarowicz's] life story remarkably thoroughly and can't-put-it-down readably. Her quotations of his writing reveal an able Kerouacean." —Ray Olson, Booklist

"[Carr] delivers the definitive biography of this complicated artist…. she provides a thoroughly researched picture of his life and times…the author offers some intriguing insights about Wojnarowicz's inner demons and his devotion to his art." —Kirkus Reviews
Bloomsbury USA, 9781596915336, 624pp.
Publication Date: July 17, 2012
About the Author
Cynthia Carr was a columnist and arts reporter for the Village Voice from 1984 to 2003. Writing under the byline C. Carr, she specialized in experimental and cutting-edge art, especially performance art. Some of these pieces are now collected in On Edge: Performance at the End of the Twentieth Century. She is also the author of Our Town: A Heartland Lynching, a Haunted Town, and the Hidden History of White America. Her work has appeared in the New York Times, Artforum, Bookforum, Modern Painters, the Drama Review, and other publications. She was awarded a Guggenheim Fellowship in 2007. Carr lives in New York.
or
Not Currently Available for Direct Purchase