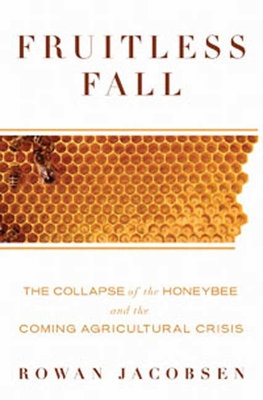 Fruitless Fall (Hardcover)
The Collapse of the Honey Bee and the Coming Agricultural Crisis
Bloomsbury USA, 9781596915374, 288pp.
Publication Date: September 16, 2008
Other Editions of This Title:
Paperback (8/20/2009)
* Individual store prices may vary.
Description
How the disappearance of the world's honeybee population puts the food we eat at risk.
Many people will remember that Rachel Carson predicted a silent spring, but she also warned of a fruitless fall, a time when "there was no pollination and there would be no fruit." The fruitless fall nearly became a reality last year when beekeepers watched one third of the honeybee population thirty billion bees mysteriously die. The deaths have continued in 2008. Rowan Jacobsen uses the mystery of Colony Collapse Disorder to tell the bigger story of bees and their' essential connection to our daily lives. With their disappearance, we won't just be losing honey. Industrial agriculture depends on the honeybee to pollinate most fruits, nuts, and vegetables one third of American crops. Yet this system is falling apart. The number of these professional pollinators has become so inadequate that they are now trucked across the country and flown around the world, pushing them ever closer to collapse. By exploring the causes of CCD and the even more chilling decline of wild pollinators, "Fruitless Fall" does more than just highlight this growing agricultural crisis. It emphasizes the miracle of flowering plants and their pollination partners, and urges readers not to take for granted the Edenic garden "Homo sapiens" has played in since birth. Our world could have been utterly different and may be still.
About the Author
Rowan Jacobsen writes about food, the environment, and the connections between the two. His work has appeared in the Art of Eating, the New York Times, Wild Earth, Wondertime, Culture & Travel, NPR.org, and elsewhere. He is the author of Chocolate Unwrapped and A Geography of Oysters. He lives in rural Vermont with his wife and son.
Praise For Fruitless Fall: The Collapse of the Honey Bee and the Coming Agricultural Crisis…
"A timely, thought-provoking examination of Colony Collapse Disorder, in which bees fail to return to their hives causing critical shortages of pollinators, a growing worldwide problem whose cause and cure remain a mystery."—Seattle Times "Food writer Rowan Jacobsen lays out the crisis in his latest book with the lure of a good mystery…Jacobsen weaves in a light history of and biology of the honeybee…Fruitless Fall, while startling and worrisome, also is entertaining, informative and fascinating."—Charleston Post and Courier
"A spiritual successor to Rachel Carson's seminal eco-polemic Silent Spring… You can't finish this book unconvinced that our food supply is in serious danger. Although Jacobsen doesn't solve the CCD mystery, he presents ample evidence that the current state of affairs — "rented" honey bees that are shipped coast to coast to pollinate crops — is unsustainable and stressing the insects to the max…Jacobsen's concern for the fate of the honey bee population is easily contagious…The Verdict: Read." —Time
"If honeybees and their wild relatives vanish, we could lose some of our most luscious fruits and vegetables -- up to 100 crops, from apples to zucchini. In "Fruitless Fall," Mr. Jacobsen warns that we may be on the brink of just such a disaster…a detailed history of honeybee biology… [Jacobsen's] analysis is helpful and instructive." —Wall Street Journal
"In this densely woven account of waggle dances, almond trees, and confounded pathologists, Jacobsen tells the story of CCD: how it happened, the likely culprits, and its implications for the future of agriculture." —Seed
"In his very scary Fruitless Fall, Rowan Jacobsen explains in layman's terms and with a rising urgency why autumn's mellow fruitfulness won't happen unless we take better care of that industrious pollinator Apis mellifera, the honeybee. To write his book, Mr. Jacobsen had to take a "bee's-eye view of the world," but the result is surprisingly human: It's the story of a close and enduring partnership that crashed in 2006 with the onset of colony collapse disorder…Fruitless Fall is a passionate sequel to Rachel Carson's Silent Spring, and we'd better listen up before we get to winter kills." —New York Observer
"Well-informed…For many readers, it may make the mystery of CCD easier to comprehend. [An] intelligent, important assessment of a confusing phenomenon and its potentially catastrophic implications." —Kirkus
"[Written] with a passion that gives this exploration of colony collapse disorder real buzz…[Jacobson] invests solid investigative journalism with a poet's voice to craft a fact-heavy book that soars." —Publishers Weekly
"The apiculture industry now has its own Upton Sinclair—Fruitless Fall is an eye-opening, attitude-changing, and exceptionally engaging examination of America's most overlooked multi-billion-dollar industry."—May Berenbaum, professor of Entomology, University of Illinois, and Chair, National Research Council Committee on the Status of Pollinators in North America
"Past a certain point, we can't make nature conform to our industrial model. The collapse of beehives is a warning--and the cleverness of a few beekeepers in figuring out how to work with bees not as masters but as partners offers a clear-eyed kind of hope for many of our ecological dilemmas."
--Bill McKibben, author Deep Economy
"Rowan Jacobsen tells the fascinating -- and alarming -- story of honeybee decline with energy and insight." –Elizabeth Kolbert, author of Field Notes from a Catastrophe
A Seattle Times Best Book of 2008
or
Not Currently Available for Direct Purchase