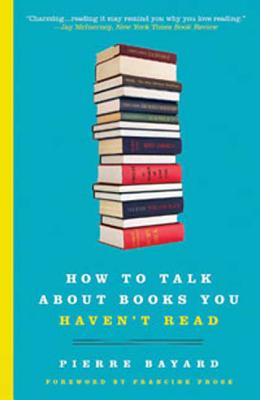 How to Talk about Books You Haven't Read (Paperback)
Bloomsbury Publishing PLC, 9781596915435, 185pp.
Publication Date: October 6, 2009
Description
With so many important books out there, and thousands more being published each year, what are we supposed to do in those inevitable social situations where we're forced to talk about books we haven't read? Pierre Bayard argues that it doesn't really matter if you've read a book or not. (In fact, in certain situations, reading the book is the worst thing you could do.) Championing the various forms of "non-reading," How to Talk About Books You Haven't Read is really a celebration of books, for book lovers everywhere to enjoy, ponder, argue about-and perhaps even read.
About the Author
Pierre Bayard is a professor of French literature at the University of Paris VIII and a psychoanalyst. He is the author of Who Killed Roger Ackroyd?, and many other books.
Praise For How to Talk about Books You Haven't Read…
"Brilliant…A witty and useful piece of literary sociology."—London Review of Books
"I read and adored Pierre Bayard's book. I t's funny, smart, and so true—a wonderful combination of slick French philosophizing and tongue-in-cheek wit, and an honest appraisal of what it means, or doesn't mean, to read."—
Claire M essud, author of The Emperor's Children
Advertisement