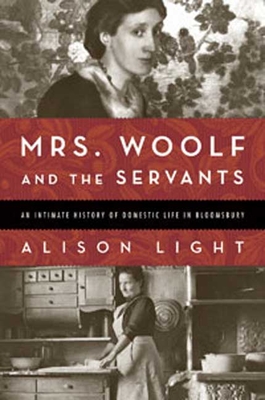 Mrs. Woolf and the Servants (Hardcover)
An Intimate History of Domestic Life in Bloomsbury
Bloomsbury Press, 9781596915602, 400pp.
Publication Date: September 2, 2008
Other Editions of This Title:
Paperback (9/1/2009)
* Individual store prices may vary.
Description
A revealing and personal new perspective on the Bloomsbury set and the servants who shared their lives.
When Virginia Woolf wrote "A Room of One's Own" in 1929, she established her reputation as a feminist, a woman who could imagine a more open and liberal reality, and an advocate for the female voice. Indeed the Bloomsbury set has often been identified with liberal, open-minded views; Woolf's circle of artists and writers were considered Bohemians ahead of their time. But they were also "of" their time. Like thousands of other British households, Virginia Woolf's relied on live-in domestics for the most intimate of daily tasks. That room of her own she so valued was cleaned, heated, and supplied with meals by a series of cooks and maids throughout her childhood and adult life. In "Mrs. Woolf and the Servants," Alison Light gives depth and dignity to the long-overlooked servants who worked for the Bloomsbury intellectuals.
The result is twofold. For one, Light adds revealing nuances to our picture of Virginia Woolf, both as a woman and as writer. She also captures a fascinating period of British history, primarily between the wars, when modern oil stoves were creeping into kitchens to replace coal, and young women were starting to dream of working in hat shops rather than mansions.
Despite the liberal outlook of the Bloomsbury set, and their conscious efforts to leave their Victorian past behind, their homes were nevertheless divided into the worlds of "us" and "them." Alison Light writes with insight and charm about this fraught side of Bloomsbury, and hers is a refreshingly balanced portrait of Virginia Woolf, flaws and all.
About the Author
Alison Light is the author of Forever England: Femininity, Literature and Conservatism between the Wars and edited Virginia Woolf's Flush for Penguin Classics. She is currently a Professor at the Raphael Samuel History Centre at the University of East London, and teaches English at Newcastle University. She is a contributor to the London Review of Books. Her grandmother worked as a domestic servant.
Praise For Mrs. Woolf and the Servants: An Intimate History of Domestic Life in Bloomsbury…
"Superbly researched, often passionately eloquent, and enthralling throughout…Light's signal achievement in her compelling book lies in divvying up her pages equally between the lives of the servants and that of their mistress. Mrs. Woolf and the Servants is no dryly academic sociological study. It is an inquiry into the fundamental nature of human intimacy." —Washington Post Book World
"Ms. Light's aim is 'to give the servants back their dignity and the respect they deserve.' She succeeds wonderfully. Ms. Light is able to broach matters of class and mutual dependency, of Woolf's artistic vision and inherited blinders, with a graceful judiciousness." —Wall Street Journal
"Eye-opening… Light enriches the history of Bloomsbury by adding to it the stories of Nellie, Lottie and the other women and men whose manual labor sustained it." —Chicago Tribune
"[Light's] analyses of both the Bloomsbury notables and the servant class of their time are deft and engrossing." —Publishers Weekly
"The complex, interwoven stories of Woolf and Sophie, Nellie, Lottie, Louie, and many other distinct personalities remain at the heart of this meticulously researched and elegant exploration." —Booklist
"Ms Light has done an excellent job of weaving together social history and literary criticism. Her book not only gives voice to previously silent subjects but also adds to our understanding of both Woolf and Bell, of whom it is sometimes easy to feel one has heard quite enough already." —Economist
"Light's research is thorough and she does a good job of joining social history to Woolf's particular story." —Christian Science Monitor
"This is a book with a most revelatory subject … it is original, and that is a lot."—Boston Globe
"Light deftly 'restores the servants to the story.'" —New Yorker
"Historian Alison Light's fascinating "Mrs. Woolf and the Servants: An Intimate History of Domestic Life in Bloomsbury" does something that by all rights should be impossible: The book finds a fresh angle on a life so well-documented it should by all rights be threadbare. Light writes with sympathy and insight, blowing away the cobwebs of a way of life now gone." —Seattle Times
"The largely untold stories of the live-in servants who eased, enriched, complicated and frustrated the domestic tranquility of Virginia Woolf and others in her circle. Light brings all her scholarly skills and imagination to bear on the task of illuminating the lives of people whom history has often ignored. Reading Woolf's diaries and letters, the author was surprised by the emotional, often negative energy the novelist invested in her servants. This sent Light back into the fiction—she spends some time discussing the roles of servants in Woolf's novels—and into family and public records, where she discovered a surprising amount of material on the people who served the writer from cradle to grave. ... Although Light is most interested in humanizing the servants, she also offers heavy but digestible sections of social history and literary criticism. We learn about the rise and fall of domestic service, and the author contrasts Woolf's liberalism in her fiction with her class-consciousness in her kitchen... [A] groundbreaking work of scholarship. An essential addition to the alpine pile of books about Woolf." —Kirkus
"A mix of social history, biography and literary criticism, Alison Light takes a sustained look at these servants and their relationships with their artistic, semibohemian, upper-middle-class employers. Light digs deeper into Woolf's experience with servants and pieces together the servants' stories--a method that allows her to examine, from fresh angles, the institution of domestic servitude. An absorbing collective history of servants in Britain…"
—The Nation
"An authoritative, detailed account of the dynamic relationship between Virginia Woolf and the domestic help that was so crucial to her existence as a woman and a writer. Alison Light is clear-eyed and wise about her chosen topic. She has not only done her research, but brings to her task some unique advantages: Her grandmother was in domestic service. And indeed a particular feature of "Mrs. Woolf and the Servants" is its emphasis on the humanity of these women. Although well-versed in and informed by the sociological background, Ms. Light is careful to present rounded portraits of these people who played such an important role in the Woolf household."
—Washington Times
or
Not Currently Available for Direct Purchase