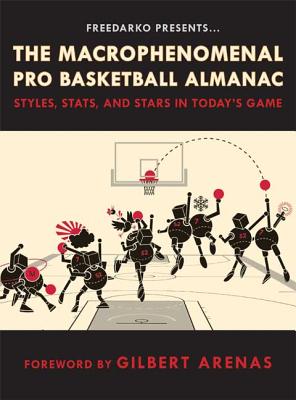 FreeDarko Presents
The Macrophenomenal Pro Basketball Almanac: Styles, Stats, and Stars in Today's Game
Hardcover

* Individual store prices may vary.
Description
Unlike regimented football or stats-happy baseball, The National Basketball Association is above all else a league of characters. Over the course of a season, games are, of course, won or lost, but for millions of devoted fans, the final result is almost incidental to the way the league's best players perform on - and off - the court.

This book is the indispensible companion to today's game - a roundball Rosetta Stone that hilariously decodes the trends and tendencies of this enormously popular game. The NBA of the moment is a league of hugely charismatic celebrities, crackling aesthetic intrigue, socio-political undercurrents, and raw humanity: every Kobe Bryant pump-fake or LeBron James dunk symbolizes the changing landscape of professional sports and holds within it a Shaq-sized load of meaning. Fans who know the sport recognize how much more there is to basketball than, well, basketball. The Macro-Phenomenal Pro Basketball Almanac is a brilliantly illustrated guide to this tumultuous and exciting landscape. It explains what each player--from Tim Duncan and Gilbert Arenas to Amare Stoudemire and Lamar Odom--reveals, through their play and conduct, about who they are and, more importantly, who the fans want them to be.

Like the game it celebrates, The Macro-Phenomenal Pro Basketball Almanac is simultaneously authentic and cerebral, funny and accessible, wholly original, and always entertaining.
Praise For FreeDarko Presents: The Macrophenomenal Pro Basketball Almanac: Styles, Stats, and Stars in Today's Game…
"A textual-visual showpiece... Fabulously eccentric and gloriously illustrated... It is likely the only sports almanac in existence that features a manifesto, cooks up winkingly abstruse statistics like "cancer effect" (e.g. Stephon Marbury and the Knicks), provides an etymology of the hoop slang "swag," and name-drops Amiri Baraka, Martin Buber and Chris "Birdman" Andersen. The book knows its hoops too... Phenomenal swag." —New York Times Play Magazine

"At the beginning of the Almanac—a compendium of odd statistics, kinetic diagrams and goofball-academic essays—lies the Free Darko Manifesto, which puts style (flash, idiosyncrasies, etc.) above wins and losses, the individual above the home team, and flaws above perfection... It's hard not to be converted by the Darko mandate to elevate style above all else in basketball. The almanac is more than a guide to the delirious side of the NBA, it's an argument for a more humane approach to fandom. Head cases and millionaires, as viewed through the Darko lens, aren't the evil acid eating away at professional sports that a lot of the nation's columnists would have us believe. And all of this is rendered in gorgeous illustration and provocative—if often ludicrous—prose." —Time Out Chicago

"This guide to pro hoops from the freaks at FreeDarko is a gorgeously illustrated, deeply idiosyncratic work of mad, mad genius. They break the game down into a periodic table of playing styles (knife, shark, snowflake, this is not a pipe), identify players' spirit animals (Gilbert Arenas=Tasmanian Devil) and have the gumption to liken Tim Duncan to the Shelley sonnet" —Ozymandias" (so true!)."Philadelphia CityPaper

"There's never been a basketball book — maybe even a sports book — quite like The Macrophenomenal Pro Basketball Almanac, the first print endeavor of the cult-favorite NBA blog FreeDarko... But for certain nontraditional basketball fans — the egghead, the hipster, the ironist, the amateur culture critic — this might be the hoops book you've been waiting your whole life for... The FreeDarko crew celebrates a notion of pro hoops as an arena of athletic spectacle, geometric precision, unintentional comedy, outlandish personalities, and rich sociocultural meaning. It does so with player profiles that mix on-court insights with psychoanalysis and cultural critique, charts and graphs of oddball brilliance, and beautiful, almost whimsical illustrations." —Memphis Flyer
Bloomsbury USA, 9781596915619, 224pp.
Publication Date: November 18, 2008
About the Author
FreeDarko is a collective of like-minded writers and artists (Bethlehem Shoals, Big Baby, Dr. Lawyer IndianChief, Billups, and Silverbird 5000) who gather to celebrate (and take down) the National Basketball Association. Their website garners 70,000 unique hits per months and has a devoted audience that includes many sportswriters, athletes, and literary figures.
or
Not Currently Available for Direct Purchase