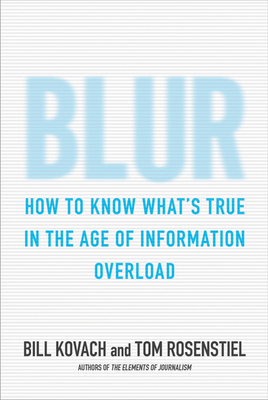 Blur (Hardcover)
How to Know What's True in the Age of Information Overload
Bloomsbury USA, 9781596915657, 240pp.
Publication Date: November 9, 2010
Other Editions of This Title:
Paperback (9/6/2011)
* Individual store prices may vary.
Description
Amid the hand-wringing over the death of "true journalism" in the Internet Age the din of bloggers, the echo chamber of Twitter, the predominance of Wikipedia veteran journalists and media critics Bill Kovach and Tom Rosenstiel have written a pragmatic, serious-minded guide to navigating the twenty-first century media terrain. Yes, old authorities are being dismantled, new ones created, and the very nature of knowledge has changed. But seeking the truth remains the purpose of journalism and the object for those who consume it. How do we discern what is reliable? How do we determine which facts (or whose opinions) to trust? "Blur" provides a road map, or more specifically, reveals the craft that has been used in newsrooms by the very best journalists for getting at the truth. In an age when the line between citizen and journalist is becoming increasingly unclear, "Blur" is a crucial guide for those who want to know what's true.
Ways of Skeptical Knowing Six Essential Tools for Interpreting theNews
1. What kind of content am I encountering? 2. Is the information complete? If not, what's missing? 3. Who or what are the sources and why should I believe them? 4. What evidence is presented and how was it tested or vetted? 5. What might bean alternative explanation or understanding? 6. Am I learning what I need?
About the Author
In his 50-year career, Bill Kovach has been chief of the "New York Times "Washington Bureau, served as editor of the "Atlanta Journal-Constitution," and curated the Nieman Fellowships at Harvard University. He is founding chairman of the Committee of Concerned Journalists and senior counselor for the Project for Excellence in Journalism. In 2004, he was named to the John Seigenthaler Chair of Excellence in First Amendment Studies at Middle Tennessee State University. A journalist for more than 30 years, Tom Rosenstiel worked as chief congressional correspondent for "Newsweek" and as a media critic for the "Los Angeles Times" and MSNBC's The News With Brian Williams. His books include "Strange Bedfellows" and "We Interrupt This Newscast." Rosenstiel is vice chairman of the Committee of Concerned Journalists, and director of the Project for Excellence in Journalism.Together, Kovach and Rosenstiel have authored two books: "The Elements of Journalism," winner of the 2002 Goldsmith Book Prize from Harvard University, and "Warp Speed: America in the Age of Mixed Media."
Praise For Blur: How to Know What's True in the Age of Information Overload…
"The authors offer sound lessons on the 'tradecraft of verification' necessary for Americans to sort out truth from vested opinion... Kovach and Rosenstiel combine journalism and civics in this valuable and insightful resource to help Americans adapt to an era that demands that readers become their own editors and news aggregators." —Booklist (starred) "Kovach and Rosenstiel provide a roadmap for maintaining a steady course through our messy media landscape. As the authors entertainingly define and deconstruct the journalism of verification, assertion, affirmation, and interest group news, readers gain the analytical skills necessary for understanding this new terrain."—Publishers Weekly "Insightful... Offers step-by-step analysis of the processes by which the best journalists practice their craft and can have their work evaluated by consumers slogging their way through the mire of available information."—Kirkus
"Blur is an impassioned and practical brief for what its authors call 'verification'—the effort by journalists and others who publicly exchange information about public affairs to examine evidence and test the truth value of the assertions they and others are making. It argues persuasively for the virtues of traditional journalism without in any way resisting the sweeping changes the Internet has brought to the profession. It's hard to imagine a more urgently necessary task, for journalism and for democratic societies, than the one Kovach and Rosenstiel have taken on."—Nicholas Lemann, Dean, Columbia University Graduate School of Journalism
"Two trailblazing newspapermen make a powerful case that with information reaching us at warp speed, Americans can—and must—learn the tough-minded skepticism that drove the country's great journalists. Kovach and Rosenstiel's riveting, terse book shows how citizens can gauge fact from fiction, discern neutral sources from interested parties, and parse the news as American journalism goes through its big upheaval."—Dean Baquet, Washington Bureau Chief, New York Times
"If I had $1 million I would buy a copy of this book for every high school senior in America. If I had $2 million, I would use the second million to offer cash incentives for every one of those high school seniors to read what might be the most important book they will read in their lives—the one volume that will help them evaluate everything else they read until the day they die."—David M. Shribman, executive editor, Pittsburgh Post-Gazette
"This is one of the most important books of the year. Rosenstiel and Kovach take today's media landscape apart, examine each component—partisan blogs, social media, Web sites that follow the traditional  journalistic values, newspapers, networks and cable—and help us understand what they are, the pressures they bring on each other and how together they have changed forever how news is gathered and distributed. Always enlightening and at times scary as when they speculate on how the Three Mile Island nuclear plant accident might have played out in the age of cable and the internet, this is a sobering but even handed analysis that should be valuable to all of us in journalism and the citizens we serve."—Bob Schieffer, CBS News Chief Washington Correspondent
or
Not Currently Available for Direct Purchase