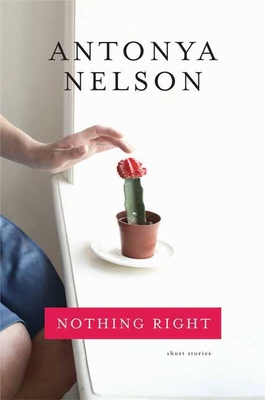 Nothing Right (Hardcover)
Short Stories
Bloomsbury Publishing PLC, 9781596915749, 296pp.
Publication Date: February 3, 2009
Other Editions of This Title:
Paperback (2/9/2010)
MP3 CD (7/26/2016)
* Individual store prices may vary.
Description
A collection of stories from one of the "New Yorker"'s "twenty young fiction writers of the new millennium," a series of unforgettable glimpses into contemporary family life.
Set in the American Southwest, and featuring one previously unpublished story, "Nothing Right "shows one of our best writers working at the top of her game. Antonya Nelson's stories are masterpieces: poignant, hilarious, truthful explorations of domesticity.
The artfully rendered characters in "Nothing Right "try to keep themselves intact as their personal lives explode around them. A mother and her teenage son finally find common ground when his girlfriend becomes pregnant. A woman leaves her husband and finds herself living with a stranger who is getting extensive plastic surgery while her best friend is dying of cancer. In "Or Else," one of three short stories nominated for a National Magazine Award for the "New Yorker," a man brings his girlfriend to a house he claims belongs to his family, only to have his lie exposed when one of the real owners comes home to scatter her father's ashes.
These stories are sure to delight longtime fans and readers lucky enough to be just discovering Antonya Nelson.
About the Author
Antonya Nelson is the author of eight books of fiction, including "Female Trouble "and the novels "Talking in Bed," "Nobody's Girl," and "Living to Tell." Nelson's work has appeared in the "New Yorker," "Esquire," "Harper's," "Redbook," and many other magazines, as well as in anthologies such as "Prize Stories: The O. Henry Awards," and "Best American Short Stories." She is currently a writer at large for the "Texas Monthly." Her books have been "New York Times "Notable Books of 1992, 1996, 1998, and 2000. The "New Yorker "called her one of the "twenty young fiction writers for the new millennium." She is also a recent recipient of the Rea Award for Short Fiction and is a recipient of a Guggenheim Fellowship and an NEA Grant.
Praise For Nothing Right: Short Stories…
"Vintage Nelson: It's full of contrarian views of modern life, swift eviscerations of simpering morality, the complicated love between parents and children, brinkmanship with psychosis and everyday breakdowns, a culture that makes adolescents of us all, a lot of alcohol and a smattering of infidelity" -- Los Angeles Times "Nelson, an astute observer of everyday conflicts, has skillfully mapped out life in this unforgettable collection, and sooner or later a reader will run into herself in a story, the character's troubles as real as the reader's own. Still, even more wonder comes when one realizes that Nelson, witty yet sympathetic, articulates our pains and troubles better than we do. Could it be that she knows us better than we know ourselves?" —San Francisco Chronicle  
"Nelson has always possessed superb craft as a writer. Her stories are shapely and precise; they move through scenes seamlessly. "Nothing Right" has taken her into deeper waters, though. Heartbreak, here, isn't enough. Most of these characters have been there before. They know better. Revealing them on the cusp of such self-knowledge, Nelson has brought her characters into a whole new age. They know the tough choices they have to make; somehow, none of them feels right." -- Newark Star-Ledger
"In this powerful collection of 11 short stories, Nelson's brilliantly constructed characters negotiate love, family, home and truth. Nelson consistently pays exquisite attention to detail, resulting in rich, vivid characters and settings…Nelson writes with wonderful grace and skill, each word carefully chosen, each passage carefully constructed. This beautiful collection is another remarkable accomplishment for a writer often hailed as one of our most talented storytellers."—
Publishers Weekly, starred review
"Those wondering whether the spirit of bohemian anarchy endures in today's hunkered-down Red America need look only as far as the marvelously reliable Wichita, Kansas, native Antonya Nelson's latest story collection, Nothing Right…Nelson delivers convincing portraits—11 of them here—of folk who are alarmingly drinking-positive, more than a little familiar with illicit drugs, and all too conversant in the language of infidelity…Sordid, cynical, and supremely romantic tales."- Elle
"Stellar… never has anxiety been made as entertaining as it is here. Nelson deploys a quirky, far-reaching humor and resonant detail to describe both the quiet and not-so-quiet implosions of midwestern families as they attempt to cope with contemporary life…. Nelson is in complete command of her material here, infusing her stories with just the right shades of poignancy, humor, and heartbreak." – Booklist, starred review
"Nelson is at her best creating densely packed, almost novel-like family mini-sagas." – Kirkus
"Delightfully messy…Nelson gives readers plenty to ponder as her frequently baffled characters struggle to make sense of the circumstances in which they find themselves…Readers who relish conflict will burn through the pages as the disasters pile up, while those who appreciate well-rounded characters will be impressed with the variety of responses to said disasters, which reveal just how strong, flexible, and adaptable human beings can be under pressure (see especially "Kansas" and "Biodegradable"). This weary hymn to coping with life's cruelties is a tour de force." – Library Journal
"Nelson never chafes against the limitations of her chosen form, the realistic well-made story. It's the ideal medium for a writer who isn't afraid to remind us of the familiar, who values insight over epiphany." – New York Times Book Review
"Wonderful… Slow down and savor every page, because the characters are vivid and flawed and achingly real, the humor suitably grim, and the undertones of loss almost palpable… Nelson's insight and language are…simply gorgeous. There is not a single thing wrong with
Nothing Right" -- Boston Globe
"I don't know how I missed the extensively published and acclaimed writer Antonya Nelson, but I'm glad my first encounter was this collection of short stories. They are funny in a dark, subterranean way, gracefully told, and populated by characters you wouldn't want to know but already know intimately… These difficult characters… may seem impossible to like, but because of Nelson's fluid skill and insight, you end up caring about them all." —Bust
"You have only to read Antonya Nelson's new story collection, Nothing Right, to appreciate her talent…. Nelson, unlike so many writers today, is not serving up magic realism in her stories. Her magic, in fact, is their powerful realism: deeply understood, beautifully expressed." – Hartford Courant
"Antonya Nelson's Nothing Right [targets] the romantic poseurs in all of us." Vogue
"Delightfully messy…Nelson gives readers plenty to ponder as her frequently baffled characters struggle to make sense of the circumstances in which they find themselves…Readers who relish conflict will burn through the pages as the disasters pile up, while those who appreciate well-rounded characters will be impressed with the variety of responses to said disasters, which reveal just how strong, flexible, and adaptable human beings can be under pressure (see especially "Kansas" and "Biodegradable"). This weary hymn to coping with life's cruelties is a tour de force." --
Library Journal, starred review
or
Not Currently Available for Direct Purchase