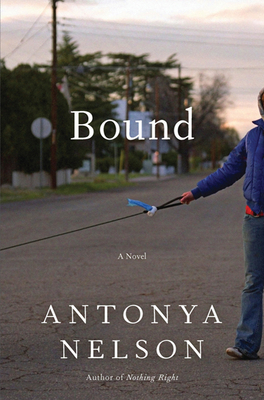 Bound
Hardcover

* Individual store prices may vary.
Other Editions of This Title:
Digital Audiobook (9/28/2010)
MP3 CD (9/29/2010)
Compact Disc (9/29/2010)
Compact Disc (9/29/2010)
Compact Disc (9/29/2010)
MP3 CD (9/29/2010)
Paperback (10/18/2011)
Description
Antonya Nelson is known for her razor-sharp depictions of contemporary family life in all of its sometimes sad, sometimes hilarious complexity. Her latest novel has roots in her own youth in Wichita, in the neighborhood stalked by the serial killer known as BTK (Bind, Torture, and Kill). A story of wayward love and lost memory, of public and private lives twisting out of control, Bound is Nelson's most accomplished and emotionally riveting work.
Catherine and Oliver, young wife and older entrepreneurial husband, are negotiating their difference in age and a plethora of well-concealed secrets. Oliver, now in his sixties, is a serial adulterer and has just fallen giddily in love yet again. Catherine, seemingly placid and content, has ghosts of a past she scarcely remembers. When Catherine's long-forgotten high school friend dies and leaves Catherine the guardian of her teenage daughter, that past comes rushing back. As Oliver manages his new love, and Catherine her new charge and darker past, local news reports turn up the volume on a serial killer who has reappeared after years of quiet. In a time of hauntings and new revelations, Nelson's characters grapple with their public and private obligations, continually choosing between the suppression or indulgence of wild desires. Which way they turn, and what balance they find, may only be determined by those who love them most.
Praise For Bound…
A New York Times Notable Book of the Year "In her new novel Bound, set mostly in Wichita, KS, Antonya Nelson compels you to linger... This America is her stage, and its characters are her people…It's a liberation to read Nelson here in the long form. There is no question of her superlative gifts for the short story. Only last year, she published an exceptional collection, Nothing Right, which drew into its span her familiar subjects... all united by strangely durable loyalties, the scarred, truthful topography of the American landscape… In Bound, Nelson makes her story as big as it should be, and gives her characters room to run."— New York Times Book Review, Editor's Choice "A small gem—more understated than Nelson's recent stories, but equally sharp and deeply moving."—Kirkus Reviews, 2010 Best Books "[A] writer of exhilarating wit and empathy, Nelson returns to the novel after a decade with heightened authority. Tightly coiled, edgy, and funny... [a] sleekly powerful turbine of a novel." —Booklist, starred review "Antonya Nelson wields words with breathtaking precision in Bound… This is no heartwarming makeshift-family-bonding story; Nelson has something truer in mind. Turning tiny moments into revelations, she brilliantly exposes the fears and delusions that drive people to rationalize destructive choices…[A] wise exploration of the war between our worst impulses and our better selves." —O magazine "This deft tale of messy, modern family life crackles with truth and originality...Nelson has a gift for sharply etched characters and dazzling lyrical prose." —People "In her extraordinary fourth novel, Antonya Nelson captures the clamor and swirl of life in this new century. Her story of Misty and Catherine, two high school best friends whose lives have drifted apart, then intersect tragically 25 years later, turns on missed cell phone calls, missing guardrails, rekindled addictions and relationships dissolving overnight… [Nelson] pulls the tension to a flawlessly calibrated conclusion." —NPR.org, "Books We Like" "One pleasure of reading Antonya Nelson is that she brings the careful language and control of literary fiction to uncontrolled, rough-and-tumble lives. Mixing the admittedly bourgeois undertaking of meticulously crafted prose with working class grit is risky — it can devolve into condescension or cartoonishness — but Nelson, like Raymond Carver, strikes a remarkable balance." —Los Angeles Times "Nelson sends you rocketing along in Bound, her prose...bracing and bruising... [A] first-rate novel." —Barnes & Noble Review "Nelson illuminates the ugly questions that shadow our intimate relationships. Why do we torture those we love? Why do we court danger? And do we strain against the ties that bind us to break free, or to reassure ourselves they will hold." —New Yorker "A dying marriage is at the heart of Antonya Nelson's fourth novel, but the unnerving details—the low hum of news about a serial killer who has resurfaced; dogs lost, found and preternaturally knowing—cast an eerie shadow on the domestic drama." —New York Times
"Nelson's prose looks to be as sleekly tough-minded as ever … essential for those serious about contemporary literature."—Library Journal
"[
Bound
] seems, on the face of it, a simple, if improbable, story. But it is one that, in Nelson's deft hands, soon becomes a small study of humankind…Rich in characters, poetry and imagination." –
Buffalo News
"Bound is almost effortless to read—which is remarkable when one considers the number of complex relationships at work and the cutting truth with which each character is depicted… That a novel can accomplish so much in such tight space is otherworldly, and it speaks to Antonya Nelson's gift for writing great fiction." —The Rumpus
"Nelson makes good use of the various meanings of
bound
, exploring what it means to be tied to someone, compelled to act, obligated." —
Time Out New York
 "Menace haunts this tale... as the BTK killer is again stalking a Wichita neighbrohood in which Catherine, the young third wife of an old hound dog clearly looking to bag a fourth marriage, is also trying to cope with being named guardian of a deceased friend's daughter. But wait, readers ask, What was that about the killer?" —
Elle, Readers' Prize
 "While the hunt for the [BTK] killer is a thread that runs throughout Nelson's novel, 
Bound
is a much richer, much more human, much more intriguing and satisfying novel than any serial killer thriller. It is a relatively short novel... But Nelson, like the accomplished short story writer she is, has packed a great deal into that space. It is one of those books where you're torn between savoring the way Nelson tells her story—the carefully crafted prose, the sly humor of her observations about people and the facades they try to maintain—and racing through the pages to find out what happens to all these very real people." —
Tulsa World
"In her stories and novels, Antonya Nelson peers into the lives of her characters so closely that the intimacy borders on uncomfortable. And she does it with her typically spare, piercing writing, creating full characters with a just a few well-chosen words. We don't know much about what these people look like (not that it matters), but we know their joys and longings and dark secrets. 
Bound
, her exquisite latest novel, focuses on the connections people have throughout their lives: long-ago connections that resurface, family connections in the present, connections to times and places. Nelson has crafted overlapping lives and stories that don't fit neatly into a box, but somehow pack perfectly into the novel." —
Wichita Eagle
 "
Bound  
feels familiar... because it captures, through its encompassing third-person narration, the lived life... Nelson teaches us that we may not always have to choose between naughty or nice, polished or rough, that perhaps we're most ourselves when we're a little of both." —
Kansas City Star
Bloomsbury Publishing PLC, 9781596915756, 231pp.
Publication Date: September 28, 2010
About the Author
Antonya Nelson is the author of eight books of fiction, including Female Trouble and the novels Talking in Bed, Nobody's Girl, and Living to Tell. Nelson's work has appeared in the New Yorker, Esquire, Harper's, Redbook, and many other magazines, as well as in anthologies such as Prize Stories: The O. Henry Awards and The Best American Short Stories. She is a recipient of a Guggenheim Fellowship, an NEA Grant, and, recently, the Rea Award for Short Fiction. She is married to writer Robert Boswell and lives in New Mexico, Colorado, and Texas, where she holds the Cullen Chair in Creative Writing at the University of Houston.
or
Not Currently Available for Direct Purchase