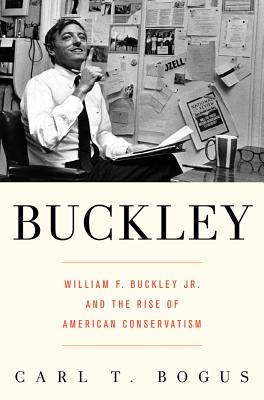 Buckley: William F. Buckley Jr. and the Rise of American Conservatism (Hardcover)
William F. Buckley Jr. and the Rise of American Conservatism
Bloomsbury Publishing PLC, 9781596915800, 405pp.
Publication Date: November 1, 2011
* Individual store prices may vary.
or
Not Currently Available for Direct Purchase
Description
William F. Buckley Jr., was the foremost architect of the conservative movement that swept the American political landscape from the 1960s to the early 2000s. When Buckley launched National Review in 1955, conservatism was a beleaguered, fringe segment of the Republican Party. Three decades later Ronald Reagan-who credited National Review with shaping his beliefs-was in the White House. Buckley and his allies devised a new-model conservatism that replaced traditional ideals with a passionate belief in the free market, religious faith, and an aggressive stance on foreign policy.
Buckley was an eloquent writer and brilliant polemicist whose works are still required texts for conservatives. His TV show Firing Line and his campaign for mayor of New York City made him a celebrity; his wit and zest for combat made conservatism fun. But Buckley was far more than a controversialist. Deploying his uncommon charm, shrewdly building alliances, and refusing to compromise on core principles, he almost single-handedly transformed conservatism from a set of retrograde attitudes into a revolutionary force. Scholar Carl T. Bogus gives us the most authoritative biography ever published of this vital, larger-than-life figure.
About the Author
Carl T. Bogus is professor of law at Roger Williams University and a nationally recognized expert on politics, law, and the Constitution. His previous books include Why Lawsuits are Good for America and The Second Amendment in Law and History (co-editor).
Praise For Buckley: William F. Buckley Jr. and the Rise of American Conservatism…
"How liberals should write about conservatives."—New York Times Magazine
"Remarkably perceptive… Mr. Bogus rises to the occasion, crafting a formative biography and history that is not only interesting and relevant, but an essential study of Buckley and the post-World War II conservative movement. This is an important book. Anyone, of any political stripe, interested in learning more about the rise of conservatism as a movement in the mid-20th century needs to read Carl T. Bogus'
Buckley
."
—Washington Times
 "[Bogus'] discussion of the various intellectual players is well informed, and he makes a useful contribution to understanding the contending variations of modern American conservatism."—
New York Times Book Review
 "Worth reading"
—James B. Burnham, Pittsburgh Post-Gazette
"Bogus makes skillful use of unpublished letters and other contemporaneous literature to evoke the postwar furors that informed Buckley's early career and that prompted his famous battle cry, in National Review's inaugural issue, to stand athwart history, yelling 'Stop!'"
—Washington Post
"Bogus capably mixes admiration with critique"
—New Republic
 "A thoughtful blend of biography and intellectual history … Bogus vividly encapsulates how radically Buckley 'changed America's political realities ... a feat so great that it is almost impossible to overstate.'"
—Publishers Weekly
"This is an insightful book that will please anyone interested in midcentury American history and politics. Anyone serious about political philosophy will learn from it. Highly recommended."—
Library Journal (starred)
 "Carl T. Bogus has given us a very fine biography of William F. Buckley Jr., the founder and central figure of the American conservative movement. Without Buckley we might not have had the Reagan presidency. As editor of
National Review
, columnist, author of many books, and host of the TV show
Firing Line
, Buckley seemed to be everywhere. Nothing like this had happened in American history."
—Jeffrey Hart, Professor of English Emeritus, Dartmouth College; former senior editor, National Review; author, The Making of the Conservative Mind; National Review and its Times
 "I found this book to be well-written,well-informed, and fair minded. Carl Bogus is very solid on the various forms of conservatism in the 50s and 60s and Buckley's role in defining his version. He also includes terrific, lengthy passages on Vietnam, civil rights, Reagan, Mayor Lindsay, Ayn Rand, and Russell Kirk."
—James Patterson, Brown University, Bancroft Prize-winning author of Grand Expectations: The United States, 1945–1974
 "Carl Bogus has given us a terrific new book on William F. Buckley that is neither hagiography nor ideological axe-grinding.
Buckley
is a serious and thoughtful discussion of the nature of modern American conservatism and Buckley's role in shaping it. Liberals and conservatives will both gain immensely from this readable and entertaining work of scholarship."
—Vincent J. Cannato, author of The Ungovernable City: John Lindsay and his Struggle to Save New York
 "not a traditional cradle-to-grave biography but an ongoing conversation about and argument with Buckley"
—Kirkus
Advertisement