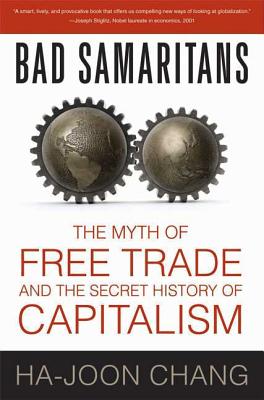 Bad Samaritans (Paperback)
The Myth of Free Trade and the Secret History of Capitalism
Bloomsbury Publishing PLC, 9781596915985, 276pp.
Publication Date: January 2, 2009
Description
Bad Samaritans was an introduction to open-minded economists and political free-thinkers to Ha-Joon Chang's theories of the dangers of free-trade. With irreverent wit, an engagingly personal style, and a keen grasp of history, Chang blasts holes in the "World Is Flat" orthodoxy of Thomas Friedman and others who argue that only unfettered capitalism and wide-open international trade can lift struggling nations out of poverty. On the contrary, Chang shows, today's economic superpowers-from the U.S. to Britain to his native Korea-all attained prosperity by shameless protectionism and government intervention in industry, a fact conveniently forgotten now that they want to compete in foreign markets. Chang's cage-rattling, contrarian history of global capital appeals to readers new to economic theory as well as members of the old school looking for a fresh take.
About the Author
Ha-Joon Chang, a Korean native, has taught at the Faculty of Economics, University of Cambridge, since 1990. He has worked as a consultant for numerous international organizations, including various UN agencies, the World Bank, and the Asian Development Bank. He has published 11 books, including Kicking Away the Ladder, winner of the 2003 Myrdal Prize. In 2005, Ha-Joon Chang was awarded the 2005 Leontief Prize for Advancing the Frontiers of Economic Thought.
Advertisement