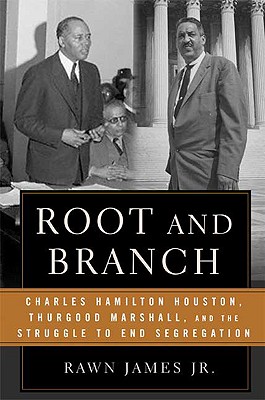 Root and Branch (Hardcover)
Charles Hamilton Houston, Thurgood Marshall, and the Struggle to End Segregation
Bloomsbury Press, 9781596916067, 288pp.
Publication Date: January 19, 2010
* Individual store prices may vary.
Description
The riveting story of the two crusading lawyers who led the legal battle to end segregation, one case and one courtroom at a time. The Supreme Court's decision in "Brown v. Board of Education "is widely considered a seminal point in the battle to end segregation, but it was in fact the culmination of a decades-long legal campaign. "Root and Branch "is the epic story of the two fiercely dedicated lawyers who led the fight from county courthouses to the marble halls of the Supreme Court, and, in the process, laid the legal foundations of the civil rights movement. Charles Hamilton Houston was the pioneer: After becoming the first African-American on the "Harvard Law Review," he transformed the law school at all-black Howard University into a West Point for civil rights advocacy. One of Houston's students at Howard was a brash young man named Thurgood Marshall. Soon after Marshall's graduation, Houston and Marshall opened the NAACP's legal office. The abstemious, proper Houston and the folksy, easygoing Marshall made an unlikely duo, but together they faced down angry Southern mobs, negotiated with presidents and senators, and convinced even racist judges and juries that the Constitution demanded equal justice under law for all American citizens. Houston, tragically, would die before his strategy came to fruition in the Brown suit, but Marshall would argue the case victoriously and go on to become the first African-American Supreme Court justice--always crediting his mentor for teaching him everything he knew. Together, the two advocates changed the course of American history.
About the Author
A graduate of Yale University and Duke Law School, Rawn James Jr. has been writing and practicing law in Washington, D.C., for nearly ten years. Like Houston and Marshall, he is a member of Alpha Phi Alpha Fraternity. He lives with his wife and son a few blocks from the home where Houston raised his family.
Praise For Root and Branch: Charles Hamilton Houston, Thurgood Marshall, and the Struggle to End Segregation…
"With deft portrayals of Charles Hamilton Houston and Thurgood Marshall and captivating accounts of the cases they were involved in, Rawn James, Jr. brings back to our attention two central figures in the nation's efforts to use constitutional law to confront and overcome our history of segregation and racism."—Mark Tushnet, William Nelson Cromwell Professor of Law, Harvard Law School
"Rawn James, Jr.'s moving and gracefully written
Root and Branch
reconstructs one of the most influential collaborations in American history.  With artful prose and careful scholarship, James documents how Charles Hamilton Houston and Thurgood Marshall—first as teacher and student, and later as trusted friends and colleagues—spearheaded the NAACP's epochal legal assault on Jim Crow."
—Raymond Arsenault, author of Freedom Riders and The Sound of Freedom
"Very informative, serious, and easy to read."—Booklist
"A generally informative, readable account of the struggle, in Marshall's words, 'to eliminate root and branch all vestiges of racial discrimination.'"—Kirkus Reviews
"In his new book Root and Branch, Rawn James Jr...has done an outstanding job in recounting the tale...makes for compelling reading...James's book makes a valuable contribution to our collective remembrance of two extraordinary lawyers."—The Washington Lawyer
or
Not Currently Available for Direct Purchase