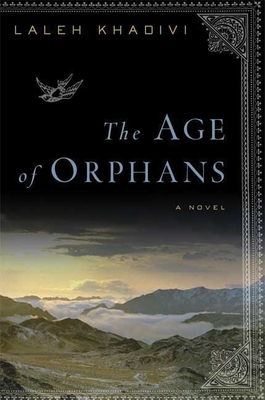 The Age of Orphans
Hardcover

* Individual store prices may vary.
Other Editions of This Title:
Paperback (3/2/2010)
Description
The story of a Kurdish boy forced to betray his people in service of the new Iranian nation, and the tragic consequences as he grows into manhood.
Before following his father into battle, he had been like any other Kurdish boy: in love with his Maman, fascinated by birds and the rugged Zagros Mountains, dutiful to his stern and powerful Baba. But after he is orphaned in a massacre by the armies of Iran's new shah, he is taken in by the very army that has killed his parents, renamed Reza Khourdi, and indoctrinated into the modern, seductive ways of the newly minted nation, careful to hide his Kurdish origins with every step.
The Age of Orphans
follows Reza through his meteoric rise in rank, his marriage to a proud Tehrani woman, and his eventual deployment, as a colonel, back to the Zagros Mountains and the ever-defiant Kurds. Here Reza is responsible for policing, and sometimes killing, his own people, and his carefully crafted persona begins to crack. Told with an evocative richness of language that recalls Michael Ondaatje or Anita Desai, the story of Reza Khourdi is that of the twentieth-century everyman, cast out from the clan in the name of nation, progress, and modernity, who cannot help but yearn for the impossible dreams of love, land, and home.
Praise For The Age of Orphans…
"Ironic, beautifully written, brutal and ugly, Khadivi's ambitious debut novel follows a Kurdish boy who is tragically and violently conscripted into the shah's army after his own people are slaughtered in battle… This difficult but powerful novel, the first of a trilogy, introduces a writer with a strong, unflinching voice and a penetrating vision." —Publishers Weekly, starred review
 "Khadivi's disturbing debut novel opens in 1921 in Iran's Zagros Mountains, where a young boy's job is to warn his father and uncles if the shah's army approaches… Khadivi's writing, for which she recently won a Whiting Award, is luminous in this tragic story of an 'orphan of the earth,' which is rendered in prose that is by turns graphic and poetic."—Booklist
"The 2008 recipient of a Whiting Writers' Award, Khadivi offers a remarkable first novel that does not shy away from harsh subject matter… Khadivi excels at capturing Reza's spiritual torture as he subdues his personal tribal history, often at the violent expense of others. With her eloquent portrayal of Reza, Khadivi has created an epitomic character representing so many 20th-century and current cultural, ethnic, and national identity clashes. Highly recommended." —Library Journal
"Khadivi... has a lyrical style reminiscent of The English Patient author Michael Ondaatje as she strings images of a bustling Tehran or the stillness of the Zagros Mountains... The Age of Orphans evocatively captures the desperate longing for home, family and a life erased. It's an affecting tale."—Plain Dealer
"Unflinchingly, Khadivi limns the emotional and physical brutality of the tribal-suppression campaign and Reza's splintering psyche in language both fierce and poetic." —The Atlanta Journal-Constitution
"The Age of Orphans is an arresting, powerful, transformative, unflinching, epic and deeply affecting novel. I cannot recommend it enough. A major voice to watch."—Chris Abani, author of Graceland and The Virgin of Flames
 "This is a stunning debut… unflinching, gorgeously poetic, intimate yet with a wondrous sweep of history. To read the tale of Reza Khourdi is to take a journey deep inside the darkest cavity of the heart."—Cristina Garcia, author of National Book Award finalist Dreaming in Cuban
"Laleh Khadivi is genuinely gifted and ruthless with that gift. We are all so fortunate that she is, for it takes both talent and ruthlessness to delve this deeply into an epic life." — Dorothy Allison, author of National Book Award finalist Bastard Out of Carolina
Bloomsbury Publishing PLC, 9781596916166, 292pp.
Publication Date: March 3, 2009
About the Author
Laleh Khadivi was born in Esfahan, Iran, in 1977, but fled with her family to the U nited States in the aftermath of the Islamic Revolution. The Age of Orphans is the first novel in a projected trilogy that will trace three generations of a Kurdish family--based loosely on her own--as they make their way to the United States and undergo the profound transformations of the immigrant experience.
or
Not Currently Available for Direct Purchase